Liverpool host Sunderland at Anfield on Saturday (3pm) in a month that sees the Reds compete in four different competitions – Chris McLoughlin ponders whether this squad has the character of 2000/01?

As I walked away from Anfield following the 19.9% APR Cup penalty shoot-out win against Stoke City, I started to get a sense of deja vu. As I walked away from Anfield following the 19.9% APR Cup penalty shoot-out win against Stoke City, I started to get a sense of deja vu. Haven't we lived this season before? And haven't I done that joke before?
Through to the final of the League Cup. Still in the FA Cup. Still in the UEFA Cup. Still in contention – just about – for a top-four finish and Champions League qualification. Winning crazy games 5-4 with a late goal from a completely unexpected source. Scraping through a two-legged tie having lost at Anfield. Having a Scouser who loves a tackle at full-back. Praying that our star striker, who has previously had muscle injuries, would stay fit and hoping that the big centre-forward signed for a record transfer free from a Midlands club would do the business in his first full season at Liverpool. We've even got a foreign manager who wears a red scarf on the sidelines and an assistant manager with a big(ish) nose.
All we need now is talk of needing a bigger ground to improve revenue and I'd swear it was 2000/01 again. Except it isn't. And it won't be. I'm all for changing from doubter to believer – and when you've got a manager who takes you to a cup final in 111 days whereas the fella before him couldn't get past a semi (but then he did learn his trade off Jose Mourinho) – then you've got to start believing better times are to come. But not quite yet.
The biggest difference between Liverpool 2000/01 and Liverpool 2015/16 is the strength of the squad at the manager's disposal. Whereas Gerard Houllier had been able to bring players in and rebuild his team for 18 months – and he could do this during the season as the transfer window didn't exist – Jürgen Klopp is another year away from being in that same position.

Getting the players he actually wants in also appears to be more difficult for him than it was for Houllier, although let's see how the summer goes first before judging whether FSG have learnt from their mistakes (from what I've heard it was Klopp, not the transfer committee, who pulled the plug on the vastly overpriced Alex Teixeira).
Comparisons to 2001
Houllier's 2000/01 squad had a strong spine and plenty of experience. While there were as many doubts over Sander Westerveld as there are over Simon Mignolet now, Houllier had a far better (and more settled) defensive unit: Babbel, Carragher, Hyypia and Henchoz with Ziege getting games and Vegard Heggem making Danny Sturridge look a picture of health. Compare that to Clyne, Moreno and whichever two centre-halves are fit enough to get on the pitch now and we're talking about a massive difference in defensive resilience and leadership.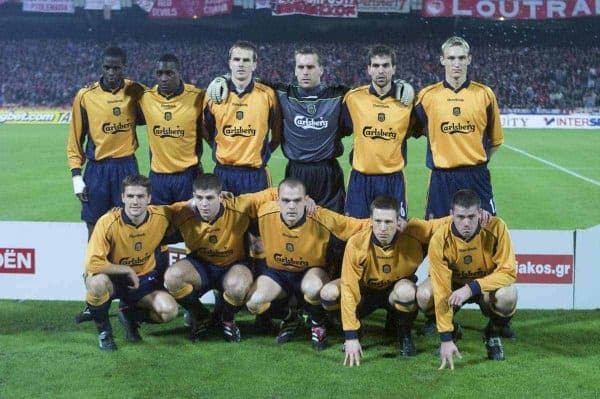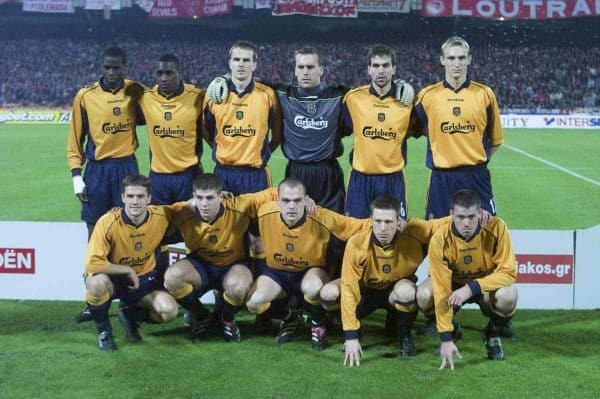 That back four also had Didi Hamann sitting in front of them with Steven Gerrard, Gary McAllister and Eeeeeeeeeeegor vying to play alongside him (Jamie Redknapp was out injured, obviously) with Danny Murphy, Patrik Berger, Vladimir Smicer and Nick Barmby all options out wide. Bernard Diomede, however, was a figment of your imagination.
Those eight midfield players, by the way, scored 48 goals between them in 2000/01. Coutinho, Henderson, Milner, Lallana, Emre Can, Lucas, Allen and Ibe have currently clubbed together with 20. Can you see them getting another 28 between them before the season ends? Thought not.
And then we had Fowler, Owen, Heskey and – from January 2001 – Jari Litmanen as the four options up front. Their goals, all 58 of them, won Liverpool a treble of trophies and secured a 3rd placed finish. The entire Liverpool team have only managed 50 goals so far in 2015/16 and when you compare the tallies of Owen (24), Heskey (22, honestly), Fowler (17) and Litmanen (2) to Benteke (7), Firmino (5), Sturridge (4), Origi (4) and Ings (3) you realise it would be quite an achievement if the Reds won anything this year never mind ended the campaign with a treble of trophies and in the top four.
It feels more like 1998/99 (when Houllier took sole charge from Roy Evans with the team in 8th and finished 7th after key attacking players, like Fowler, Owen and McManaman, got injured before rebuilding the side in the summer) to be perfectly honest, yet I retain more than a glimmer of hope that the season could still finish well.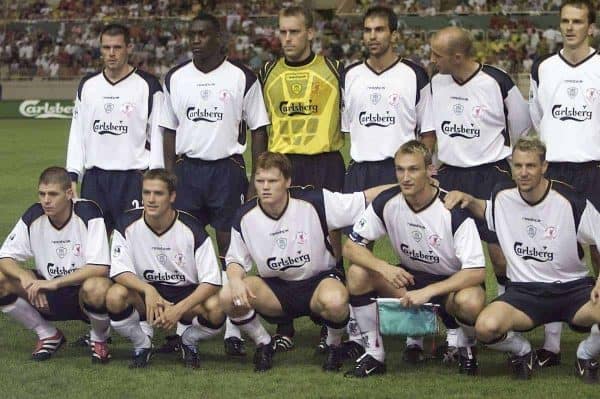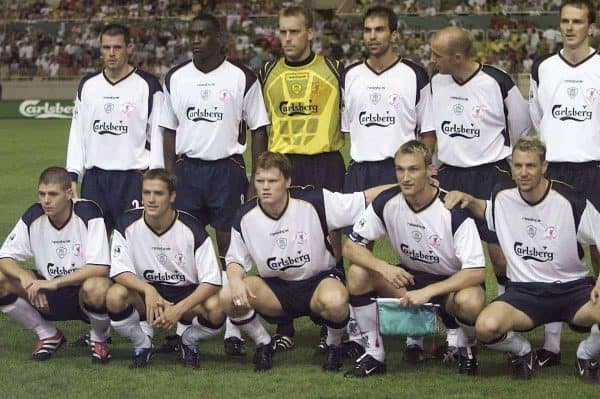 Game changing subs
Why? Because we've now got a manager who can change a game. It doesn't happen every time and nor is it realistic to expect it should, but since Klopp took charge nine substitutes have come on and scored. Three of those goals have been winners (Benteke v Leicester, Ibe v Stoke, Lallana v Norwich), two have been equalisers (Origi v West Brom, Allen v Arsenal), one should've been a winner if we could defend crosses (Benteke v Southampton) and the other three were rather memorable (Benteke v Chelsea, Ibe v Southampton, Ojo v Exeter).
There are a myriad of problems for Klopp to solve that will take hours upon hours of work on the training ground – "Alberto, see those guys in the red shirts? Try throwing the ball to them rather than the guys in the blue shirts" – and the injection of new signings, but I think there's a bit of character about this squad that will start to come to the fore. A bit like it did in 2000/01.
Liverpool didn't win a treble of trophies by playing attractive, free-flowing, opponent-destroying football. They won those cup by digging out results when they needed to. The League Cup was won on pens. The FA Cup was won by individual brilliance. The UEFA Cup was won by a golden own goal from a set-piece.
And the contribution from substitutes during that run was crucial with eight of the 12 goals scored by subs coming in cup games. Such as Barmby and Heskey at Leeds. And Fowler in Dortmund. But I'll end by reminding you of a Premier League goal by a Liverpool substitute that, in the grand scheme of the season, made a difference.

Jari Litmanen is the last Liverpool sub to score against Sunderland. He converted a 79th minute penalty (his first Liverpool goal) at the Stadium of Light to secure a 1-1 draw. It kept the Reds in 3rd, one point above Sunderland, who had lost just once at home all season and were top-four contenders. Liverpool ended up finishing third, a point above Leeds, when only the top three qualified for the Champions League.
Saturday's game, at the shock kick-off time of 3pm, will be tighter than Sam Allaryce's Farah slacks after Christmas, but the players are going to be massively distracted by a section of the Anfield crowd leaving en-mass in the 77th minute (given several hundred Liverpool fans ignored the boycott of a game at Hillsborough in 1998 over the way Sheffield Wednesday were treating us I'm expecting a fragmented reaction on Saturday) due to the ludicrous cost of ticket prices.
There's every chance that Klopp's men will still be needing a goal when that walk-out commences so it could turn into another test of character. Or a day when a contribution from the bench is crucial.
We might not have the quality of 2000/01 at Anfield now, but if this Liverpool side can show the same spirit and character this season could yet be far more memorable than you're expecting it to be. Maybe not that memorable, though. You only live through a season like that once. Right?
---

• Chris McLoughlin writes for the official This is Anfield matchday programme, on sale at the ground, in LFC club stores and from www.sportmediashop.com.
---