Continuing to develop into one of Liverpool's key players under Jurgen Klopp, Roberto Firmino has hailed the German's influence on his game.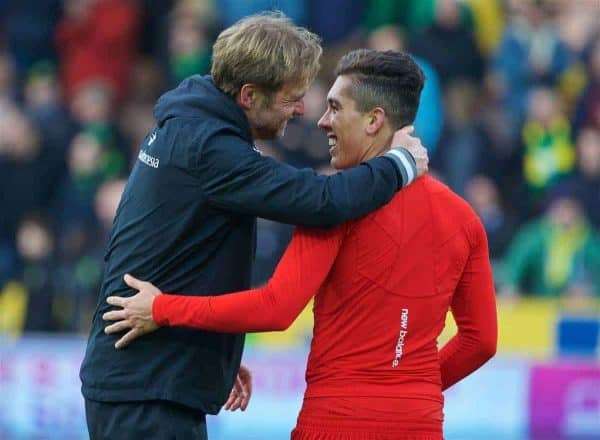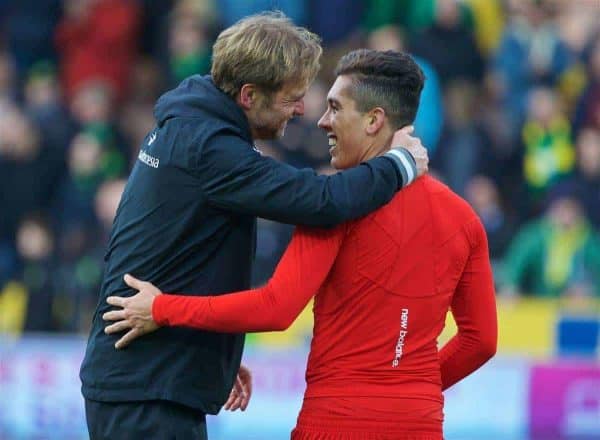 Firmino arrived in a deal worth £29 million last summer, but it wasn't until Klopp's arrival that he found form in a Liverpool shirt.
Moved from his regular role out wide to a focal, central role in Liverpool's attacking line, Firmino has blossomed into a devastating forward option, scoring six goals and registering seven assists in 23 Premier League appearances.
The Brazilian will be key to the Reds' success against Manchester City in Sunday's League Cup final, and speaking to Sky Sports before the game, he lauded Klopp as a major influence.
"He's one of the best, if not the best I have worked with," he said.
"We're very happy with him since he arrived, he has changed the team's style of play and now we're playing better.
"In Germany, this style of pressing happens a lot. I like his mentality.
"He brings his own philosophy, which is working for us. We are looking forward every day to improve."

After a slow start, Firmino believes he has finally settled on Merseyside—and much of that is due to the help of his fellow Brazilians, Lucas Leiva and Philippe Coutinho.
"I am enjoying playing for Liverpool, alongside the Brazilians and rest of the team," he continued.
"I get on well with the players and am enjoying the city.
"We've talked about the weather and I have adapted well and now I feel 100 percent settled in and I just want to play football with this team."
This is a sentiment echoed by Coutinho, who joined Firmino in interview ahead of Liverpool's trip to Wembley Stadium.
"Since I arrived here, I have made the most of the opportunity," the No. 10 explained.
"It has been a dream for me to wear the shirt for one of the biggest clubs in Europe.
"Every time I go out on the pitch, I try to improve, enjoy myself and help the team."
Coutinho detailed how Liverpool were in a "good period" under Klopp at present, and after a long period of adaptation, the Reds are edging closer to the former Borussia Dortmund manager's vision of football.
Central to this are the attacking endeavours of Coutinho and Firmino, and the duo will be hoping to put City to the sword once again on Sunday afternoon—and repeat November's 4-1 win.
[table id=139 /]