Speaking after Liverpool's League Cup final defeat to Manchester City, Jurgen Klopp spoke of his disappointment, but pointed towards a positive future.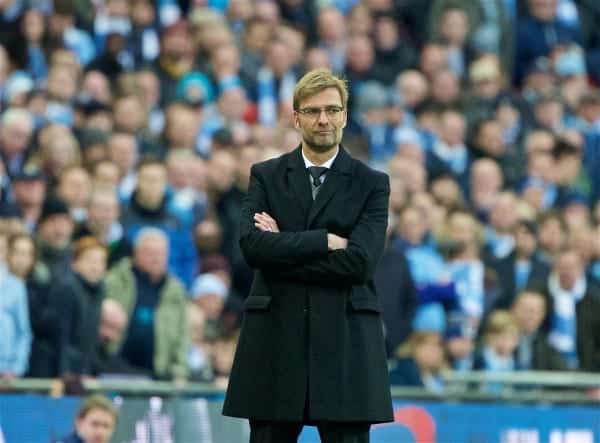 Klopp presided over his first cup final since joining the Reds earlier this season, and while he saw Liverpool lose out at the last, he remained cautiously optimistic after the final whistle.
Yaya Toure's penalty sealed a 3-1 shootout win for City at Wembley Stadium, deflating a positive atmosphere in the travelling Kop.
Addressing the media after the game, Klopp took a measured approach as he assessed the defeat, saying "tomorrow morning we can change everything, but now we can change nothing."
"You have to feel a defeat," he said. "You cannot say 'I don't care, it's not important'."
In true Klopp style he said: "If I was allowed to say shit I would say shit but I'm not allowed!
"It was important and we lost, so that feels not too good.
"You always have to strike back. We can say all of these things, but you know you can fall down and then you have to stand up.
"That's the truth, but it's completely normal—only silly idiots stay on the floor and wait for the next defeat.
"Of course we will strike back—100 percent. We struck back today in the game.
"But for this and the next time we are in a final, you have to feel how it is when you lose."

Despite a poor final season in charge of Borussia Dortmund, Klopp is not as familiar with failure as some of his players, but having dragged the Bundesliga side to the top of German football over the course of seven years, he has experienced struggle.
"Not everybody has to learn it like this—I won my first final," he continued.
"It's really not the best moment, but that is all.
"Tomorrow morning we can change everything, but now we can change nothing. That's the big difference.
"But don't worry, we will go on, we will get better and that's how it is. We have to go the hard way—that's how it is.
"Nothing is easy in this moment, but we can see if we carry on working really hard then there is new light at the end of the tunnel.
Klopp's final words in the press conference where: "Don't worry, we will go on and we will get better – we have to go the hard way, that is how it is.
"If we carry on and work really hard, there is light at the end of the tunnel. It is really important.
"Tonight we feel rubbish – shit."
Falling at the last hurdle is a bitter blow as Liverpool look to build in their first season under Klopp, but the 48-year-old is right to take an optimistic stance in his evaluation.
Liverpool showed enough on Sunday evening to suggest they can achieve success under Klopp in the future.