Targeting his first piece of silverware since arriving on Merseyside, Jurgen Klopp is looking for victory in the League Cup to unite Liverpool and their supporters.

The Reds travel to Wembley Stadium on Sunday afternoon, to take on Premier League rivals Manchester City in the final of the League Cup.
During an arduous season hampered with injuries and inconsistent form, this provides Liverpool with their first opportunity to mark their progress and seal 2015/16 as something of a success.
Speaking ahead of the tie on Friday afternoon, Klopp said that he was looking for "a real reason to celebrate" with supporters.
"I don't know what it will mean to me, we will see after," he explained.
"In this job we only want to win; titles, cups.
"A lot of players and managers have to work their whole life, and be very successful, but not get the chance [to win a trophy].
"What will happen, we have to wait.
"It's a pretty strong opponent.
"What it feels like today is it's Liverpool against Manchester—as it always is!
"If I think about it, I have a few nice pictures in my mind of after the game, being in Wembley with our fans, having a real reason to celebrate together.
"There is a lot of time between this moment and that moment—it's all about work, nothing else.
'I'm really pleased with the performance yesterday [against Augsburg], I told the lads it was really good.
"It was, for us, a semi-final before the final. Now, two days left, let's go!"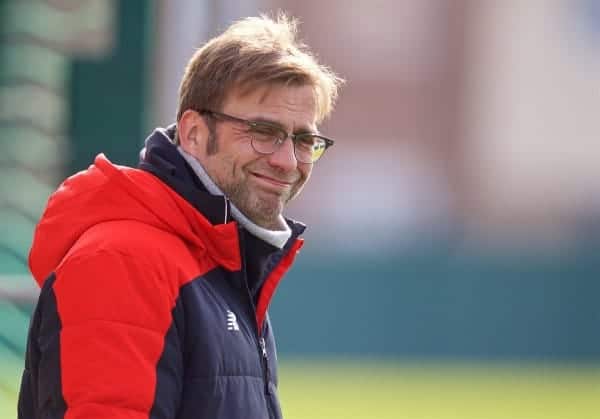 In his first column for the Telegraph on Friday, former Liverpool captain Steven Gerrard indicated that it would be Klopp's cup-winning experience that would prove key for the Reds.
Asked whether he feels this would be important as he prepared his side for Sunday's final, the German was unsure, but conceded that "I know the way."
"I gave him £100 for this!" he joked.
"Steven so often in his life, said the right things, made the right decisions, shooting from big distances and he always hits.
"Hopefully with this it's the truth.
"I'm not sure I'm the difference, but I know the way.
"Now I have to show it as clear as possible, so there's no misunderstanding between my mouth and the ears of the players.
"Maybe Manuel Pellegrini will have a few good words [for his side] too!
"There's absolutely no reason in this moment to have any doubts. Everything is possible, and that's great—I love this in this sport.
"Keep your nerves, take the pressure, use the pressure, set the level of intensity—all the things you can do in games like this.
"Some of us can dream all our life for a final like this."
Having failed to secure silverware in over three seasons under Brendan Rodgers, Liverpool have a great chance to do so in Klopp's fifth month in charge.
Enjoying great success with Borussia Dortmund, Klopp's experience could prove vital as a young Reds side look for victory on Sunday.
[table id=139 /]