Liverpool fans group Spion Kop 1906, the group responsible for the flags and banners on the Kop, are urging supporters to walkout on 77 minutes of the game against Sunderland on Saturday.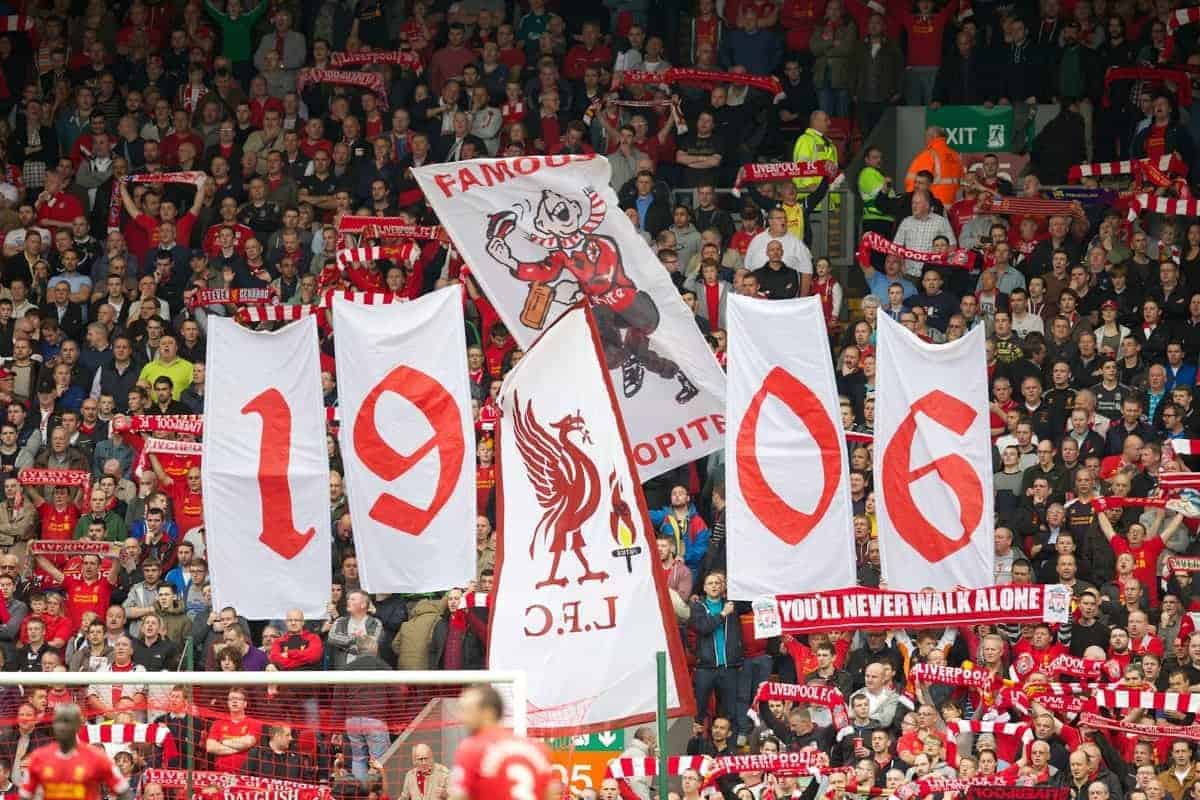 The move comes after new ticket prices for next season were revealed by the club earlier this week.
The prices will see some regular tickets in the new Main Stand cost £77 for a 'category A' match, with some season tickets breaking the £1,000 barrier for the first time.
Liverpool have attempted to hide the increases for some by introducing new £9 child tickets – which are only available for 3 'category C' games, representing less than 0.5% of total tickets for the season.
Supporters are angered by the increases not only in the new Main Stand – where the top price rises from £59 to £77, but also rises in the Centenary Stand and Anfield Road Stand.
ADVERTISING
Tickets in the Centenary Stand rise from £59 to £66, while a £52 ticket in the Anfield Road rises to £65 – despite neither stand improving facilities. Same view, same seat – huge increase.
Matchday ticket comparison – Look at all those going up. And look at the very few in red going down. #LFC pic.twitter.com/BG9j9cmReh

— Jay McKenna (@JayMcKenna87) February 3, 2016
The price changes have been labelled as pure greed, especially as new TV money means the club will make over £40 million more next season.
With the new Main Stand more than doubling the amount of hospitality seats, Liverpool's matchday revenue would hugely increase without the price increases for regular seats.
The club should also receive £5 million per season from naming rights for the new stand. Even using a fifth of that money would have completely transformed ticket prices for the regular supporter.
The additional money from the price increases will not significantly impact Liverpool's finances – again, due to the fact TV revenues increasing and by the sheer amount they dwarf matchday income.
There is literally no need to charge regular supporters more. There was, though, a huge opportunity to use the new TV money to make football more affordable for the regular supporter. Liverpool liaised with supporters over this then increased prices anyway – a huge slap in the face.
ADVERTISING
Spion Kop 1906 Statement:

Sunderland at home on Saturday, the first stage of many planned protests against the club in regards to the ticket prices at Anfield for the 2016/17 season.

LFC think it's acceptable to make more money than ever before from supporters. £2million more.

That means price rises for many. £77 match tickets and £1,029 season tickets.

Big increases for some, a few frozen and others get a tiny bit off. The club still make more.

Don't think it's OK because yours is OK.

ADVERTISING

Who will get the next increases do you think?

Every week we get right behind the team.

Now supporters need to get behind each other.

Let's make sure the owners know this is unacceptable.

On 77 minutes, leave your seat and walk out. Tell your mates and family. Tell the people around you. Tell them why.

Walk out on 77 minutes and show you care.

Love the team – Hate the prices. #WalkOutOn77.

ADVERTISING
OPINION: FSG score own goal and miss huge opportunity with new Anfield ticket prices
More from This Is Anfield
Fan Comments