Although Liverpool drew 2-2 with Sunderland on Saturday, it was the supporters' much-publicised walk-out after 77 minutes that made the headlines.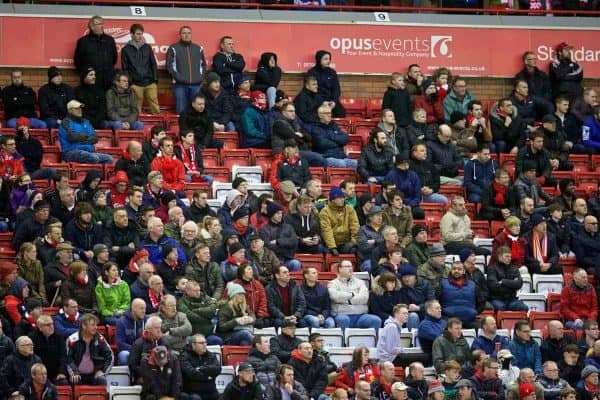 So much has been said about the planned protest this week, and when it actually came to fruition, it was just as emphatic as many had hoped it would be.
Approximately 10,000 Reds fans left for the exits with 13 minutes remaining, in protest to FSG's ticket prices ahead of next season.
Liverpool ended up blowing a two-goal at home Sunderland, but in the grand scheme of things, the walk-out was far more important on the day.
Here is how Twitter reacted to it:
#WalkOutOn77 pic.twitter.com/lgdolNQ8KV

▼ Article continues below ▼

— This Is Anfield (@thisisanfield) February 6, 2016

"You greedy bastards, enough is enough" is the chant currently ringing around Anfield.

— Tony Barrett (@TonyBarrett) February 6, 2016

Plenty have left Anfield but plenty have stayed pic.twitter.com/VefdqUZqGT

— Carl Markham (@carlmarkham) February 6, 2016

▼ Article continues below ▼

The people who don't go the game but are giving fans shit for leaving are the ones that would support someone else if the team tanked.

— Stuart Montagu (@SimianJustice) February 6, 2016

I've never in my life left a Liverpool game early.

I was proud to do it today with at least 10 thousand others.#WalkOutOn77

— Joe Connolly. (@JoeMConnolly) February 6, 2016

▼ Article continues below ▼

Enough is Enough pic.twitter.com/y9X1Kky6Rq

— THE ANFIELD WRAP (@TheAnfieldWrap) February 6, 2016

The Kop at full time. #WalkOutOn77 pic.twitter.com/8Z7QoBkHuU

— This Is Anfield (@thisisanfield) February 6, 2016

▼ Article continues below ▼

There was support for the fans from former player Jim Beglin and manager Roy Evans:

Respect to all Anfield departees today in protest at growing costs.

— Jim Beglin (@jimbeglin) February 6, 2016

Liverpool Fans have every right to protest today, they've always stood up for what they believe in. LFC wouldn't be what it is without them.

— ROY EVANS (@Roy_Evo) February 6, 2016

▼ Article continues below ▼

Walking out never easy but proud I did it

— Jeff Goulding (@ShanklysBoys1) February 6, 2016

Disappointing that some of those who didn't walk for a good cause on 77 mins then chose to leave in a huff because Sunderland scored.

— The Liverpool Way (@theliverpoolway) February 6, 2016

▼ Article continues below ▼

Well done today. Hopefully inspires fans of other clubs to stand up and be heard. Enough is enough. https://t.co/K8PK66G1Wc

— The Kop (@TheKop) February 6, 2016

Even Jamie Carragher backed #WalkOutOn77

Great to see. pic.twitter.com/GA7SsFf9I5

— Match Photography (@MatchPhotos) February 6, 2016

Setanta gave the WalkOutOn77 good coverage after the game. Dominic Matteo and Gary Breen both gave their backing to the fans.

— Green Scouser (@Green_Scouser) February 6, 2016

[td_ad_box spot_id="custom_ad_1″]

£77? 77 fucking pound to watch that?!

— The Anfield Chat (@TheAnfieldChat) February 6, 2016

https://twitter.com/briankettle/status/696031664619843584

Estimates from some inside LFC that the number of supporters walking out was closer to 15,000. #WalkOutOn77

— Spirit of Shankly (@spiritofshankly) February 6, 2016

Why I agree with action on ticket prices I do think the hatred stirring towards FSG is hugely misguided. This isn't just an #LFC problem.

— Si Steers (@sisteers) February 6, 2016

https://twitter.com/Andrew_Heaton/status/696039182926553088

https://twitter.com/mattladson/status/696050981633654785

Liverpool's players were offered first refusal on new executive boxes. They baulked at the price. From @CalvinBook: https://t.co/pCwIWhcw3l

— Simon Hughes (@Simon_Hughes__) February 6, 2016

£300,000 for executive box. Loyalty criminally undervalued. My @IndyFootball column on lessons of #lfc protests https://t.co/82sCSjpdFA

— Michael Calvin (@CalvinBook) February 6, 2016

https://twitter.com/BigWoodenSpoon/status/696058212051783686

Honestly there is LFC fans blaming the fans who walked out for this, I kid you not, we really have some terrible fans

— John O Sullivan (@Corballyred) February 6, 2016

https://twitter.com/PaulRogers73/status/696057332787089408

Congratulations to Liverpool fans in their protest. It's time for owners to stop treating fans as mere customers. Fans are the CLUB!!!

— ArsenalFanTV (@ArsenalFanTV) February 6, 2016

After the game, first-team coach Pepijn Lijnders, taking the press conference in Jurgen Klopp's absence, said the fans had every right to protest.

Let us know your thoughts on the walk-out in the comments below. Were you part of it? Did it affect the Liverpool players?

Promoted

More from This Is Anfield

Fan Comments

Comments are retrospectively moderated. Some could be subject to delays before publication. They must obey the comment policy. Comments load below.

Please only discuss the article above. General chat can be made on our forums at forums.thisisanfield.com