Saturday's walkout protest at Anfield may have sparked owners John W. Henry and Tom Werner into life, after "emergency talks" over a review.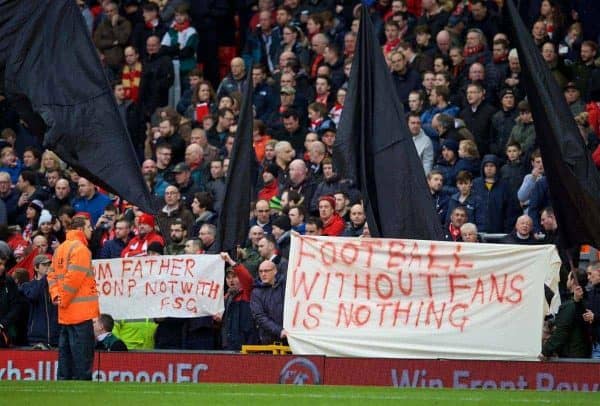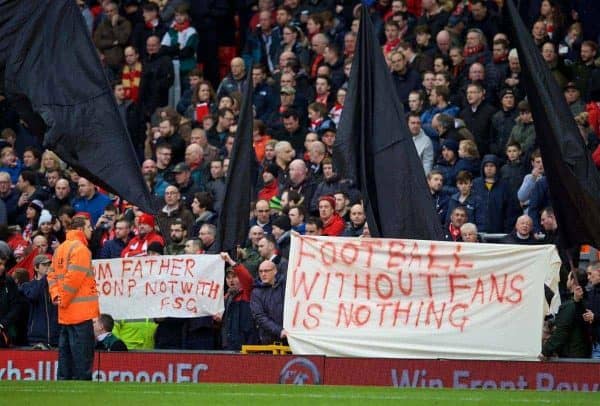 Around 10,000 supporters flooded out of Anfield 77 minutes into Liverpool's 2-2 draw with Sunderland on Saturday afternoon, in protest of the club's new, extortionate ticketing structure, set to take effect from 2016/17.
Taking advantage of redevelopment work at the stadium, Fenway Sports Group are looking to charge up to £77 for a single ticket in the new Main Stand, while some season tickets will cost over £1,000.
But after remarkable scenes on Merseyside at the weekend, Henry and Werner are said to be reconsidering their stance.
Widespread reports, including from the Telegraph's Chris Bascombe, reveal that FSG held "emergency talks" on Saturday evening and throughout Sunday, to "establish if a restructuring of the proposed ticket strategy is feasible."
Though Bascombe indicates that "it remains unclear what—if any—concessions they intend to make," this climbdown shows the power of protest.
Anfield voted with their feet on Saturday afternoon, making a statement to the club and their approach to filling the stadium.
With supporters reportedly targeting club sponsors in the aftermath of the protest, they are beginning to hit FSG where it hurts, and it is clear that they have taken notice.
This marks a major turnaround from Liverpool CEO Ian Ayre's explanation of the new structure on Friday, with the 52-year-old's condescending approach, saying "look at the facts," angering supporters further.
With further protests in the offing, this is not an issue FSG can sweep under the carpet, and the club would be wise to think their next move through carefully.
Driving a wedge between the club and its supporters could leave Henry and Werner with no way back, and while the duo have implemented considerable, positive change in their five-and-a-half years in charge, this is a hugely controversial issue.
Importantly, this proves that supporters remain the lifeblood of this storied football club.
Discussions between FSG & senior Liverpool management took place today & are set to continue this week.

— Tony Barrett (@TonyBarrett) February 7, 2016
ANFIELD PROTEST – THE FANS' VIEW