Having witnessed Liverpool's agonising League Cup Final shoot-out defeat to Man City at Wembley, Ben Twelves writes how the Reds must use the hurt of Sunday's loss as the motivation for future success.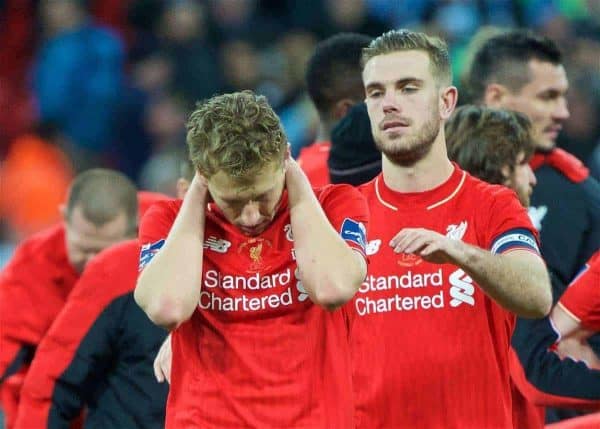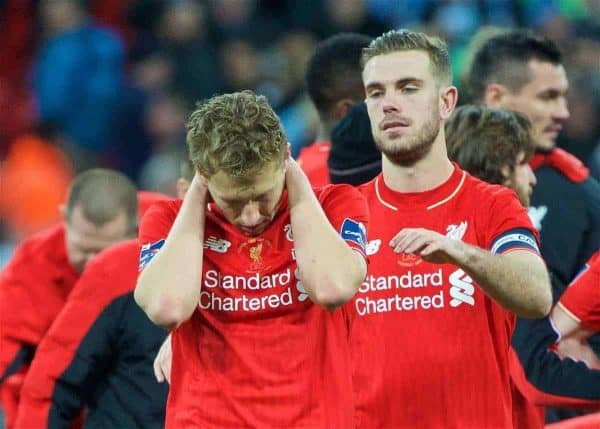 Heartbreak, as Liverpool suffered in the spot-kick loss to City, is a horrible, gut-wrenching, feeling.
Losing a Cup final on penalties is a feeling that experiencing once is more than enough – fortunately for us, up until Sunday we'd been on the other side, winning our last three trophies all via spot kicks.
But now, using the emptiness that has descended over Anfield to inspire greater future success is the next challenge for Jurgen Klopp and his developing squad.
Wembley Heartbreak

An afternoon that promised so much as thousands of Reds and I sung their way up Wembley Way, turned into arguably the lowest I've experienced – I was convinced a new era under Klopp would be signified by a first trophy since 2012.
That will be the same – minus the singing and having to walk up to the domineering national stadium in the freezing cold – for Klopp and his squad after the shoot-out loss.
The disappointment that momentum from Coutinho's equaliser before the end of 90 minutes – that sparked celebrations on a scale that I have never witnessed on my journey's following the Reds – couldn't quite force a winner in the remaining time or 30 minutes extra, will forever leave us wondering 'what if?' had we managed to get our noses in front.
Had Daniel Sturridge and Lallana got out of each other's way or the impacting Divock Origi placed his header either side of Willy Caballero, it could have been the memorable final I, and many others, dreamed it would be the night before.
But in truth, the Reds were fortunate that they were able to search for a winner after Coutinho's leveller, with only Simon Mignolet – who unquestionably should have saved Fernandinho's opener – preventing City being far out of Liverpool's sights by then.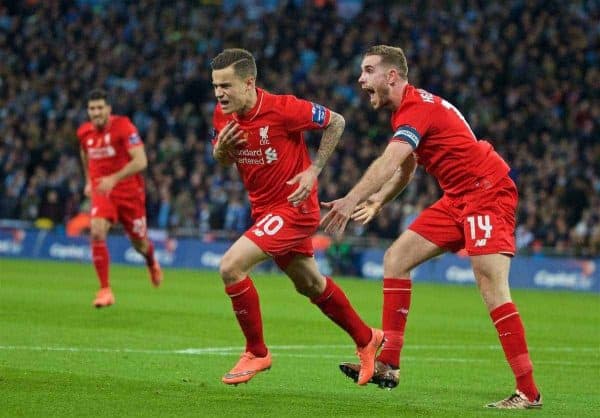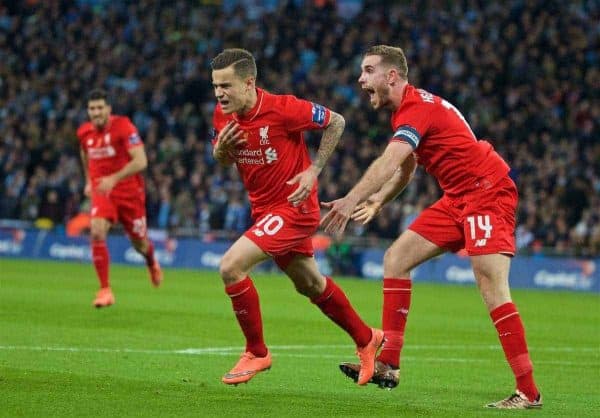 Positively, in contrast to recent big occasions, the Reds certainly can't be accused of being overawed.
Though the outcome was the same, this was a far cry from the spineless showing served up on the last Wembley trip 10 months ago in the FA Cup against Aston Villa.
Klopp's side took to spacious Wembley surface a well-drilled and confident team, passing well, looking bright in attack with Coutinho pulling the strings, while also rising to the physical battle on the big stage against a powerful City outfit.
The team's determination was matched in the stands, with renditions of the Kop's classics sweeping through the Red half of Wembley.
City certainly had more nearly-moments in the pursuit for a winner, but Liverpool more than held their own and had their moments too, before penalties were required to decide a winner.
Under such intense pressure, even an inspirational rendition of 'You'll Never Walk Alone' – an emotional moment that brought tears to the eyes of some of those around me – before spot-kicks couldn't help Lucas, Coutinho and Lallana find the net on a day that shoot-out luck ran out.
Though the hurt of defeat may feel completely "rubbish" as Klopp said post-match, the final heartbreak will provide a vital experience to his developing side.
Learning Curve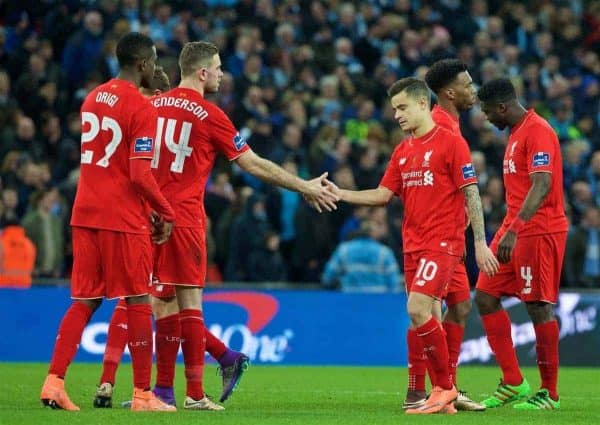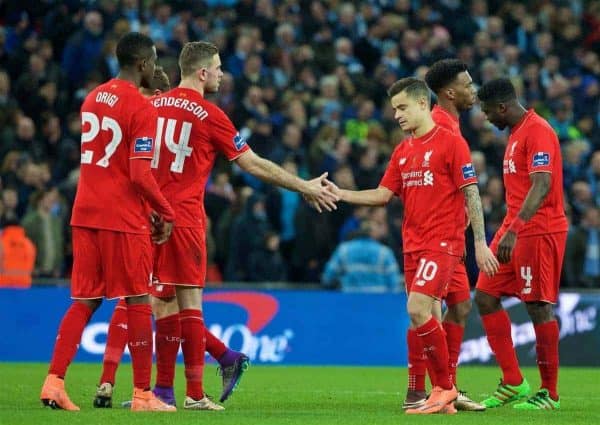 In what currently feels a real slog of a season, further pain has been inflicted and it stings like the blow I took to the head among the wild celebrations after Coutinho equalised.
But Sunday's bitter loss provides a learning curve that a growing Liverpool must use to ensure better fortunes arrive in looming months and seasons.
It was a first cup final in English football for many of Liverpool's squad – only Lucas and Jordan Henderson were around for the League Cup triumph four years ago – in contrast to the big game Know-how City boasted throughout a team that has grown together.
And even though a tough and unforgiving final, it was one the group will be better for.
Learning the pressures of a winner-takes-all fixture with the ultimate prize up for grabs will hand key experience for future pursuits of silverware, as will dealing with the unnerving weight of needing to deliver the goods on the biggest domestic stage.
Final failure in a game where performance counts for little but winning is everything will also have provided a harsh but welcome lesson with the game a balanced contest – despite City's superior chances – overall.
And it could even benefit the squad instantly in the Europa League campaign that explodes to life again when Man United arrive at Anfield next week.

A developing team heading into an exciting – and hopefully successful – new era under Klopp would also have familiarised the group with what the manager expects in games of such importance.
The short-term pain is a nasty but necessary practice to long-term gain for Liverpool.
Though leaving Wembley distraught, it's made me even hungrier for success, and even more desperate to see Klopp regularly add to the Anfield trophy cabinets having come so close to doing so this early into his tenure with a squad that isn't even his.
That should – and will – be the same for the players, management and everyone associated with the club, who must use the sobering chapter to assist the pursuit for future glory.
Future Success

A bitter taste will linger over coming days and weeks – none more sour than when City come to Anfield to gloat on Wednesday night in the return to the Premier League.
But this very sense of failure must be used to drive forward from this point on, starting with the Europa League; how better to make up for the gutting disappointment of Sunday afternoon than fighting and overcoming the odds to claim an unlikely Champions League place.
To achieve honours, you must know what it takes to win them – something a Liverpool squad that lacks big stage expertise and players doesn't but will have a better idea of for next time, now they've suffered a crushing loss.
In Rafa's first season we narrowly lost a League Cup Final before going on to win a European trophy. Here's hoping.

— Green Scouser (@Green_Scouser) February 29, 2016
It may not seem it at this early stage, but the Reds are better positioned for success than they have been for a long time, and with the quality and recruits Klopp will bring in, a much brighter and successful future looms.
"It's not what happens to you, but how you react to it that matters."
Liverpool's challenge is to act upon those wise words to ensure of future success.