After receiving criticism for ticket price increases announced this week, Liverpool's owners have changed the wording of a tagline on their portfolio which previously claimed they were "transforming fans into customers."

The tagline on, the Fenway Sports Management group website, was changed on Thursday to read "transforming consumers into fans."
The change occurred after the initial embarrassing tagline was shared on social media, and hours after supporters group Spion Kop 1906 announced plans for a walkout protest in Saturday's game against Sunderland.
FSG have decided to increase prices not only in the new Main Stand – where some tickets will be priced £77 – but also in the Anfield Road Stand and Centenary Stand. Same view, same seat but prices have increased by £13 in some seats for category A fixtures.
Some supporters feel any price increase in regular tickets is completely unnecessary given that the club will receive an over £40 million more next season just from the new TV deals – which top £8 billion for the Premier League.
The new Main Stand will also see a huge increase in matchday revenue due to over 4,000 new hospitality seats being created (that figure could be over 5,000 after the latest ticket prices seemed to indicate further hospitality sections).
Previous reports have suggested the club will also receive £5 million per season via the sale of naming rights for the new stand.
All this means that the additional revenue from the increased ticket prices – which is less than £2 million across the whole season – is not needed for the club and will not significantly affect finances. The club would still sit in ninth place in the Deloitte Money League with or without these price rises.

Meanwhile, supporters are being squeezed again, especially those who regularly attend games.
The gesture of adding £9 child tickets has attempted to gloss over the facts, the truth is these are only available for THREE games per season, and represent less 0.5% of the overall tickets.
Match of the Day presenter Gary Lineker took to Twitter to express his surprise at what he called club's extreme greed.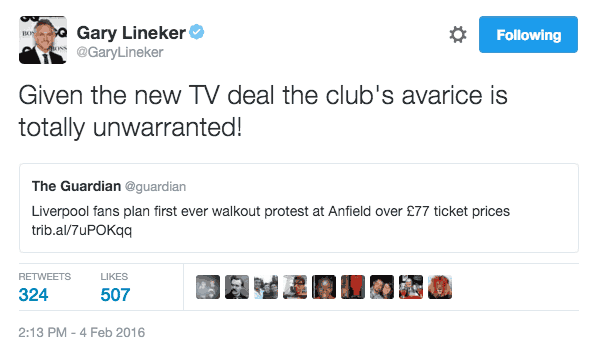 [interaction id="56b37a118b03d1a9471323d8″]