The out-of-favour Belgian striker has given himself more to do in the fight to save his flagging Anfield career and thinly-veiled criticisms of Klopp will gain him no sympathy.

It was brash, defiant and full of self-belief. Here was a player indignant at his continued absence from the first team and insistent that his manager had been wrong to overlook him.
We should be talking about a performance on the football pitch from a disgruntled striker desperate to prove a point to his manager and the fans, but we're not, we're talking about an interview.
It is first necessary to clarify that frustration over peripheral involvement in the first team, especially from strikers, is totally natural and somewhat understandable. Strikers live for goals, not sitting on the bench watching others score them. For Christian Benteke, though, that is the issue.
This is not a forward who has been deprived of chances to impress. It will be remembered that the former Aston Villa frontman has been guilty of some glaring instances of profligacy this season. His astounding misses at Anfield against Leicester on Boxing Day and again at Sunderland four days later serve as key examples of the lack of conviction he has shown in front of goal, as well as in general play.
For a player so physically imposing, he is far too gentle on the opposition. A recent example where he immediately apologised to West Ham's Angelo Ogbonna after a 50-50 tussle in which Ogbonna came off worst, highlighted this point further. Leave him down there, Christian. He'd do the same to you.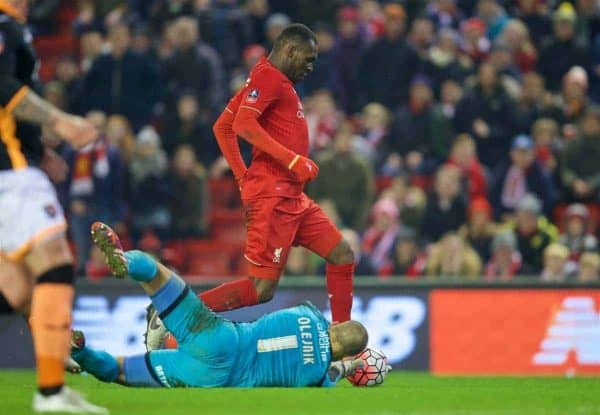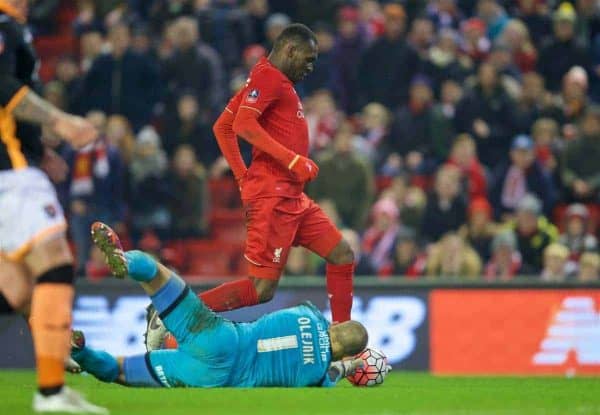 Both of the aforementioned games against Leicester and Sunderland were settled by a Benteke winner. They were good goals too, so there was no reason for the dithering approach to chance conversion that was displayed.
There have been other, costlier chances that the Belgian has passed up. The memory of Benteke one-on-one with West Ham goalkeeper Darren Randolph in the FA Cup replay against West Ham will not sit well with any Liverpool fan.
Nor will the scores of chances Benteke missed in the same competition at home to Exeter. More recently, a miss away at Southampton highlighted Benteke's increasing tendency to choke when he should be ruthless.
None of this is to scapegoat Benteke by any means. Football matches are settled over ninety minutes and to blame defeat on an individual moment is to overlook other areas in which a game could have been won. The point is, Benteke does not play with the conviction of a man who truly believes he should be first choice.
Timidity has been too much a feature of Benteke's play this season for his comments, given to Sport/Voetbalmagazine, to be afforded much credence by his manager.
What Jurgen Klopp needs from this player is not defiant words, but defiant performances. Likely the most decisive moment in Benteke's Liverpool career to date came at Selhurst Park in early March.
It was here the front man performed with the requisite quality, confidence and directness that Klopp needs from a player. The ice-cold composure shown when dispatching his penalty beyond Alex McCarthy was in stark contrast to Benteke's earlier struggles in front of goal. It was a perfect example of an impact substitution.

Benteke attests that he doesn't understand the reasons for his lack of game time, but he should. He points to Klopp's praise of his abilities in order to reinforce the point that his lack of inclusion is unjustified, but having ability and properly applying it are two totally different things.
Nobody at the club wishes ill on the Belgian, despite his belief that he is resented 'more than anyone else' when misplacing a pass.
There is and always has been a genuine hope that he will succeed at the club. He is a likeable character and far from the carthorse many depict him as. However, he is running out of opportunities.
As it is, Benteke finds himself behind Daniel Sturridge, Divock Origi and Roberto Firmino in his manager's thoughts. Sturridge is back on the goal trail after his superbly taken finish away at Southampton recently, Origi – Benteke's international colleague – has improved markedly under Klopp and is now imposing himself on games in a manner that will surely yield dividends in the future and Firmino is one of the most in-form attackers in the country with a real penchant for clinical, decisive goals.
It is a long way back for Benteke from here and, thanks to his recent comments, he has not a made a good start in the final push to save his Liverpool career.