Calls for Liverpool to establish a new spine may have been satisfied against Man United on Thursday night, as a clutch of key stars shone.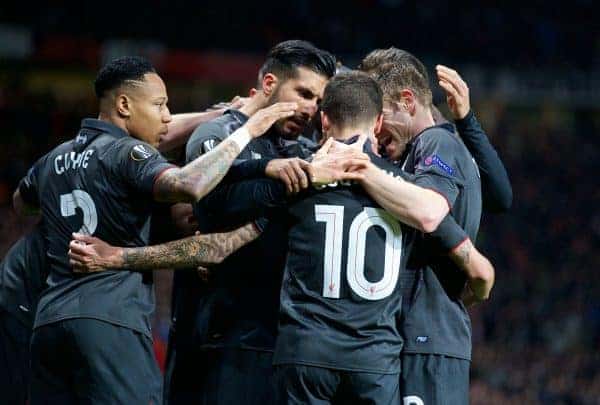 When Liverpool were drawn with United in the Europa League's last 16, Klopp found himself vindicated; this was the tie that he was craving, and a great opportunity to seal progress.
While this first European meeting between the two sides in their long and storied history was far from the most high-profile, given the decline of the Reds and their north-west rivals in recent years, Liverpool's victory over two legs was emphatic nonetheless.
Taking a two-goal lead to Old Trafford, Liverpool were in a strong position to dominate, and while United produced a battling display in the first half, they managed just that.
Looking ahead to the quarter-finals, Klopp can be confident of a strong run by his Reds side.
As they proved on Thursday night, in a performance of grit, determination and match-winning quality, Liverpool are developing a new spine that will be key to their success.
Defensive Strength

In the first leg at Anfield, Liverpool forced United into a backs-to-the-wall defensive effort, with the free-flowing attacking football of Adam Lallana, Roberto Firmino and Co. working to push Louis van Gaal's side towards their own goal.
While their defence proved simple to breach, the heroics of David De Gea kept United in the contest, and Van Gaal targeted a high-scoring performance from his side in the return fixture.
Buoyed by their home advantage on Thursday night, United enjoyed much of the possession in the opening stages.
Lining his side up in his regular 4-2-3-1 formation, Klopp provided the perfect platform to cling onto their lead, and while Nathaniel Clyne struggled and James Milner endured a hit-and-miss evening out of position at left-back, Liverpool's defence held strong throughout.
Much of this was due to the centre-back pairing of Mamadou Sakho and Dejan Lovren, who are developing a strong understanding following their respective injury problems. v
At Old Trafford, Sakho was in a defiant mood, throwing himself into challenges, charging ahead of United attackers to quell dangerous moves and taking a no-nonsense approach in possession.
His last-ditch stop to deny an onrushing Marcos Rojo in the second half was perhaps most impressive, with his lunging tackle keeping Liverpool in the game at 1-0 down.
Alongside him, Lovren kept things simple, performing the stripped-back role that has seen Klopp coax his best form out of him since his move to the club last summer, looking to the more accomplished Sakho for an outlet in possession.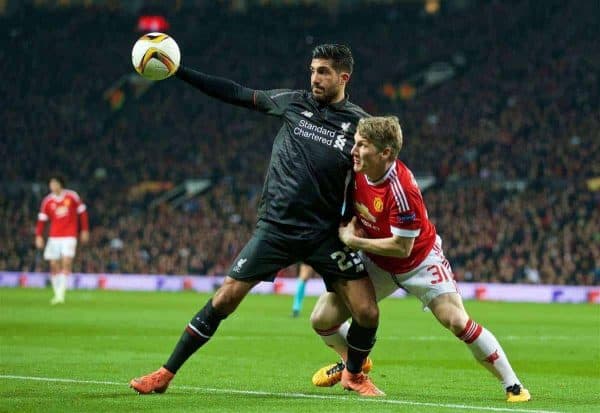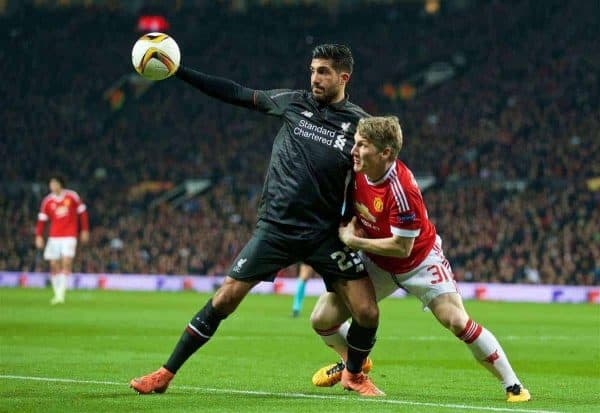 Sakho and Lovren's evening was made easier by another imperious performance from Emre Can, who recovered from a slow start marred by sloppy passes to produce another showing of all-round brilliance.
The epitome of the box-to-box midfielder, Can was central to Liverpool's success in both defence and attack, making eight successful tackles and four interceptions, as well as two key passes.
This Sakho-Lovren-Can triumvirate played a big hand in Liverpool securing the result on Thursday night, frustrating United and limiting their openings to the wide areas.
Attacking Inspiration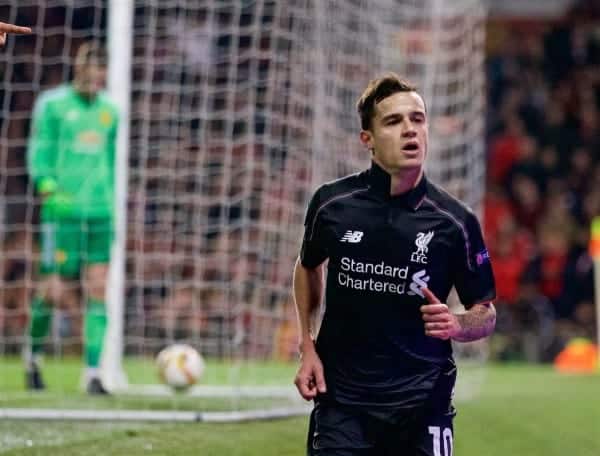 By contrast to Sakho and Can's brilliance, Liverpool's attacking quartet were far from their best on Thursday night.
Firmino and Lallana struggled to gain control in possession, squandering any advances made by their impressive off-ball work, running into blind alleys and ignoring promising openings.
Meanwhile, Daniel Sturridge produced another worryingly profligate display at the tip of the Liverpool forward line, spending much of the evening with his head down, charging aimlessly towards the goal and firing hopeful efforts high and wide.
Klopp saw fit to substitute Sturridge just over 20 minutes into the second half, and while the No. 15's reaction showed a commitment that should be lauded, it proved the right decision.
Furthermore, while Klopp praised Coutinho's "genius moment" in his post-match press conference, it was merely a moment of genius; the Brazilian was far from his creative best at Old Trafford, with his ill-advised square pass leading to Anthony Martial's first-half penalty.
But as he picked the ball up off Can, charged past Guillermo Varela and chipped De Gea just before half-time, he outlined his enduring value.
Like Firmino, Lallana and Sturridge, Coutinho has proved himself to be a vital match-winner on a number of occasions this season, and it is this X factor that Liverpool will need to succeed.
Pair this attacking inspiration with the defensive strength of Sakho, Lovren and Can, and Liverpool look to have found the spine they had been lacking for so long.
Work in Progress

This is a Liverpool side still in its embryonic stages, with a new manager still striving to realise his vision after just five months on Merseyside.
Having sealed progress to the quarter-finals of the Europa League, as well as a League Cup final and the faint hope of a top-four finish in the Premier League, Klopp's first campaign as Liverpool manager can be deemed a success.
Largely, this is due to the fighting mentality the German has instilled within his squad, but with the improving performances of Sakho, Lovren, Can, Lallana, Firmino and Coutinho among others, he has vindicated the club's forward planning.
While his predecessor claimed otherwise, many of the tools were already there, they just needed the right hand to guide them.
This is a Liverpool squad with authority, defensive strength, a formidable engine and a sprinkling of top-level quality in attack, but it remains a work in progress.
Beginning his rebuilding work early with the additions of Joel Matip and Marko Grujic, Klopp has clearly acknowledged this, and this will no doubt continue over the summer as he looks to find a consistency within his squad.
What should be encouraging, however, is that it won't be the complete overhaul that was initially feared; as Klopp has successfully nurtured the quality already at his disposal.