Liverpool striker Divock Origi has spoken of his love of Anfield, and says he hopes to feature at home to Man City on Wednesday, following a lengthy spell out injured.

Origi recently returned from two months on the sidelines with hamstring and keen injuries.
The 20-year-old says he relishes taking the field at Liverpool's world-famous stadium, and hopes to play a significant role against City on Wednesday.
"To be honest, I've missed Anfield because I like playing at home – there's a good atmosphere," Origi told Liverpoolfc.com.
"The last time against Leicester, there was a good atmosphere and we beat them. We played a big game. I came off with an injury, unfortunately, but I always enjoy playing there and I hope to score more goals at Anfield.
"I'm always hoping to play. Obviously the manager makes the choices, I just try to maximise and enjoy my game time, whoever the coach puts out; if it's me, I'll give 100 per cent and I'll be very happy to play."
Origi could be inline to start tonight, with Daniel Sturridge unlikely to be risked after playing 120 minutes and suffering cramp in the final stages on Sunday. It was the first time Sturridge had played over 75 minutes since last October.

Origi believes it is vital that the Reds bounce back from Sunday's depressing League Cup Final loss to Manuel Pellegrini's side, and feels Klopp's inexperienced side will learn from the experience.
"As a human being, it's always painful to be so close to an objective and miss it.
"But we have to use this as positive energy to compete in the game against City. The training was intensive like always, just preparing for the next game.
"It would be very good if we could win and take the three points – for our mentality and the league also. Our objective is to do as well as possible and get the three points.
"It's going to be a big test. Every game in the Premier League is intensive and to play against Manchester City is a big game. In one way it's good because it's always nice to play a big game at home.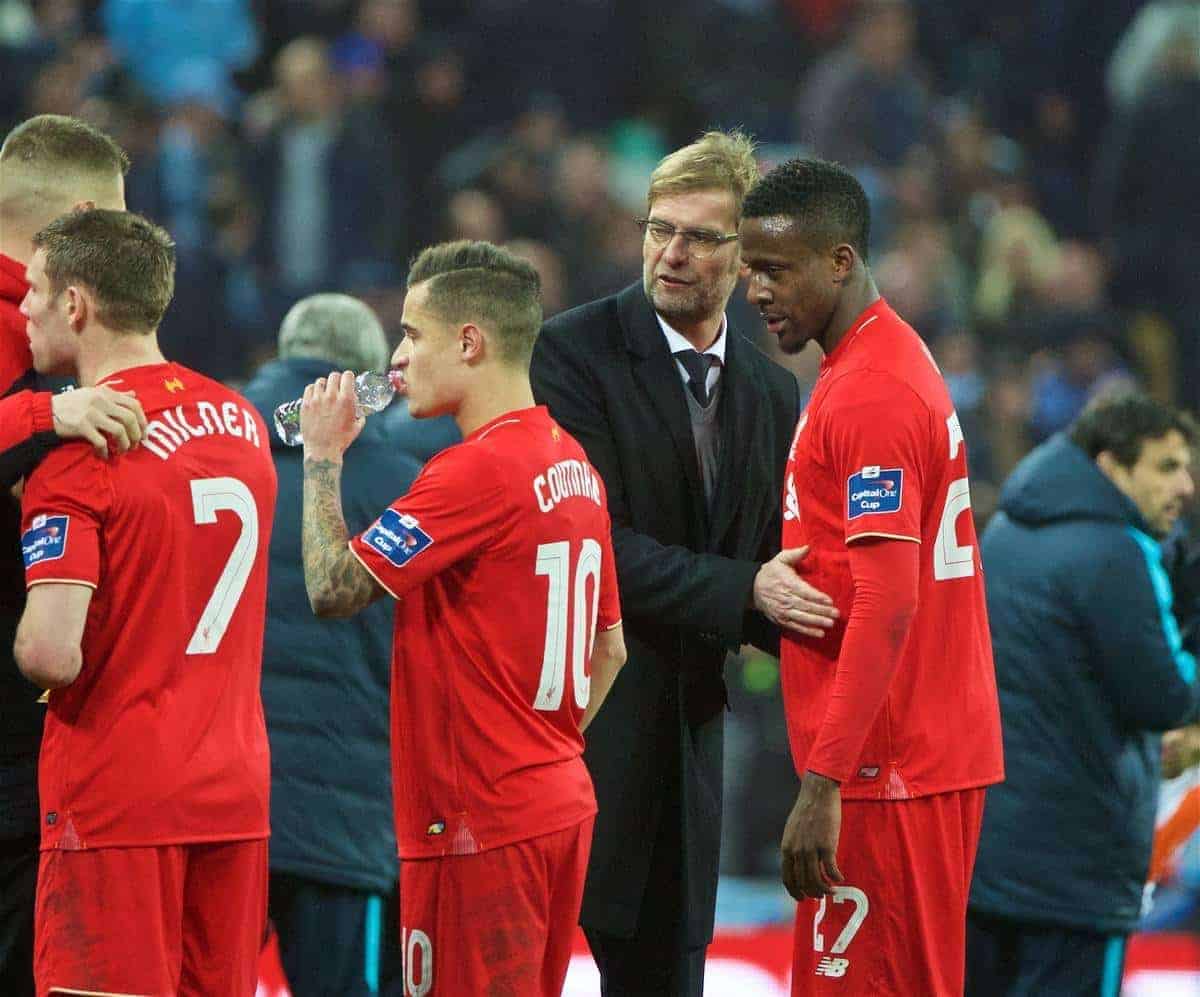 "We have all the ingredients to go far in the future. But we still have to learn, we are young. We have a good club, good supporters and a very good manager, so I am confident for the future.
"For me, it was a first experience of a final. It wasn't a fun experience but it will push me for the next time to go even further."
Origi's form has been a definite plus point since his return from injury, and his introduction at Wembley certainly helped change the game – he added physical presence, pace and also showed good ability to hold up the ball and link play.
He is now clearly ahead of compatriot Christian Benteke in the strikers' pecking order, and should continue to blossom in the coming months and years.
When someone of Vicent Kompany's calibre says of Origi, "if he continues in this way, in a few years he will be among the five or ten best strikers in the world", there is reason to be excited about him.
MORE TODAY: Klopp: "I love the challenge… I think I am a perfect solution"