Returning to Premier League action after the drawn-out international break, Liverpool must bounce back positively again to an ill-timed loss.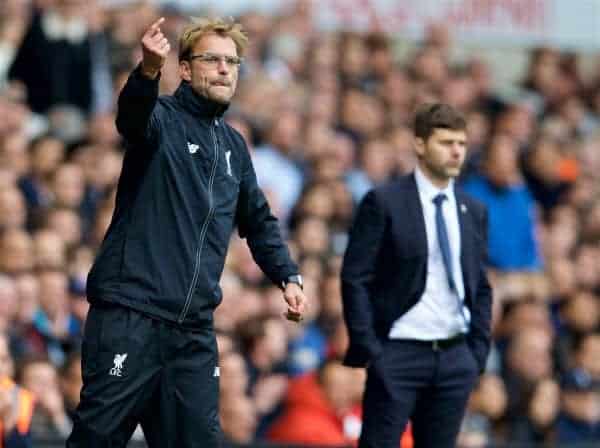 Losing before an international break and having to stew on the aftermath is a horrible feeling Liverpool have become accustomed to this season.
Equally uninspiring has been the Reds' response to those ill-timed defeats throughout the campaign – winning only one of three games upon the reconvening of the domestic season.
With every point now crucial, Jurgen Klopp's side must draw on the experience of burying disappointment with an emphatic response – as produced following November's international pause – to secure a key three points this weekend.
International Break Déjà vu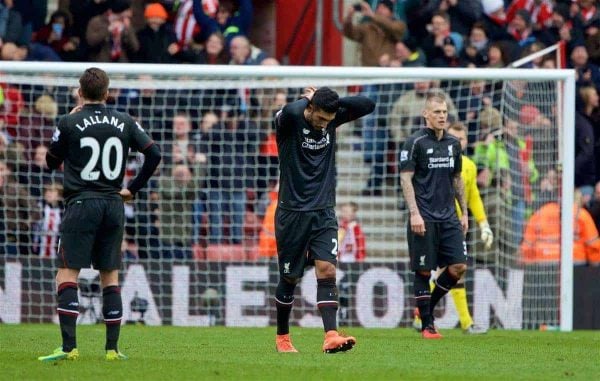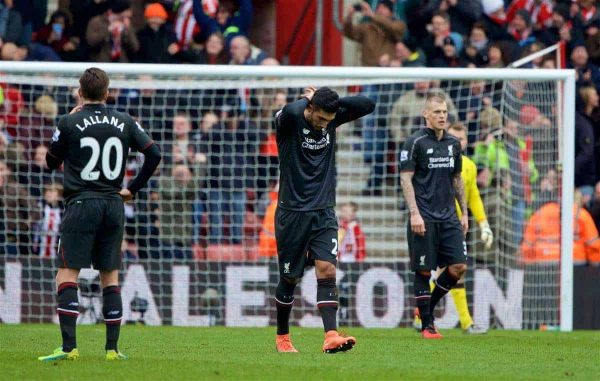 Heading into the final international break of 2015, Liverpool played host to Crystal Palace at Anfield.
Looking to build on the positive momentum gained from Klopp's recent appointment, the Reds instead slumped to a first defeat under the German, with a 2-1 loss to the Eagles.
It was the worst possible way to head into the fortnight's interruption, having the frustration of a flat, derailing loss hanging over the Reds, leaving an extra sense of anger at having to wait to bounce back.
A long 13 days after the Anfield reverse – following rewarding training-ground time with those left out of national involvement and injury returnees – the Reds headed to the Etihad in the last type of game wanted when looking for an instant lift.
But fresh and re-energised, Klopp's side turned in arguably the best performance of his brief tenure as they hammered Man City, romping to a memorable 4-1 win with a spectacular display.
It was a magnificent reaction from Liverpool – one that was certainly worth waiting for.
Four-and-a-half months on, it's a case of déjà vu, as Klopp's men look to come back from a spineless collapse against Southampton 13 days ago with a win against another of the Premier League's big-hitters.
With numerous similarities in the situations, Liverpool must ensure there is one more yet, with the Reds needing a similarly strong response to grab three big points at Anfield.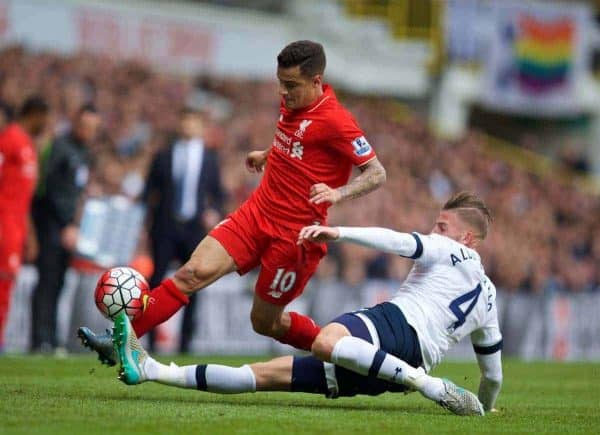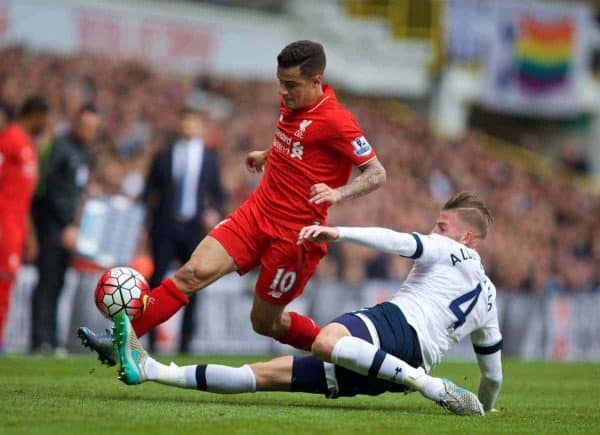 Responding against Mauricio Pochettino's title chasers is as tough a task as they come currently, and arguably a bigger challenge than visiting the Etihad was.
But after time to regroup and re-energise, the Reds must call on the November's experience in search of another perfect reply.
Attempts will be boosted by having Alberto Moreno back, Philippe Coutinho refreshed after playing just 23 minutes for Brazil, James Milner available again after suspension, Adam Lallana in strong form and Daniel Sturridge unscathed from England duty.
Roberto Firmino, who missed the Saints defeat, may also return to provide another boost, making for a stronger squad than that available for the City mauling.
Liverpool have a fantastic Anfield record against Tottenham – losing only once since 1998 – and having won 10 of 12 points in the last four home meetings, they will have to call on home comforts once more against Pochettino's team – who pose a much different test to Spurs teams of yesteryear.
Taking charge for the first time in the reverse fixture, Klopp's side went straight after Spurs at White Hart Lane, pressing relentlessly to unsettle the home side and battling to a well-deserved point.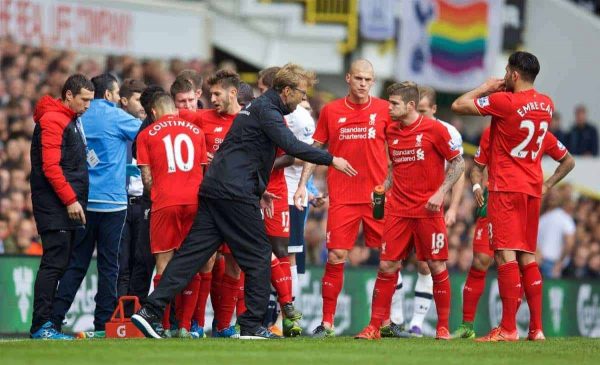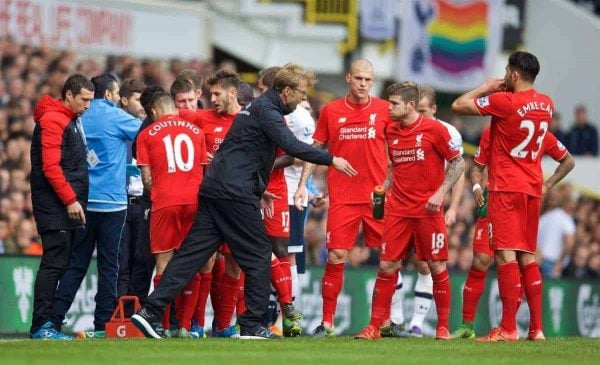 The same intensive pressing will be required to disrupt their slick passing rhythm gaining momentum through Christian Eriksen and Mousa Dembele to the lethal Harry Kane, while power and creativity from midfield and attack must be as energetic and ruthless once again as Liverpool attempt to breach the league's best defence.
Pochettino has history at Anfield – he guided Southampton to a 1-0 win in September 2013 through Dejan Lovren's winner – and with his team boasting an excellent mix of talent, skill, steel and spirit, he will be confident of improving Spurs' dreadful L4 record.
But with three points essential to keeping Liverpool's increasingly faint top-four dreams alive, they must ensure the only repeat on Saturday is another bounce-back victory.
Bouncing Back Again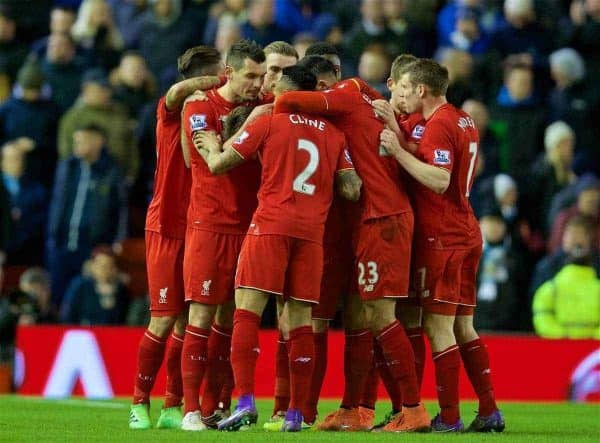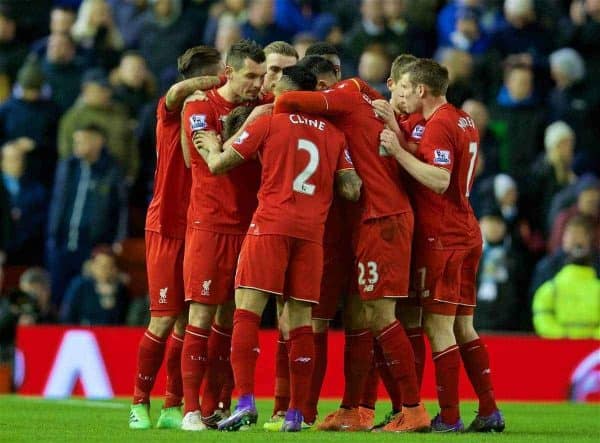 With top-four aspirations hanging by a thread following the poorly timed St Mary's capitulation, three points must be forthcoming.
Liverpool must respond as positively and confidently as in Manchester, with Spurs' visit as close to a win-or-bust game the Reds will play in the league this season.
Defeat would officially end the domestic campaign – especially if top-four hopefuls Man City and West Ham both pick up likely victories against Bournemouth and Crystal Palace respectively.
Should that worst-case scenario play out, the Reds would be left 10 points adrift of the fourth spot – a gap that would be impossible to make up, even with a game in hand.
But victory – whether a replica of the 4-1 City crushing or a hard-fought 1-0 – would potentially prove huge to the sprint finish, especially with the belief that would be gained from claiming three points from the title challengers.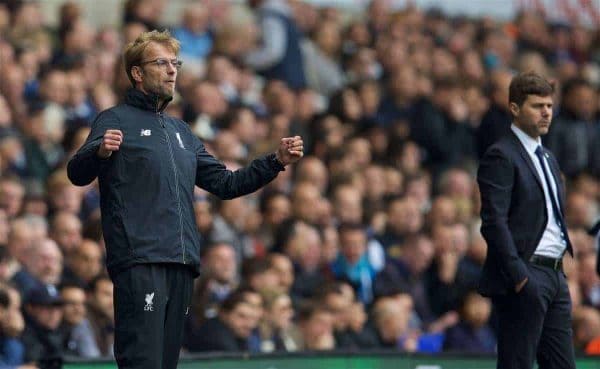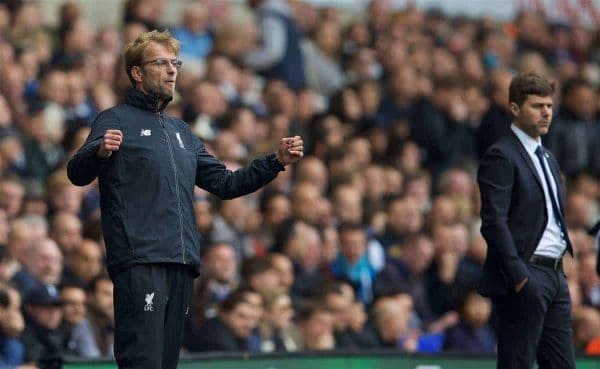 Liverpool's toughest remaining league fixture until Chelsea arrive in May, the Reds would gain huge confidence ahead of a very winnable set of fixtures which sees Stoke, Bournemouth, Everton, Newcastle and Swansea the next five opponents.
If Klopp's side have serious ambitions to fight to the end of the race for fourth, that run must produce a healthy points total and three points on Saturday would position the Reds perfectly in anticipation for that sequence.
Liverpool's dominance of this fixture – they have lost just eight of 80 Anfield meetings – has seen some important victories picked up over the years.
Another must be achieved this weekend as they look to make a crucial return to winning ways at the first attempt.
If not, Champions League dreams will be over.