If any more evidence of Liverpool's continued progress under Jurgen Klopp was required, it was delivered in emphatic style on Thursday night.

Back in September, Liverpool put in possibly the most anaemic, negative display at the theatre of prawns I have witnessed in my lifetime. United played without a recognised striker that day, with Fellaini up front, and still managed to embarrass us 3-1. 12 of the United players (including subs) that won that game played on Thursday night. This time it was they who were humiliated.
In January, three months into the job, Klopp faced United for the first time as Liverpool manager. It was still early days, but there was a significant change in approach for this game. Liverpool had 19 efforts on goal, yet still lost to United's sole effort on target. Even so, the display was at least 'encouraging' in terms of the approach to the game, and that even in defeat, we were the better team overall.
What is quite telling is that four of the back five from that game played on Thursday night (Lovren the only change.) Henderson and Can made up two-thirds of the midfield, while Lallana and Firmino made up two-thirds of the forward line on both occasions. The three changes from the January game to Thursday night were Lovren, Coutinho and Sturridge in for Toure, Lucas and Milner.
So what does that tell us? Well, I would assess it like this: Klopp has cemented the defence and with only occasional and/or enforced tweaks, has a much more settled back five. As such, there is improved understanding across the back line, and the 'goals against' stats are significantly improved. Our last seven games have seen us concede just twice, resulting in five clean sheets.
In the middle and up front, the more creative players are now beginning to strut their stuff on a regular basis. In those same seven games we have scored 15 times, including a 5-0 aggregate against the two Manchester clubs – both of whom had their bottom smacked before we sent them back down the East Lancs questioning their "identiteh."

The understanding between Firmino, Coutinho and Lallana is mouth watering at the moment and there is genuine promise of greater things ahead. The movement on display on Thursday night from the front four/five players meant that United's back six was run ragged. They simply couldn't handle the pressing, movement and fluidity of the highly impressive Liverpool attack.
As for their manager's claims that it was individual errors that made the difference, well, when a team is stretched as much as this, mistakes are inevitable. In fact, they were very lucky that more of their 'individual errors' weren't punished.
When I look at that 'LFC' (Lallana, Firmino, Coutinho) triumvirate and their current form and understanding, we might just possess the most creative forward midfield trio in the Premier League right now. And once Sturridge gets his post-injury mojo back, and Origi gets more game time, who knows just how much more devastating they can be?
But it isn't just the forwards who deserve the praise for Thursday night's tonking. Another towering performance was that of Nathaniel Clyne. Not only did he help snuff out any threat posed by The-nearly Henry, (3 goals in his first 2 Premier League game – 4 in the subsequent 21) but his forward play was encouragingly progressive. He's been stellar all season, but this was his most complete full back/wing back performance yet… and he achieved it without sacrificing his defensive duties.

As for our opponents, well, they were dire. No, not just dire – pathetic! And I'm not only talking about their fans and their disgusting chants. I heard the Scholes and Ferdinand rant about the team, and I read comments from United fans. They all seem to focus on a specific thing lacking in this team; a lack of heart, passion and desire. Honestly, I don't think that's the issue. Instead, they're missing something which manifests itself as a lack of heart and desire… ability!
Many – in fact most – of these United players are simply not good enough. Depay, Rojo, Blind, Schneiderlin, Carrick, Fellaini, Varela, Herrera, Lingard, Rooney, Darmian, Jones, McNair, Valencia, Periera, Januzaj are all various levels of rubbish. Mata is a luxury who cannot be afforded, hence why he's no longer at Chelsea. Let me ask you, would you want to have Mata as your only mate in the pub if a 15 stone drunk decided to beat you up? He has so little stomach for a fight he'd probably help the drunk! Rashford, Martial, Borthwick-Jackson and Love are naïve kids being asked to do the jobs of men (there has to be a Love is Blind joke in there somewhere but I'll resist!) And if Schweinsteiger and Carrick get injured I hear LVG is checking on the availability of Statler and Waldorf as like-for-like replacements.
And then, of course there's Fellaini.. he deserves his own paragraph! A player who would be more use cleaning toilets than playing football continues to get a start for the world's most delusional club. And his manager proclaimed his as their man of the match! Rarely have I seen a player so unbelievably limited play at this level (Well ok, there's Bebe!). He charges around the field like a demented bull, kicking and elbowing his way to, well, nothing! Surely it goes without saying that a three game ban will be his 'reward' for his assault on Emre Can? In my estimation, he should actually have received 3 yellow cards and one straight red but I don't think the ref had any room left on his card. Have you noticed how there is barely a mention of the incident in the press?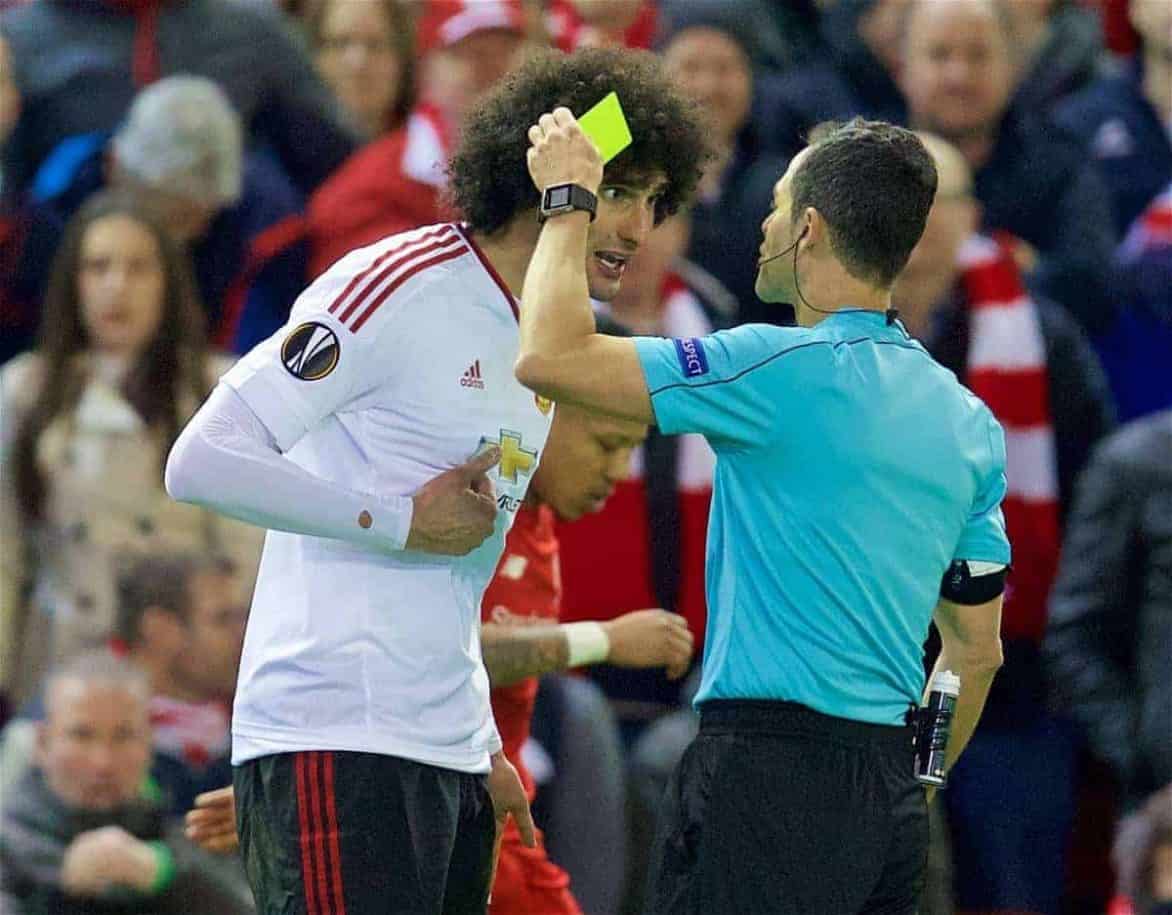 As for our manager, he was fantastic both before and after the game. How refreshing is it to have a manager talking about 'payback' – and even now, reiterating that "this is the first part of payback." He recognised just about every player – including the subs – for their performance and contribution, while at the same time, acknowledging the fans AND the history of the club. "This is the Liverpool I knew before coming to Anfield," he said. Brilliant stuff!
As for their manager? Complaining about refereeing decisions and scowling at ex-players when your team has just been played off the park, sums up another reason that these two clubs are going in opposite directions.
It's only half time, but never have we had a better opportunity to really rub their noses in it… roll on St Patrick's Day.