With Alberto Moreno coming under fire following a downturn in form in 2016, Jurgen Klopp may be looking to address his problems at left-back.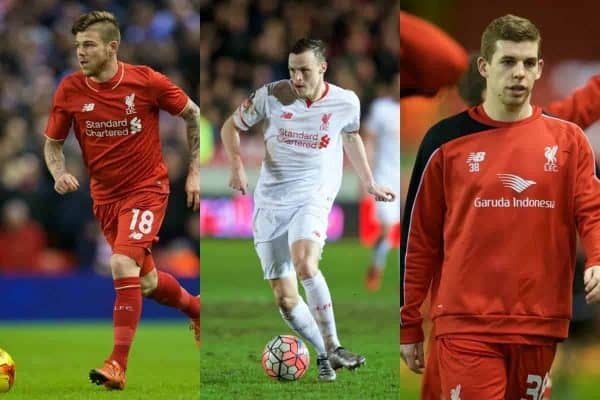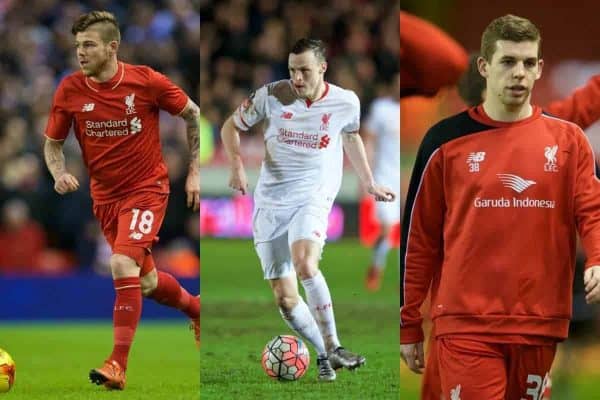 Deep into the second half of Sunday's League Cup final defeat to Manchester City, Jurgen Klopp looked towards his bench in an effort to turn the tide.
Introducing Adam Lallana and Divock Origi, Klopp gave his struggling side a more attacking look, but it was one of the players who made way that arguably proved more telling as the Reds fought back: Moreno.
The Spanish left-back had struggled through the Wembley Stadium clash, and with Klopp moving James Milner into his defensive role against City, his manager had acknowledged this.
It was a tactical move that saw Klopp mirror his predecessor, Brendan Rodgers, and point towards a problem position in his ranks.
Moreno has endured a troubled 2016, and a major downturn in form from his bright displays in the first months of Klopp's reign, and the impetus is now on the manager to find a solution.
Preparing his side for another clash with City on Wednesday night, Klopp must now decide between sticking with Moreno, or fielding an alternative—namely, one of Brad Smith and Jon Flanagan.
But which is the most suitable option, and how can Klopp solve this problem in the long term?
Brad Smith

That Smith is even under contention following Klopp's arrival is remarkable, given the Australian's situation prior to October.
Having seen the last year of his contract run out in 2014/15, Smith spent the summer searching for a new club, with Liverpool seemingly unwilling to satisfy his first-team desires.
But Klopp's appointment coincided with the contract situation being resolved, an injury crisis, and therefore a reintroduction to the first-team setup.
Making an immediate impact in his first appearance under Klopp, Smith supplied Divock Origi's hat-trick goal in Liverpool's 6-1 win over Southampton in the League Cup, with his inch-perfect delivery from the left flank highlighting one of his key attributes.
Over his seven games this season, Smith has proved himself a strong, athletic left-back with a front-footed attacking approach.

A bullish, physical frame and the ability to cover ground with pace helped Smith to a goal and an assist over two games against Exeter City in the FA Cup third round, with his overlapping runs providing Klopp with a more direct outlet than Moreno.
What Smith shares with Moreno, however, is a questionable positional sense in the defensive sector.
Caught out a number of times in the Reds' FA Cup fourth-round defeat to West Ham United, it became clear that this is still a raw talent.
But with little time to settle in a first-team role, it remains to be seen what impact Smith could make in a steady back four, and with Moreno culpable on a number of occasions in 2016, he may warrant an opportunity in the Premier League.
With the league season petering out, most supporters would be happy to see Smith handed his first league start in at least one of the 12 remaining league games.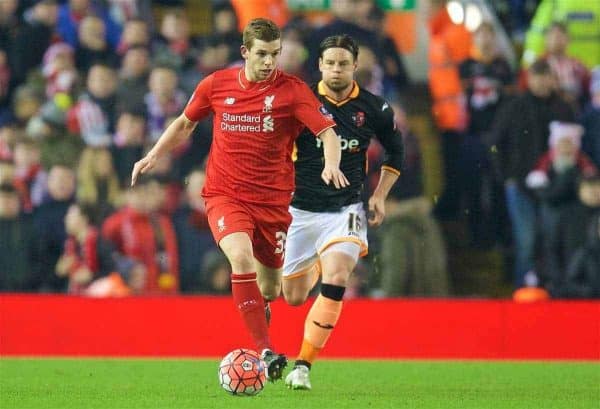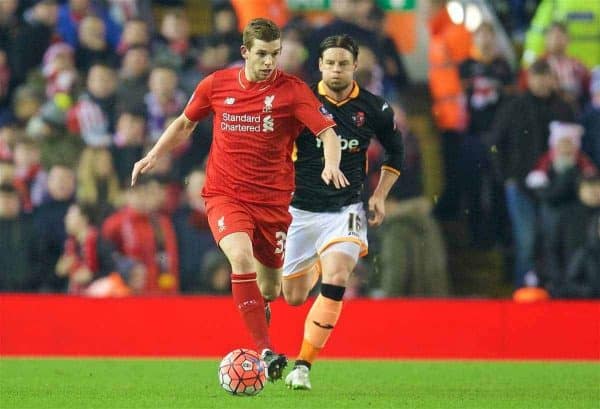 If Klopp opts for a more defensively sound left-back, Flanagan provides the German with the ideal option, having shown his strength during Liverpool's title challenge in 2013/14.
Approaching his duties at full-back with an emphasis on defence, Flanagan is an aggressive, tough-tackling 23-year-old who thrives on keeping attackers away from the penalty area, and crucial to this current Liverpool side, blocking crosses on the flanks.
While he is right-footed, Flanagan spent much of 2013/14 operating ahead of Aly Cissokho in the left-back pecking order, keeping his game simple, providing a balance for the swashbuckling Glen Johnson at right-back.
In 2013/14, none of Rodgers' regular defensive options averaged more successful tackles (3.7) or more interceptions (1.9) per 90 league minutes than Flanagan.
Furthermore, when he was required to support Liverpool's attacking play, he did so adequately, belying his reputation as a limited full-back.

But sustaining a knee injury in the final game of that season, Flanagan began a lengthy period on the sidelines that presents Klopp with a risk when considering the Scouser for first-team selection.
Flanagan spent 619 days out injured, missing the entire 2014/15 campaign before making a triumphant return in Liverpool's replay against Exeter in January.
He has made just two appearances since, both in cup competitions, and with his contract running down into the final months, Flanagan was omitted from Klopp's squad for the Europa League.
On paper, he would be the ideal solution as Klopp looks to steady the ship at left-back; it is unlikely that a fully fit Flanagan would have failed to track Fernandinho for City's opener in Sunday's League Cup final.
But whether he is able to keep up with the pace in the Premier League, after such a long spell on the sidelines, remains to be seen. Could he be offered his first league start since May 2014 in Wednesday's match against City?
A Long-Term Solution?

Seemingly at odds with his tactical responsibilities, Moreno is in need of a spell on the sidelines—the Spaniard has been given little in terms of competition in the league this season, and complacency may have settled in.
Both Smith and Flanagan provide Klopp with comfortable options as cover, and it can certainly be argued that both deserve an opportunity to impress their manager in the league.
Against a revitalised City side on Wednesday night, it may be sensible for the German to turn to Flanagan.
The academy product's positional sense and defensive nous would give Liverpool more of a balance in defence—particularly if Klopp perseveres with a centre-back pairing of Kolo Toure and Lucas Leiva.
But whether Smith and Flanagan are upgrades on Moreno in the long term is questionable, with the former Sevilla man having showcased his quality over his two seasons on Merseyside so far.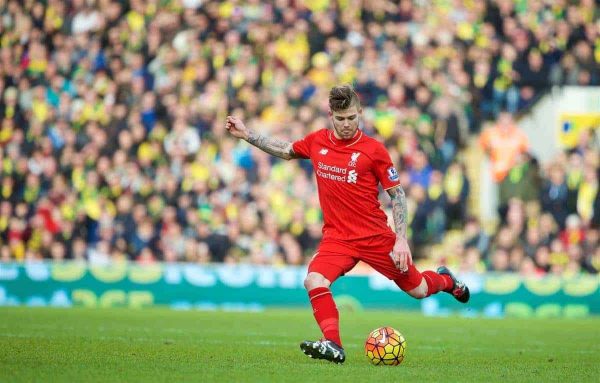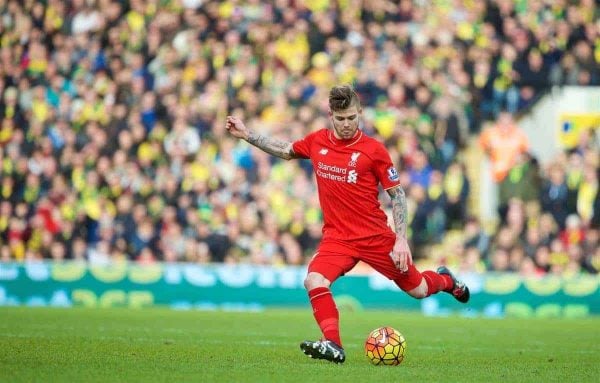 When on form, Moreno is a distinguished, front-footed left-back, stepping out of defence to break up play and utilising his pace and attacking sensibilities to support surges into the final third.
Only one first-team regular—Roberto Firmino (2.4)—has averaged more key passes per 90 than Moreno (2.2) this season.
With inconsistency creeping into his game, Moreno needs competition, and if Klopp recognises this, he could see the 23-year-old eventually achieve his potential, rather than stagnate.
This season, this comes in the form of Smith and Flanagan, with the latter best placed to shine against City on Wednesday night.
In the long term, an experienced alternative should be acquired — reports on Tuesday claim the Reds are retaining interest in Leicester City's Ben Chilwell to do just that this summer. Hopefully we'll see Smith and Flanagan given their chances before the summer.