The Premier League have announced a price cap of £30 on all away tickets for the next three seasons.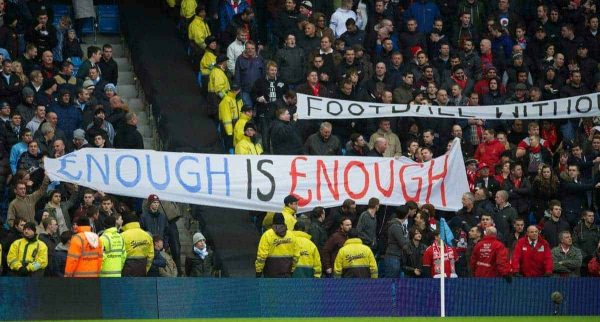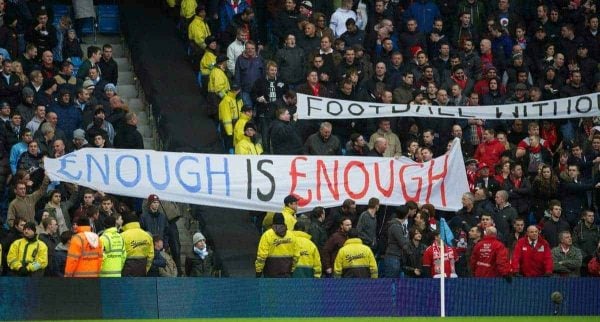 The announcement on Wednesday comes after much campaigning from supporters groups to lower ticket prices when new TV deals next season mean clubs will be earning more money than ever if prices are lowered.
The ground breaking agreement was agreed in light of the new domestic TV rights deal which is worth £5.14 billion and begins next season. Overseas rights take the total figure over the £8 billion mark.
A vote between clubs last month saw the majority required to pass the ruling not reached, but clubs have now agreed to it – perhaps in light of pressure from fans groups, and after Liverpool's protest last month.
Fans of top clubs like Liverpool have been unhappy that they are charged more than other visiting supporters to teams for years. For example, Liverpool, Man United, Chelsea and Arsenal fans pay more than Everton, Stoke City or Leicester City fans when visiting Sunderland, Tottenham or Manchester City.
Having a £30 cap makes it fair for all visiting supporters, and also goes some way to stopping the spiralling prices.
It means fans could attend all 19 away games for £570 across a season.
In addition, individual clubs could further subsidise ticket prices, with Arsenal announcing they will reduce away tickets for their fans by a further £4. Hopefully Liverpool will do likewise.
A positive move from the Premier League and a victory, at last, for match going fans.
Premier League Statement:
After consideration of a range of options, Premier League Clubs have today undertaken that away fans will be able to attend Premier League matches for the next three seasons and pay no more than a maximum of £30 for their tickets.

Clubs know that away fans have a unique status:

They are essential for match atmosphere and stimulate the response from home fans that distinguishes Premier League matches from those of other leagues
They have additional travel costs and pay individual match prices, as season ticket and other discounts are not available to them
Responsibility for them is shared between Clubs and therefore it is right that there is a collective initiative to help them

This has long been understood by Clubs who currently provide away fans with a range of measures designed to assist them, including the Away Supporters' Initiative (ASI) introduced in 2013.

At their last meeting (4 February 2016) Clubs unanimously agreed that more should be done to help away fans and, after consideration of a range of options, have now decided to introduce the new £30 maximum price for away tickets.

This replaces the ASI as a single, League-wide recognition of the importance of away fans.