Jordan Henderson has been linked with a move away from Liverpool this summer, but the skipper remains an important player and shouldn't be sold.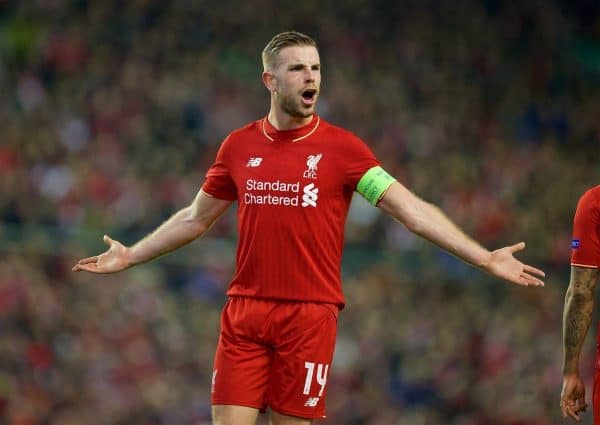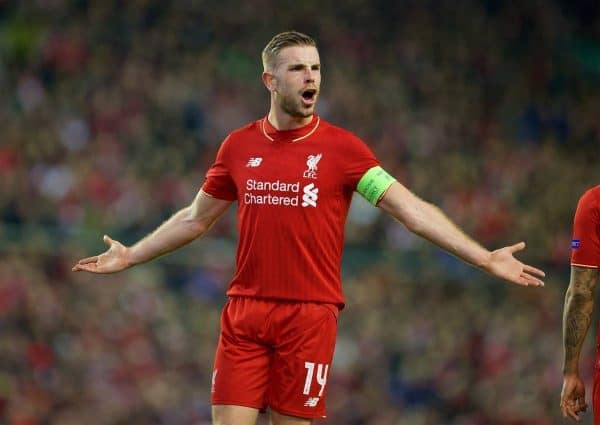 Recent reports, most notably from Jonathan Northcroft of the Sunday Times, suggest Henderson may be one of those under threat of being axed by Jurgen Klopp at the end of the season.
With top class reinforcements badly needed in midfield, and Emre Can becoming increasingly influential, it is perhaps only natural that the Reds captain is under pressure.
Hampered by his ongoing heel problem, his performances this season have often been forgettable, and he doesn't appear to be completely comfortable in his role as skipper.
Having won over a large section of supporters with his performances in 2013/14 and 2014/15, Henderson is now in danger of losing admirers, such is the fickle nature of the modern football fan.
While some of the criticism coming the 25-year-old's way has substance, parting company with him in the summer would be a move that makes little sense.
Underrated presence

While Henderson has not found top gear this season – his ongoing heel problem is likely to be a big reason for this – being overly critical of him is short-termism at its finest.
Since arriving from Sunderland in the summer of 2011, Liverpool have won 50 per cent of their games with Henderson involved. Compare that to without him, and the figure is a rather insipid 31 per cent.
This season in the Premier League, which as discussed, Henderson has been below-par in, the Reds have registered three points in 60 per cent of games the captain has featured in.
What is hugely telling is that without him, they have won only won 21.4 per cent. His presence is enormously understated.
The 2013/14 season was understandably dominated by the genius of Luis Suarez, goals of Daniel Sturridge and playmaking brilliance of Steven Gerrard, but Henderson's all-action style was also pivotal.
Liverpool won a whopping 68 per cent of matches with him in the side, while when he was out, the figure was less than half of that (33%).
Many will always point to Gerrard's infamous slip against Chelsea as the moment the Reds' title charge came to an abrupt halt that season, but Henderson's sending off against Man City a few weeks earlier was equally fatal.
[table id=145 /]
The sending off may not have affected the result on the day, but his dynamism was a huge loss for the final three games of the campaign. Liverpool lacked something without him, as has almost always been case.
Henderson is not the most aesthetically-pleasing footballer to watch, in terms of style, and unfortunately it works against him.
He may not possess a cultured left foot, a silky running style or the obvious all-round influence of someone like Gerrard in his prime, but he has been one of the most important players at the club for three years now.
Since the beginning of 2013/14, no English player has registered more assists (19) in the league, which throws any argument about him being 'poor on the ball' completely out of the window.
Henderson is very much a player you only truly value when he is not in the team, and last Sunday's second-half capitulation at Southampton was crying out for him.
While he will obviously never reach the incredible heights of former leaders such as Gerrard and Graeme Souness, he still possesses real authority.
Despite this, Liverpool are at a stage where they need to go up a gear in terms of personnel, which is where Henderson may suffer.
Future Role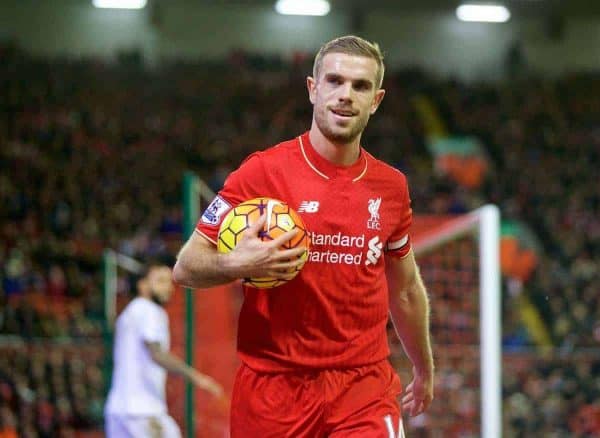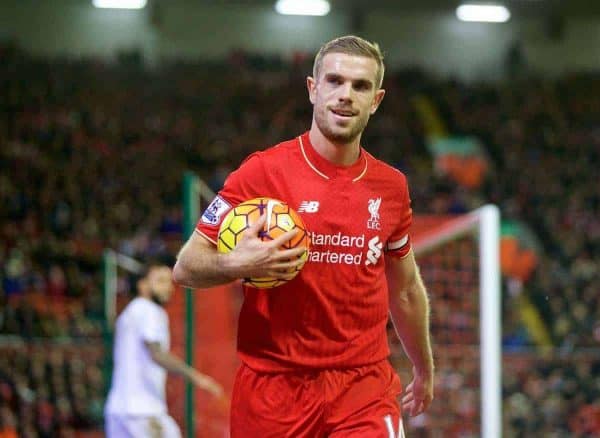 Perhaps the issue with Henderson is that, despite all his undeniable qualities, he does have limitations and many see his current role as being above his ability. Perhaps him being club captain doesn't help him either, as he's not quite the type to go dragging the Reds back into a game.
A future role where Henderson isn't captain, and isn't a guaranteed starter, would sit more comfortably with Reds.
If Liverpool want to return to the top of the English game, they cannot be relying on Henderson being a starter week in, week out. He lacks the guile and ability to shine at the very top, sometimes looking one-dimensional, and because of that, more of a squad role would be appropriate in the coming seasons.
Can, in comparison, looks like he genuinely could mature into a world-class midfielder in time, and his performances this season have highlighted Henderson's limitations.
Players such as Ilkay Gundogan and Granit Xhaka are being linked with summer moves to Merseyside, and these are the calibre of players needed if Liverpool are to challenge consistently under Klopp.
Henderson is his own worst enemy in a lot of ways, in that he can't quite nail down a specific midfield role in the team.
His phenomenal work-rate, underrated use of the ball and reading of play are all effective, but he can neither star as a playmaker or a guaranteed goalscorer from the middle of the park.
This makes him more dispensable to Klopp, who has enough attack-minded players at his disposal, and potential deep-lying playmakers coming in. Marko Grujic has also already been acquired, of course.
The future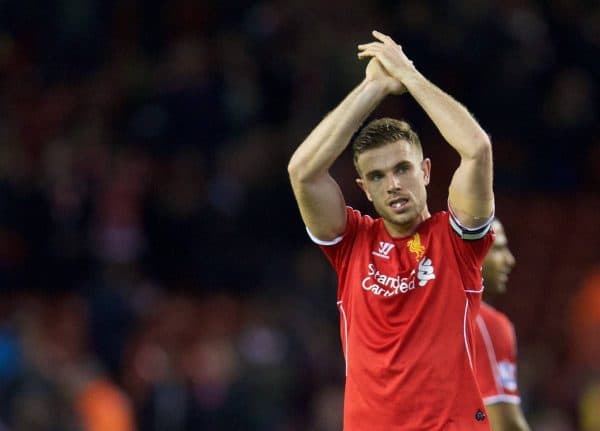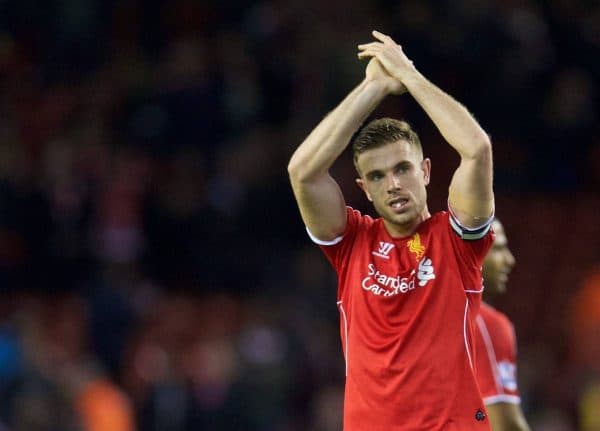 You only have to look at the above statistics to see how important Henderson has been to Liverpool during nearly five years at the club.
He has grown in stature since his dark early days at Anfield, and when he is not in the side, the Reds lack something.
Getting rid of him in the summer would undoubtedly be a mistake, unless his injury problems are more serious than we think, and he should remain an important squad player going forward.
Once new players are brought in, it may be that Henderson's chances in the first-team become a little more limited, and there is no shame in that. There is a feeling that he may not remain captain for too much longer, however.
The fear with selling him, especially to Tottenham, is that he could really thrive and get back to the level of the two previous seasons; relieved of the pressure and spotlight of being Liverpool captain.
Remaining at Anfield, he can play a similar role to that of a player such as Darren Fletcher during his Man United days; thriving in a number of matches but not always a guaranteed starter. He'd still play 40 games a season.
Liverpool supporters have been too critical of the 25-year-old's displays this season, and while they have not hit the heights of the last two years, he has still been a mature presence on the whole.
When has he actually been a weak-link?
Henderson will always be an easy target, not a fashionable player, but so much of what he does goes unnoticed, both on and off the ball.
The Reds can improve on him, but that does not make him someone who needs to be sold.