A comprehensive display from Liverpool over two legs secured a 3-1 aggregate win over Man United, and a place in the Europa League quarter-finals.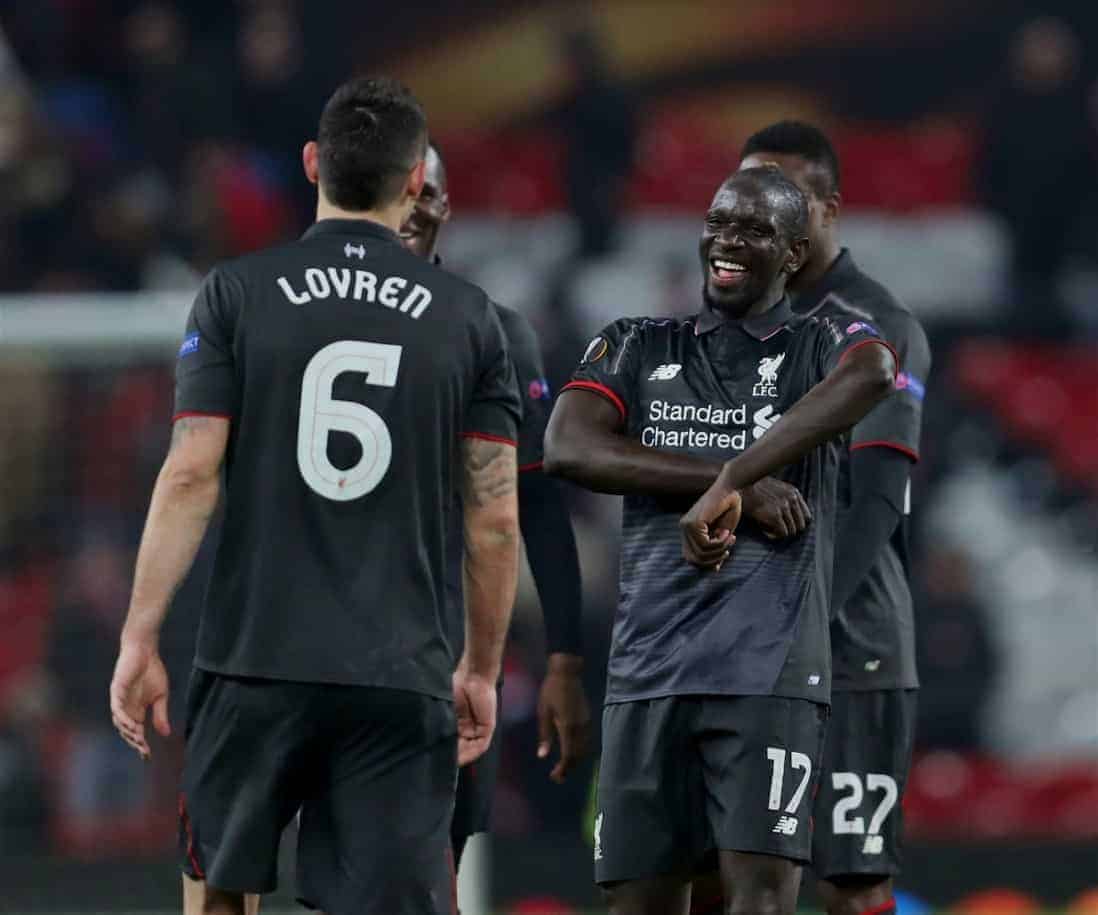 Despite an early scare following Anthony Martial's penalty, Liverpool were in control for much of the night, as they sealed a priceless win over United at Old Trafford.
A moment of magic from Philippe Coutinho gave the Reds a vital away goal before the break, then playing out a drab second half as Louis van Gaal's side were sapped of motivation.
It was an outstanding display by Liverpool over both legs, matched by the passionate support of the Kop both home and away.
Here's how supporters reacted to this Europa League triumph on social media.
Many focussed on a superb all-round display from Jurgen Klopp's Reds…
Excellent work over the 180 minutes from #LFC, from the 11 on the pitch at any one time and the 12th man at home and away. GET IN!

— Jim Boardman (@JimBoardman) March 17, 2016
Klopp has brought back those satisfying European games where we do what we have to. No messing about.

— MB (@MrBoywunder) March 17, 2016
Best team won over the 2 legs by a country mile @LFC #LFC

— Mark Wright (@Mark5Wright) March 17, 2016
What a performance by #LFC to reach the quarter-finals of the #UEL! Showed their maturity and their match-winning quality over two legs.

— Jack Lusby (@jacklusby_) March 17, 2016
Might have been a draw tonight, but we dominated the tie. Brilliant job from #LFC.

— Si Steers (@sisteers) March 17, 2016
Very very good performance and result, tonight and over two legs. One thing- with no de Gea,Liverpool would have beaten Utd many more times!

— Karl Matchett (@karlmatchett) March 17, 2016
While there was plenty of praise for Mamadou Sakho and Emre Can in particular…
Sakho at a different level tonight.

— Srikanth B (@srikanthbala) March 17, 2016
Sakho immense tonight. Can, Coutinho, Lovren & Lallana also excellent. Fellaini on the other hand – disgrace of a human being yet again.

— Sachin Nakrani (@SachinNakrani) March 17, 2016
"Can and Sakho absolute titans tonight."
– ubermick on the forums.
Sakho Man of the Match, but Can & Hendo did especially well in midfield. Lots of players played an efficient tactical game like Firmino.

— Taintless Red (@TaintlessRed) March 17, 2016
Solid performance would have won by a greater score over the 2 legs if it wasn't for De Gea! Sakho MotM, Emre close 2nd! Klopp that

— Dinesh Kumar (@DHardayal) March 17, 2016
"Sakho should be captain a real boss tonight, incredible performance…
Can played awesome too.
Lovren again was very good.
Milner put a shift in..
We should have scored a lot more."
– jimbo on the forums.
I also think that's the best #LFC central defensive performance I can remember for a long time. Dominant & composed throughout.

— Si Steers (@sisteers) March 17, 2016
Delighted to go through even more delighted to beat them. Sakho and Can were quality tonight

— Kauser Soze (@NinaKauser) March 17, 2016
Sakho immense, Lovren excellent, keep going like that & they may save Klopp a few bob in the summer.

— Jamie Carragher (@Carra23) March 17, 2016
Sakho MOTM by a distance. Near perfect performance. Dominated them. Back to his best, has been for a few games.

— MB (@MrBoywunder) March 17, 2016
This was also extended to Klopp, who has taken Liverpool to their first European quarter-final in six years…
Biggest applause goes to Klopp. Nailed the tactics in both legs. Being home first leg wasn't ideal, but we cruised through there. Boss. ???

— Joe Musker (@JosephMusker) March 17, 2016
Bit mad the difference we've made under Klopp. Belief everywhere

— charlie (@__charliethomas) March 17, 2016
Liverpool come back from a goal down yet again. Klopp's having a massive impact on the mentality of the players.

— Sam McGuire (@SamMcGuire90) March 17, 2016
Liverpool's first European quarter final for six years.
Well in, Jurgen!

— Andrew Beasley (@BassTunedToRed) March 17, 2016
While some simply lapped up a glorious victory…
Liverpool show Manchester United who's the boss of Europe! ?

— LFC 360 (@LFC_360) March 17, 2016
"Buzzing we're through to the next round, can't wait to see who we draw in the quarters."
– LFCBodger on the forums.
Job done and a bit! The Reds cruise into the last 8, great performance and by far the better side over the two legs. Get in! ?????????

— Joe Musker (@JosephMusker) March 17, 2016
Great result for LFC good team performance again.keep on improving week by week watching our enthusiasm and players enjoying playing

— ROY EVANS (@Roy_Evo) March 17, 2016
To the whole squad & staff, thank you!

— Jamie Carragher (@Carra23) March 17, 2016
"YNWA ringing around Old Trafford. No sweeter sound!"
– Danny_ on the forums.
https://twitter.com/MikeYates5/status/710586045641990145