Liverpool battled back to claim a memorable 4-3 win against Borussia Dortmund on a night that will be remembered for years to come at Anfield.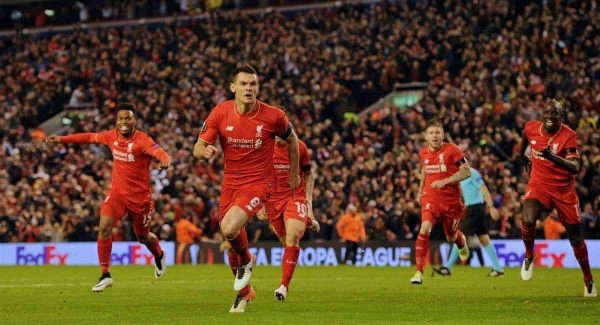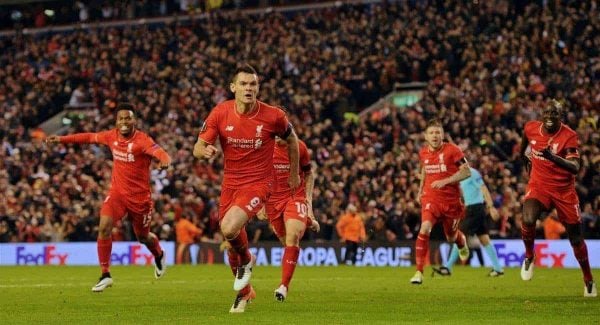 The Reds grabbed their place in the semi-finals of the Europa League with an incredible 4-3 victory over Dortmund.
A blitzing start from the away side and goals from Henrikh Mkhitaryan and Pierre-Emmerick Aubameyang put BVB 2-0 up at half-time and seemingly into the last-four.
But Divock Origi provided hope early in the second period, before Marco Reus looked to have ended the contest once and for all with half-an-hour to play, but the Reds rallied again with Philippe Coutinho providing one last ray of hope to make it 3-2.
Mamadou Sakho kept the dream alive and levelled the score heading in Coutinho's corner, before Dejan Lovren made himself a Kop hero, powering home James Milner's cross in the last minute to spark wild celebrations.
It's a night that will be talked of for years to come and here are the talking points from Anfield.
Slow Start Nearly Proves Costly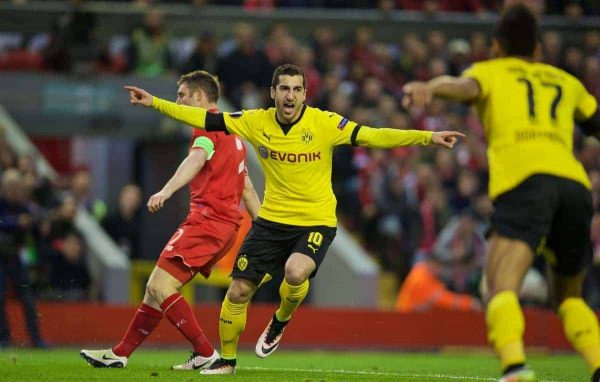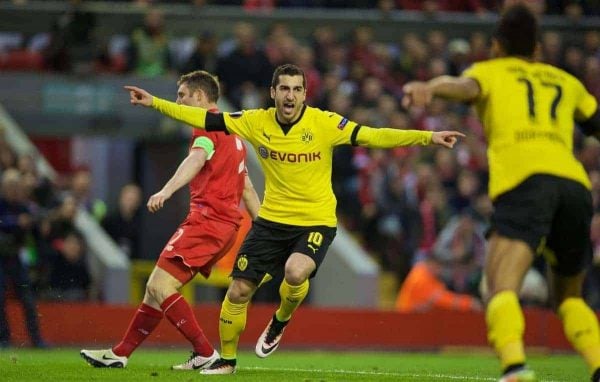 They say speed kills – and it almost did at Anfield where Liverpool's pedestrian opening was ruthlessly punished by a lighting start from Dortmund.
The stunning pre-match You'll Never Walk Alone lasted longer than the Reds boasted the slender advantage at Anfield – with BVB scoring twice inside the first nine minutes – and it was the worst opening imaginable as the visitors took firm control.
Dortmund's relentless pressing forced errors from Coutinho and Firmino who surrendered possession for each goal, and they bossed the game, running riot through a non-existent midfield to take a commanding lead which looked to have wrapped up the tie before it had even started – with Liverpool left needing three.
Perhaps the occasion got the better of Klopp's side who seemed dazed by the atmosphere, but thankfully it didn't end the tie while also providing inspiration for a remarkable comeback.
Reds Produce Remarkable Response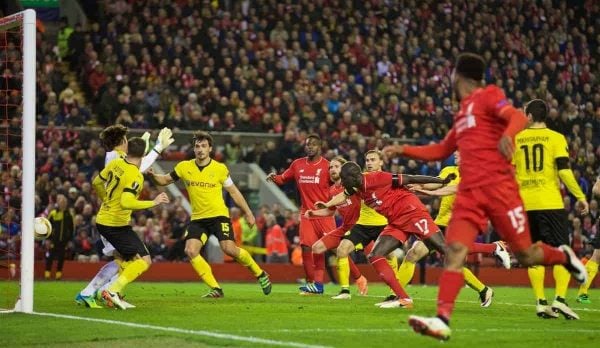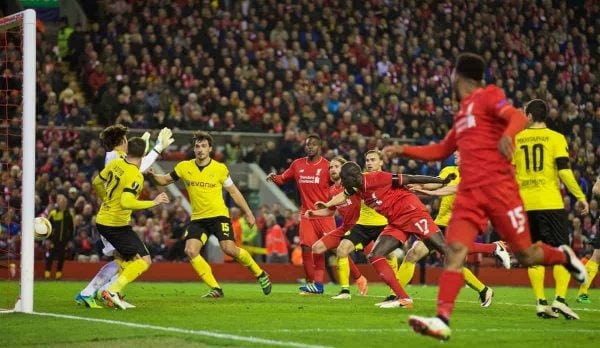 It appeared game over after such a start, but the shell-shocked Reds responded with magnificent character to produce a stunning fight-back.
The never say die spirit shown from side has improved under Klopp, but this was a simply unbelievable display of sheer courage and passion, which was mirrored from the pitch, to the technical area, to all four sides of the stadium.
The Reds boss demanded a "brave" display from his team and they delivered exactly what was requested, carrying the fight – aided by some perfect changes – as they refused to accept that dreams of securing the trophy and a return to the Champions League was over in scenes reminiscent of the miracle of Istanbul.
Everyone in a red shirt gave every ounce of what they had available and the rewards with Lovren's winner were truly deserved for competing toe-to-toe and refusing to accept defeat – which looked nailed on after nine minutes – against the tournament favourites.
This team may frustrate with a lack of ability at times, but the heart and desire in the squad is unquestionable.
Klopp's In-Game Management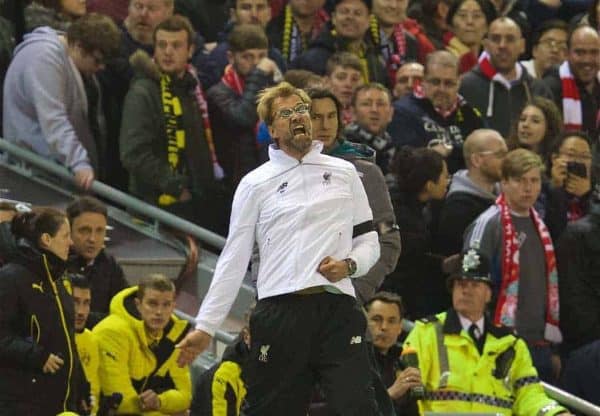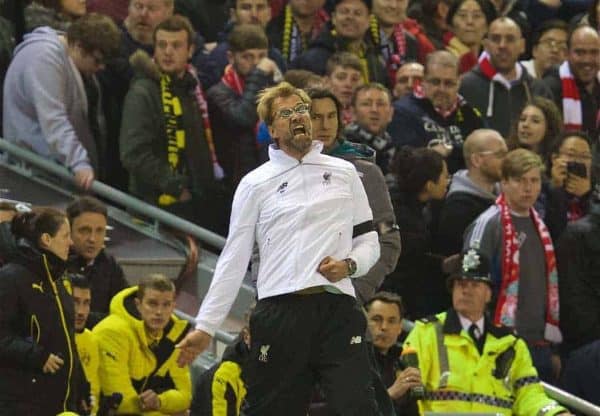 At 2-0 it seemed game over, let alone at 3-1, but Klopp's brave tactical switches swung the game in his side's favour in a sensational second-half comeback.
Everyone watching expected changes at half-time but Klopp waited until the 62nd minute before introducing Joe Allen and Daniel Sturridge for Adam Lallana and Roberto Firmino – withdrawals that raised eyebrows with Liverpool needing goals – and switching to the 4-4-2 diamond formation.
It proved the undoing of BVB as Liverpool dominated the central areas that they were cut-apart in earlier on, with Allen key to wrestling control of the game and dictating by setting tempo with his work-rate and distribution, while Sturridge's link-up play proved crucial with his involvement in two goals.
The changes – reminiscent of Rafael Benitez's Istanbul heroics – gave the Reds momentum which Dortmund ultimately couldn't reverse as Liverpool poured forward and Klopp's crucial decisions proved game-changing – rescuing a starting selection that lacked composure and control.
Anfield Atmosphere Makes the Difference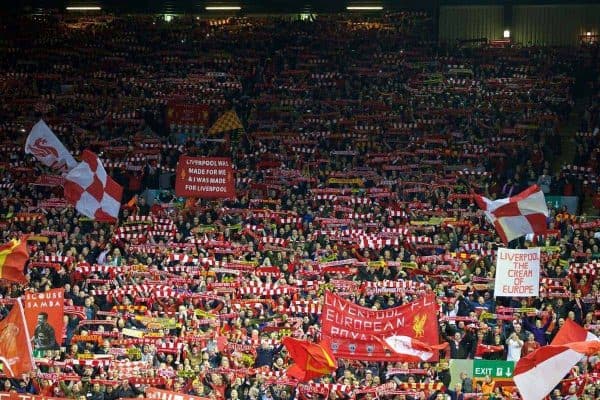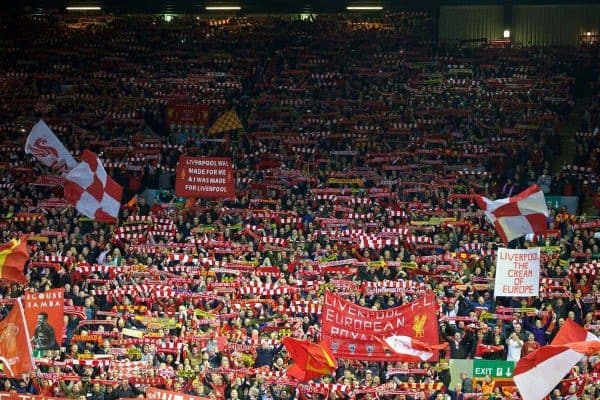 Klopp said the home crowd could be the "biggest difference" at Anfield – even more vital than Origi's away goal – and the home fans proved it with a stunning display of their own.
Spectacular pre-match scenes on Anfield Road as the coach continued in the stadium – aside from a perfectly observed minutes silence with the support of the fantastic travelling fans – and the deafening noise drove the team on to never give in.
Though stunned early on, the unwavering Anfield support remained a constant presence all evening, almost like an extra body on the pitch, and the fact the home crowd never lost belief that victory could be achieved no doubt spurred the players on.
It's been said many times before that the Kop have been responsible for scoring goals, and they did again on Thursday night, singing the ball even when it looked impossible, almost as if it was destiny as Thomas Tuchel said post-match.
It was something else to be in the Main Stand for Man United's first-leg visit in the last round, but this clearly eclipsed that night by a distance. What an atmosphere, what a night.
Europa League Dreams Alive and Kicking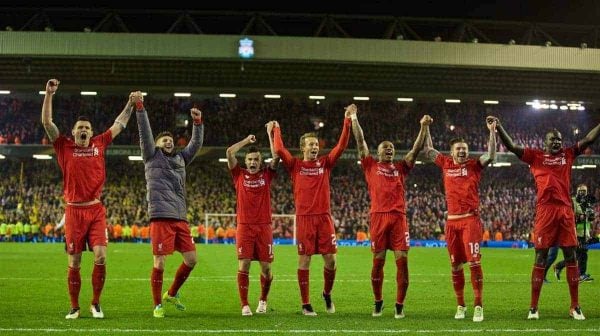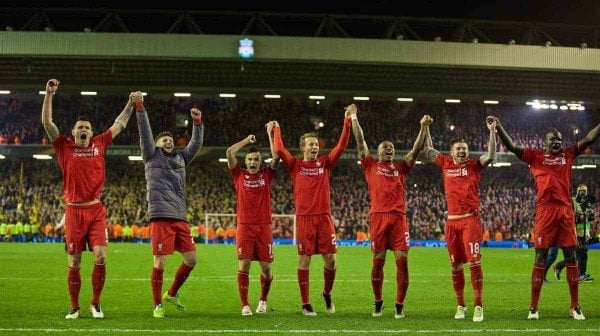 Another special European night at Anfield has once again made the fans dream with title hopes very much alive.
If ever a game can provide the inspiration to go on and win the competition it's one like this, and with the confidence that will be gained from such an unbelievable result, belief that it can be achieved will only have been boosted further.
Make no mistake, there is still a huge amount of work to do and strong teams to overcome – none more so than back-to-back winners, Sevilla – but having eliminated the tournament favourites, the Reds can certainly overcome any of those that stand in their way.
Klopp played down talk of winning the competition and securing a return to Europe's elite post-match – "don't ask me this sh*t" he told the BT reporter – but it's a dream that is growing closer to reality.