Goals from Roberto Firmino and Daniel Sturridge late in the first-half gave Liverpool a pleasing three points at Bournemouth. Here's how we rated the Reds.

Bournemouth 1-2 Liverpool
Premier League, Match 32, Sunday April 17th, 2016
Goals: King (90+3); Firmino (41), Sturridge (45 +2).
Today's player ratings are brought to you by This Is Anfield regular Rhodri Gillham (comments username: James) – whose offer to do the ratings we accepted, given that we get accused of bias!
A much changed Liverpool eased their way to victory on the South Coast despite attempts by an energetic Bournemouth to push for a share of the points and here I rate their performances.
Danny Ward – 7
For most of the match, the debutant didn't have all that much to do, but when he was called upon, he did well, making several fine saves as Bournemouth pushed for an equaliser late on and showing a talent for quick distribution.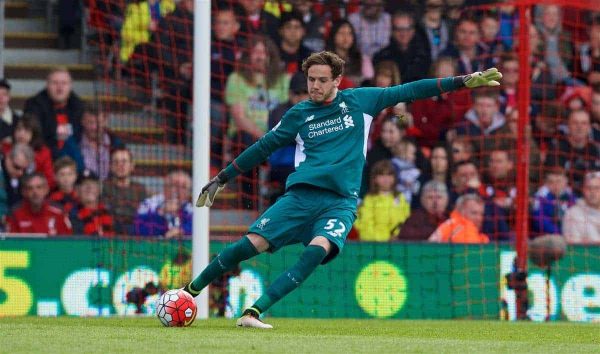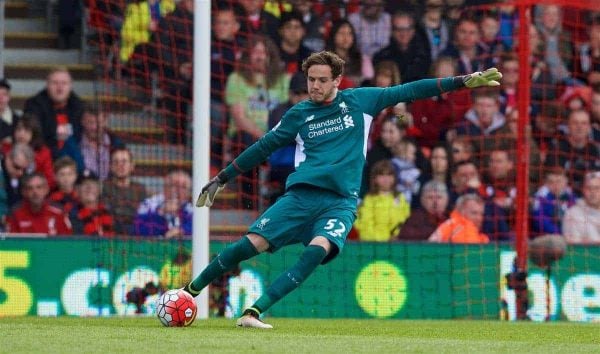 However, at times he showed a bit of nervousness under the high ball, especially as his defence's inability to defend set pieces became apparent. Overall, a fine audition for Liverpool's potential long term number 2.
Connor Randall – 6.5
Seemed to be a little nervous at first, fumbling his lines somewhat by misplacing a couple of passes. However, he linked up well with Ojo and nearly grabbed a goal of his own in the first half. As the game went on, he grew into it, becoming a solid and dependable presence.
Kolo Toure – 7.5
As ever, the highly experienced centre-back showed every bit of that hard earned experience with some excellent positional play that kept Bournemouth's strikers in check and a calmness that seemed to help steady Randall. It is notable that once he went off clutching his hamstring, Bournemouth were much better able to apply pressure down Liverpool's right hand side.
Once again made a solid case for why, despite his age, his contract should be renewed for another year.
Lucas – 6
Once again played at centre-back, he made some timely tackles and blocks, but was often forced to cover for Brad Smith when the left back was caught upfield and exposed by the pace of the lively Josh King, resulting in some of Bournemouth's best chances.
Moving over to the right made his life somewhat easier, but he was still guilty of being shrugged off the ball far too easily for King's goal.
A good defensive midfielder, a popular figure and a reliable presence he may be, but centre-back is not the long term position for him.
Brad Smith – 7
Like Randall, he grew into the game, though his over-enthusiasm at times caused him to get in the way of his team-mates and get caught out upfield, exposing Lucas.
However, as the game went on his defensive play improved and he consistently provided a powerful and dangerous outlet on the left hand side, proving an able partner for Ibe, winning several corners. If he can just calm down a little, he will be a very creditable left back indeed.
Joe Allen – 8
Deputising for the injured Henderson and Can, Allen did his job as he usually does – diligently and efficiently, making a number of timely interceptions and tackles, as well as making a number of excellent passes, including setting up one of Sturridge's better chances with a first time ball off an interception.
Generally, he served as an excellent screen for the defence and on more than one occasion was across quickly to help his partner, Stewart, when he got into trouble. Like Toure, continues to make a compelling case for a new contract.
Kevin Stewart – 6.5

Did a decent but largely unheralded job in midfield alongside Allen, playing deeper than his midfield partner, sometimes right among the backline.
Got caught out a few times on the ball, necessitating Allen to come across and clean up, but like many of Liverpool's other young players, he grew into the game, tenaciously chasing down Bournemouth players and doing good defensive work. A solid display from a solid young player.
Jordon Ibe – 8
A much improved performance from Ibe. The previous frustrating habits of running down blind alleys and holding onto the ball too long were almost entirely gone from his game as he displayed much better awareness of his teammates' positions, and his pace and powerful running proved a consistent headache for the Bournemouth defence.
His crossing in open play and from dead ball situations has improved too, as a perfectly placed ball into the box from a free kick for Sturridge's goal demonstrated. All in all, this is much more like it.
Roberto Firmino – 7.5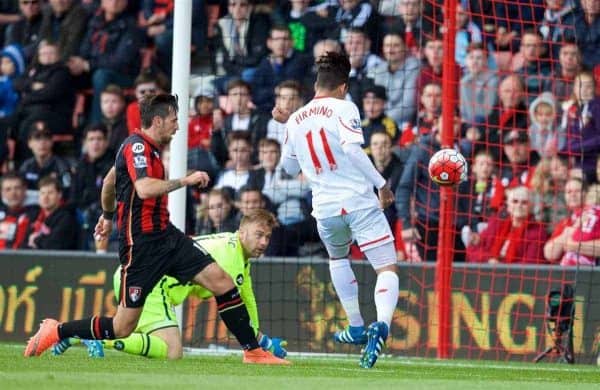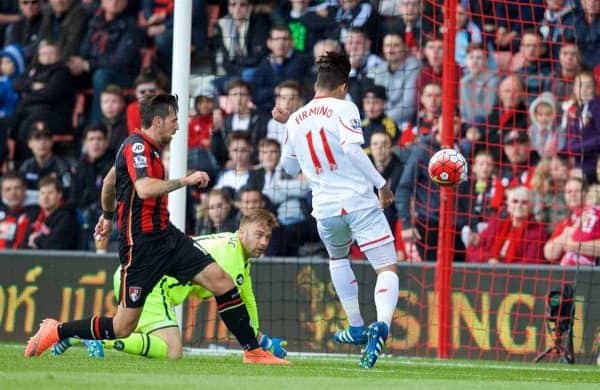 Seemed to lack a little bit of sharpness at first, not quite finding the final ball, but his movement was excellent and he made himself an excellent partner for Sturridge, showing a striker's instinct to pounce on the loose ball for his goal.
After that, his passes got sharper and more incisive, keeping Liverpool moving, and he was unlucky not to have a second goal with a difficult volley that screamed past the post. 8 goals in the last 10 league games do not lie, even slightly out of form, he is deadly.
Sheyi Ojo – 8
Like Ibe, tormented a Bournemouth defence which seemed to have absolutely no idea how to deal with him.
Given license to roam, particularly in the second half, he popped up all over the pitch, showing powerful running, silky skill and astonishing composure on and off the ball, all displaying his extraordinary talent and all making the Bournemouth defence wish that they had never heard the name Sheyi Ojo.
While on rare occasion he showed signs of his inexperience, he didn't for one moment look out of place in the Premier League.
Daniel Sturridge – 8.5
The big man is back. On another day, or a pitch with thinner goal frames, Sturridge could have had a hat-trick, and well deserved it would have been too.
Partnering first Firmino, then Origi, he frequently conjured something out of nothing, a powerful back heel that forced Boruc into a diving save creating Firmino's goal, and a quick turn that took two Bournemouth defenders out of the game nearly gave him a second.

Another almost goal, a clipped ball over the keeper from an Allen through ball that bounced off the outside of the far post, and another, a turn and a powerful shot from an angle that had Boruc scrambling and the woodwork rattling long after the ball ricocheted away, show that Sturridge has got his mojo back, and with it, his confidence – not many players would try a speculative sixty yard shot just to see what would happen.
Substitutes
Mamadou Sakho (on for Toure, 68') – 7
Came on to replace the hobbling Toure and shackle the dangerous Josh King, Sakho did a decent job, getting a couple of vital blocks and a clearance off the line, holding the line against waves of sustained Bournemouth pressure.
Divock Origi (on for Firmino, 76') – 6
Had little enough to do other than beef up the creaking defence at set pieces, but did have the chance to briefly show his skills at hold up play.
Adam Lallana (on for Ibe, 78') – 6
Energetic and hardworking as ever, fashioned a couple of half chances and kept the Bournemouth defence on their toes in the last ten minutes or so.
Jurgen Klopp – 7.5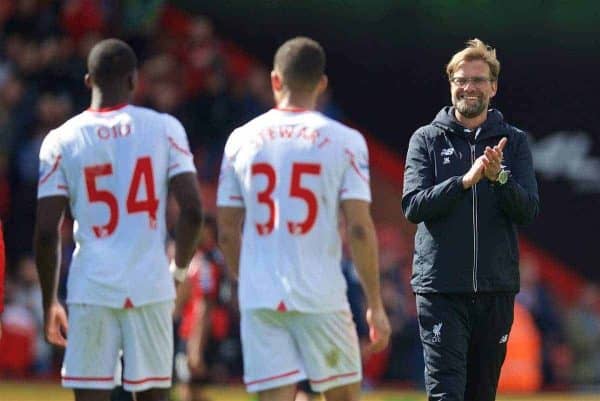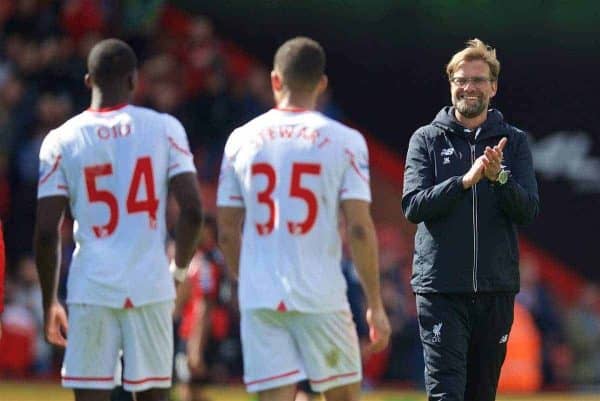 Despite the almost total change in personnel from the victory over Dortmund, done with an eye to Wednesday's match against Everton, his first Merseyside Derby, Klopp will be pleased that his young team fashioned an ultimately comfortable, if at times nervy, victory.
While at times they looked slightly disjointed and unused to playing together, his willingness to give young players a chance was rewarded with a set of fine performances that promise good things to come. Moreover, if Sturridge had been more fortunate, his side could quite easily have run riot.
As ever, he was energetic on the touchline, barking instructions to his team and waving them on. While his substitutions weren't as game changing as they sometimes are, they didn't need to be and proved to be canny moves, picking up another three points and providing a solid springboard for Wednesday's Merseyside Derby and a strong end to the season.