Liverpool striker Daniel Sturridge plans to enjoy the Europa League visit of Borussia Dortmund just like he would if he was playing the FIFA football video game.

The quarter-final with the German club, unbeaten in 2016, is delicately poised at 1-1 ahead of Thursday's second leg.
Dortmund know they have to score – which is likely to be less of a problem for a side which has found the net 119 times already this season – but as Anfield prepares for another famous European night Sturridge insists the occasion will not faze him.
"It's like when you're playing a final on FIFA and you're playing against your mate. You've all put £20 in the middle and there's £100," he told liverpoolfc.com.
"The pressure's on, your palms are sweaty, but as you get into the game, the nerves go away and you enjoy it – and that's exactly what it's like.
"It's going to be a great occasion, not just for the players but the fans, for everyone who isn't involved with Liverpool as well – they'll enjoy the match.
"It's one of those occasions where you just soak it all up, enjoy it, embrace it, have fun; that's what you live for.
"It's just going to be a great night for everyone, and you can't let nerves get the better of you."
Despite now being injury-free and in form, with three goals in his last five starts, Sturridge is not guaranteed to be in the XI which faces Dortmund.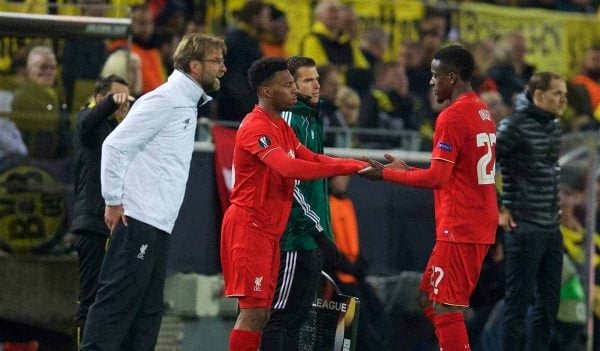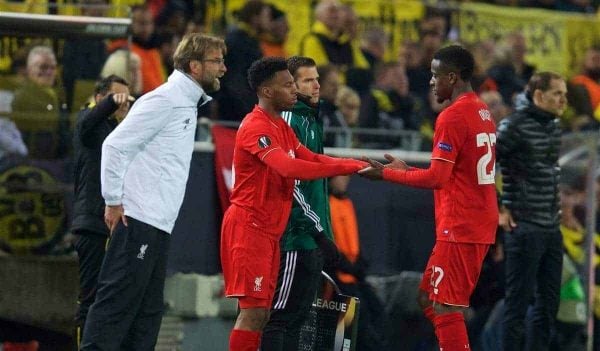 He was left on the bench for the game in Germany as manager Jurgen Klopp favoured Divock Origi, who followed up his goal at Signal Iduna Park with two in Sunday's substitute appearance against Stoke.
Despite his injury problems Sturridge still has scored 48 times in 84 appearances for the club and although that is an impressive strike rate he wants to improve it.
"That's the standard that I set, probably a bit better than that, hopefully I'll be able to continue," he added.
"I know I can perform a lot better than I am now but it's just that fitness and the repetition of playing 90 minutes is important as well.
"It's never easy to score in every game so I can't really set myself that standard but I think being better than one in two is where you want to really be at.
"One in two is a good strike rate but I'm hard on myself so I don't want to settle for that."