Wednesday's humiliation of the Blues from across the park came about thanks to a commanding team performance from Jurgen Klopp's Red Men, as the Rote Maschine gets ever nearer to completion.
With the season drawing to a close, the togetherness of the team and their adaptation to the style and methods of the German coach and his assistants is growing by the game, but among all this there are still some outstanding individual performances in each match.
One player, sometimes derided by some fans for his failure to live up to his wage, squad status, and the shirt number he wears, has stood up to be counted at important times in the last couple of weeks, and against Everton he provided the type of performance which is expected of him.
This writer (because one has to speak in the third person in these things) regularly gives James Milner measly marks out of ten in post-match player ratings pieces – and justifiably so – but his derby performance deserves more than a smattering of praise.
When the line-ups were announced, a central midfield partnership of Milner and Lucas seemed a far cry from the dynamism, strength, tenacity, and energy offered by Emre Can and Jordan Henderson.
There were also calls for Joe Allen and his beard to start following their excellent performances in recent games, but the Welshman was left to keep his facial hair company on the bench.
As it turned out, Milner and Lucas were ideal for this game and the Englishman, on the back of his assist for Dejan Lovren's winner against Borussia Dortmund, really came into his own.
On joining the club from Manchester City on a free transfer last summer, there were murmurs that he'd been offered a guaranteed role in central midfield by the then manager Brendan Rodgers.

Add to this the fact he was given the vice-captaincy ahead of longer serving players, plus the responsibility of his new shirt number, and you have a player who would have to perform immediately in a position he'd rarely convinced in throughout his career.
The better move would have been to use him as the new Dirk Kuyt – stationed out wide providing energetic brawn and brains to make up for the occasional lack of technique.
A wide space-investigator who could be a pest to the opposition while also contributing to goals in the right moments.
Funnily enough, this is the kind of role he's ended up making an impact from against both Dortmund, and now Everton, even though he was picked in central midfield. It's also the role Manuel Pellegrini had used him in at City.
His play in the middle of the park can be sloppy, off the pace, and occasionally baffling, but once he's in forward positions in the wider channels he has defenders worried, and team-mates waiting expectantly in the box.
The Yorkshireman is a keen golfer, which must be the reason his crosses float in like a lofted approach shot, standing up in the air as they wait to be nodded in by Lovren, Mamadou Sakho, Roberto Firmino, or Divock Origi (and Danny Ings, once).

Against Everton he completed 93% of his passes, which was mainly due to Everton's lack of ambition and willingness to absorb pressure, but Milner's most telling passes, and his best football, came from wide areas.
The graphic below, via stats site Squawka, show the six chances he created – five of which came from wide or attacking areas.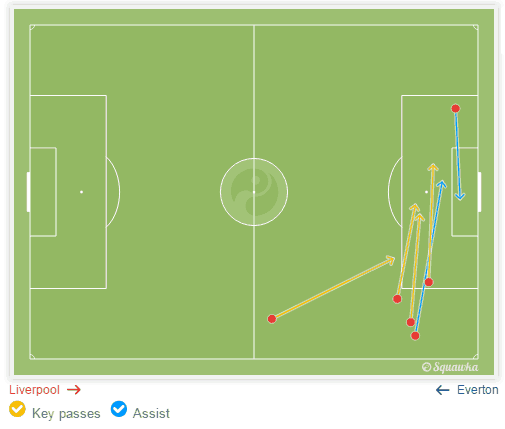 The next graphic shows Milner's crossing, which aside from the usual dud corner (it's no coincidence that many corners against Everton were taken short), was unerringly accurate.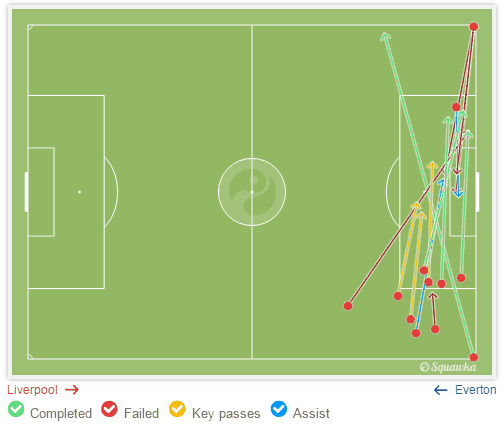 Half of the goals scored from his 14 assists in the Premier League and the Europa League this season have been headers, and this final graphic shows that 67.2% of his key passes come from wide attacking areas.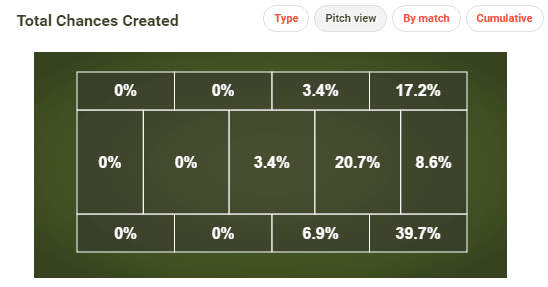 There was one moment in the second half when Milner, charging down the right towards a non-existent Everton back line with his back to the Kop, looked at home in the number 7 shirt as it charged into the distance.
It's this comfort in the shirt, and production where it matters which Liverpool will need as they approach the business end of the season where, thanks to Klopp, there is still business to be done.
Milner could play a key part if he's able to get into the right areas of the pitch, but if he can't, then he always has a golfing career to fall back on. However, It'd be nice if this writer could give him a few eight or nine out of tens on the football pitch before he does.