Returning home from Liverpool's Europa League first leg against Villarreal with a 1-0 loss, an overly cautious approach from Jurgen Klopp passed up a great opportunity.
Liverpool are used to doing things the hard way and they will have to once more after slumping to a last-gasp defeat against Villarreal.
Adrian Lopez's stoppage-time goal condemned the Reds to a narrow but costly loss in Spain, undoing the hard-work of a determined and disciplined performance at Estadio El Madrigal.
The defeat, in particular the manner of it, almost feels like a punishment for a needlessly unambitious display – one which Klopp may live to rue should it go on to prove his side's undoing in their quest for European glory.
Encouraging Signs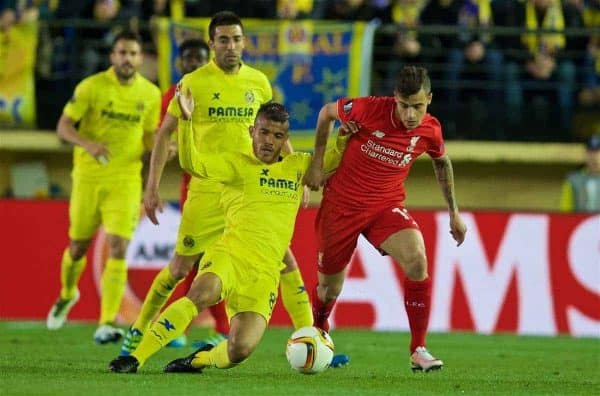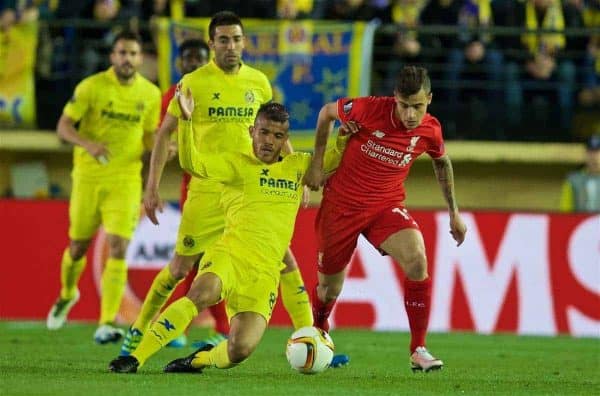 After seeing his side battle to an away score draw in Dortmund with a three-man midfield, before a two-man setup was brutally exposed by the German side a week later, it was expected that Klopp would revisit a central trio on Thursday night.
And so he did, expecting a similarly tough away leg against the Yellow Submarine to that of the Yellow Wall, as he admitted post-match to BT Sport, saying "to be honest, I thought we would have more problems here" – further explanation for his logical preference of a 4-3-3 formation.
Intended to limit the home side's dominance and attacking threat, it certainly worked, with Lucas Leiva offering vital defensive protection – cutting off supply to Roberto Soldado and Cedric Bakambu – to the back four for the vast majority of the night behind James Milner and the impressive Joe Allen.
Liverpool, as a result of their solidity, were comfortable in the tie, enjoying control for considerable parts of the first half in which they showed that there was no reason why they could not yet return to Merseyside with a crucial away goal.
It was a near-perfect first 45 minutes – one which would only have been bettered had Allen found the net from Adam Lallana's cross early on – and one that provided plenty of encouragement ahead of a second half in which the Reds could afford to open up in search of a priceless away strike.
Originally fearing a backs-to-the-wall night, there was invariably little concern for Liverpool, with Villarreal proving that there was nothing that the Reds couldn't dish out themselves in response.
With Philippe Coutinho unwell at half-time – explaining a sluggish 45-minute display from the Brazilian – and Daniel Sturridge waiting in the wings, it seemed the ideal chance to twist with the game there to be won.
Disappointingly, in what is now a costly move, Klopp didn't, instead operated with a safety first approach.
Conservative Approach Costs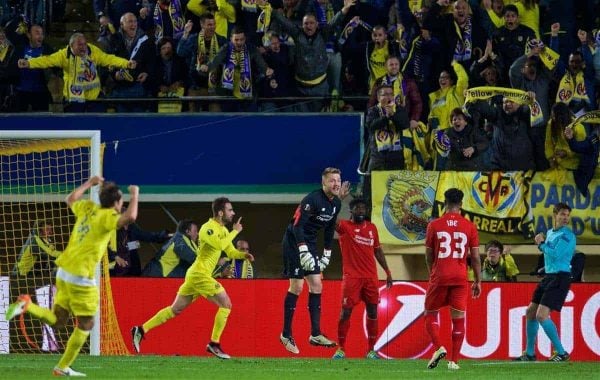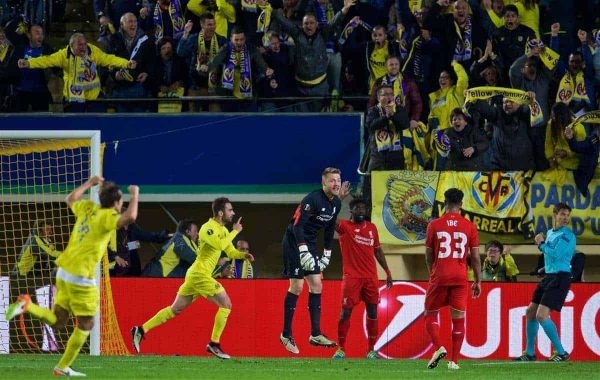 After showing signs that they could breach a defence who have conceded only 10 goals in 18 home league games this season, it seemed a matter of time before Klopp opened up and Sturridge was introduced with a goal unquestionably obtainable.
But surprisingly for the position Liverpool enjoyed in the contest, Jordon Ibe was the chosen man to replace Coutinho instead of the in-form striker, and the shape, and crucially, mentality of the performance remained the same.
It left Roberto Firmino leading the attack with little support from the ineffective Lallana and Ibe, and promising openings were passed up with the Brazilian lacking support from those around him.
As Villarreal continued to show little to be concerned about – partly down to the secure centre deployed by Klopp – the German should have introduced Sturridge in search for a tie-changing goal.
With the form the striker has been in, quite why he didn't is a mystery, with his side looking composed throughout the second period and further encouraged again after Firmino's strike was tipped onto the post brilliantly by Sergio Asenjo.
That moment – coming after 65 minutes – should have been the flashpoint that triggered the time to finally introduce Sturridge with a goal firmly in sight, but Klopp instead settled for a needlessly unambitious display, before strangely introducing Christian Benteke and not Sturridge for the final moments.
The Reds continually showed promise going forward and had the lethal Sturridge entered – even if it meant sacrificing a midfielder with the game there to win – Liverpool may well have a priceless goal, or even lead, to show for their nonetheless commendable efforts.
Where Klopp stuck, Marcelino twisted, and the Villarreal boss reaped the rewards with substitute Lopez making the impact his manager had hoped for, tapping home a minute into stoppage time to secure a vital advantage.
Down to Lopez's goal – which should have been avoided, or at least have had a reply from Klopp's men – the injury-hit Reds are left ruing a missed opportunity and facing a mountain to climb against a notoriously resilient defensive side in seven days.
Comeback Kings Needed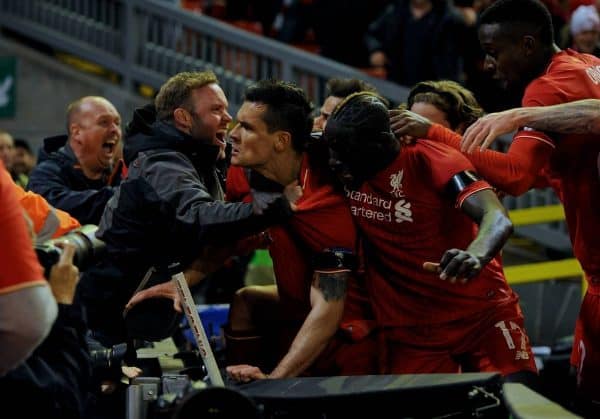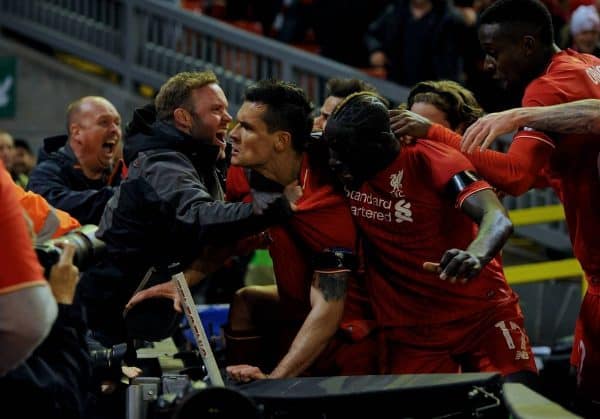 Slumping to a 1-0 loss hands the Reds the most difficult of deficits to claw back at Anfield without an away goal, even though the Spanish side "won the first half – nothing more," as Klopp rightly stated.
Klopp's team now face the prospect of having to win by a two-goal margin on Merseyside to avoid elimination.
Against a team who have built their reputation on their defensive strength and know-how, a huge task certainly awaits.
The Liverpool boss will have to go all out from the beginning at Anfield – a problem in itself with the threat Villarreal pose on the break – but starting Sturridge and showing much more attacking intent in a game they need to chase is an absolute certainty next week.
The power of Anfield will be needed more than ever against Marcelino's disciplined outfit, especially with some key men missing in each department, making the task that extra bit harder.
But the Reds have proved they can do it, so spectacularly too against the tournament favourites, Borussia Dortmund, in the last round.
If they don't manage to repeat that this time however, it will be down to the costly cautiousness of the first leg.