We've debated the defence and the midfield, now we move onto Liverpool's attacking options this summer.
Christian Benteke should return to full training this week, after a month out with a knee problem suffered during the international break. That injury occurred days after he gave rather ill-judged comments to Belgium media, saying he would not have joined the club to play his current role.
That current role is very much on the sidelines. He's not started a game since February 9th (away to West Ham in the FA Cup), and hasn't started a league game since January 2nd (also at West Ham).
Recent weeks have seen him linked with a range of clubs this summer – from Juventus and Atletico Madrid, to West Brom and West Ham.
Injury to Divock Origi could mean Benteke is handed his first league start since January in the league match at Swansea City on Sunday – with Jurgen Klopp no doubt keen to rest Daniel Sturridge between the two Europa League semi-final games.
But is there any way back for Benteke at Anfield? And do the club need to sign a replacement if he is sold this summer?
Up for the debate are This Is Anfield regulars Karl Matchett, Jack Lusby, Sachin Nakrani, Henry Jackson, Jeff Goulding, Neil Poole and Ben Twelves.
Some interesting and wide-ranging views.
Would you sell Benteke this summer? And if so, what's the lowest you'd accept for him.
KARL: Yes. I'd actively make it a priority.
He doesn't fit the style, isn't good or quick enough in possession and is an expensive asset to hold onto without offering much value. I'd hope for something rising to £22m, £25m with add-ons, but realistically suppose £18m-£20m will be what we can ask for.
HENRY: 100%, and I would happily drive him to his next club. I'm sure he's a decent lad, but I never wanted him in the first place, and he's been dreadful.
Anything from £15m I would accept.
SACHIN: Definitely. I was happy when Liverpool signed Benteke in the summer but we simply haven't got what was in the brochure – a powerful, aggressive, dynamic centre-forward.
Injuries appear to have taken their toll and the Belgian's confidence has ebbed away to a point where he looks lost and a long way short of suiting a Klopp team, and certainly this Klopp team.
Ideally I'd want no less than £20m, but I'd take £15m if there was only one club in the running and that price meant nailing a deal.
JEFF: Yes. It's yet another indictment of our transfer policy, but it's clear that Benteke is not part of Klopp's plans. His body language suggests he's unhappy and feels joining the Reds was a mistake. I feel a degree of sympathy for the lad, because he's undoubtedly a talented player.
Sadly we are looking at a significant loss in order to move him on, but it may be best for both parties if we can get him off the wage bill and recoup some of the cash to purchase a replacement. I think the Reds will publicly play hard ball, in order to maximise the fee, but if we are offered anything north of £20 million we should take it.
NEIL: Yes. Last summer we all questioned how Benteke would fit into this Liverpool side and doubted the logic of the signing. However, I assumed that salaried football people must surely have known what they were doing and that I had missed something.
Consequently, I gave the move the benefit of the doubt, and rather naively hoped it would magically work out. It hasn't. And it's clear that Klopp doesn't fancy Benteke either. So that the end of him in a Liverpool shirt.
Despite a disappointing season with us, his stock will remain high, he's still young and there's plenty of filthy lucre in the game, so anything less than £25 million will be bad business.
In reality, we should be able to recoup the full £32.5 million. We could probably sell him to West Ham at a profit. Poker faces, bottle and patience needed all round on this one.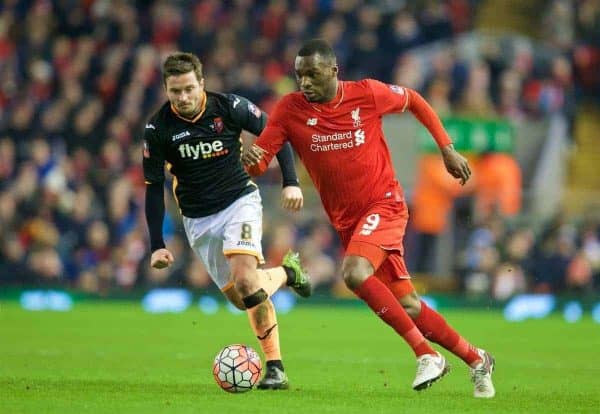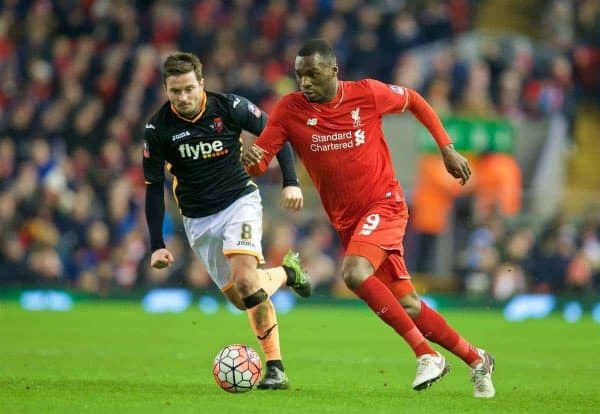 BEN: I would sell Benteke without even a hint of a second thought. His addition always looked like a poor signing and it has proven exactly how most expected.
Though he has clearly been unfancied for the majority of the season, he has scored goals when played and enough of them that I'd like to think we would be able to recoup a minimum of £20million for him – especially if we sold him to another Premier League club.
If push came to shove I'd probably let him go for a little less than that just to get rid and generate funds, but with what he could offer as a back-up I wouldn't let him go for anything lower than £15million.
JACK: Yes, without a shadow of a doubt. Wasn't behind signing him last summer, and literally everyone with a brain's doubts have been confirmed this season: he's so far removed from what Liverpool need in a striker, irrespective of the man in charge.
If West Ham came in and offered £15 million, I'd consider it; but ideally, we're looking at £20 million. It's a big loss, but it'll only depreciate as the seasons go on.
---
With Benteke gone, do we need to sign another forward to replace him in the squad, or is Sturridge, Origi, Firmino and Ings enough?
SACHIN: I've been hugely impressed with Origi ever since he came back from injury at the start of the year, and I feel confident Ings will fit into Klopp's style of play.
Firmino has been excellent for months now and Daniel Sturridge is world class, but I neverthless feel Liverpool could do with an extra striker.
Sturridge will almost certainly be out for spells with injuries and as soon as he is there is a quality drop in Liverpool's frontline options, not a huge one but a drop nevertheless.
KARL: Depends on the aim and objectives for the season! It's good enough and varied enough to get top four, given the systems being used most frequently, but another three-month injury to Sturridge naturally leaves the team struggling for anything beyond that.
I'd definitely be in favour of getting another striker, but if you spend big on them then you're sidelining Ings to probably around 1,000, maybe 1,500 minutes of action over the whole season and would probably have to play a diamond more often to get two plus Firmino on the pitch.
That said, if the new striker is a good fit and offers the right traits, AND Liverpool sign the dominant centre-mid and goalkeeper they need, there is only one limit for next season: top spot.
HENRY: There are more pressing areas of the pitch where reinforcements are needed, but I still think a really top class striker is needed. Sturridge cannot be relied upon throughout a season because of injuries, and nobody else guarantees his flow of goals.
JEFF: Yes. Daniel's injury record suggests that even if we were to keep him, we couldn't rely on him week in week out.
I have high hopes for Origi and Firmino, but through no fault of his own Danny Ings still hasn't shown he can be a significant player for us. Therefore I think we should be in the market for a goal scorer.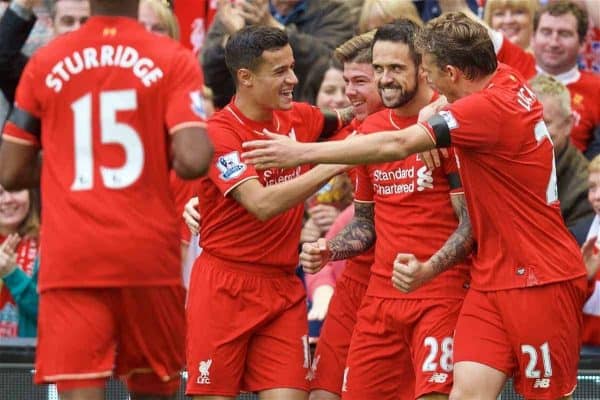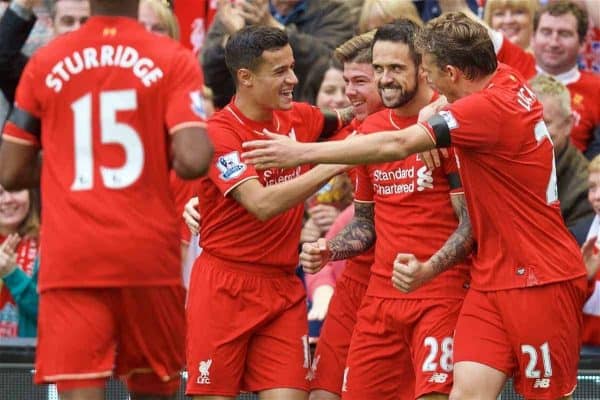 NEIL: We definitely need to sign another forward. And by this I don't mean someone who "can play anywhere across a front three" and who scores 10 goals a season. I mean an out and out goal machine who can score a minimum of twenty.
There are too many question marks over the four named players here and I think we need to be wary of being carried away by recent form or spates of form in the past.
Clearly, the anxiety with Sturridge will continue to be injuries until he's had six to nine months without any reoccurrences. Origi has been a revelation over the past few weeks, but is still young and raw. Yes, he may go through the roof next season. On the other hand he's just as likely to have barren spell and patchy form, as should be accepted and expected with a player his age.
Firmino isn't an out-and-out striker. Ings might be the perfect Klopp player 'on paper' but he starts from scratch next season and I want to see more of him before I'm convinced he's good enough for a title winning side.
BEN: I'm really torn on this.
A lot hinges on Sturridge's fitness between now and end of the season for me – I'm determined to let him prove he is over the worst and as it looks like he may have overcome his injury nightmare (tough wood!) I'm going to say those four is enough for next year.
If a new forward was to come in I'd only want another genuine first choice option to deputise/compete with Sturridge and Origi – rather than a back-up player considering we have Ings to return and Firmino too – and I'd be concerned that doing so would potentially stunt Origi's rapid progress with him having proven he can lead us when needed, and even better, that he can be a genuine first choice option ahead of Sturridge.
With those four I think we have both enough quality and depth for next season. If Sturridge breaks down again though, I think we seriously have to consider moving for a new striker.
JACK: I've been umming and ahhing when it comes to replacing Benteke with another striker, especially with Michy Batshuayi linked, as if Sturridge, Origi and Firmino are all fit, and Firmino is available as backup, Liverpool don't need another striker—that would be 40+ goals sealed for the season. But with Ings coming back from a season out, and Sturridge's long-term fitness still questionable, it would be sensible to reinforce this summer.
---
What type of forward, or which forward in particular, would you like to see us sign?
NEIL: Someone with Sturridge's quality and Origi's workrate.
KARL: Like Origi, essentially; works the channels extremely well, drags defenders around, has pace, can finish. That's the extra body I'd like to see up front, particularly if they are any good aerially too.
Not sure the new guy would need to be as skilful/dribble-focused as Origi is, as others bring that to the team, but certainly movement off the ball and clinical ability on it are the keys. Without going to the huge expensive names, John Guidetti wouldn't be the worst signing, as long as *certain* issues are by now eradicated.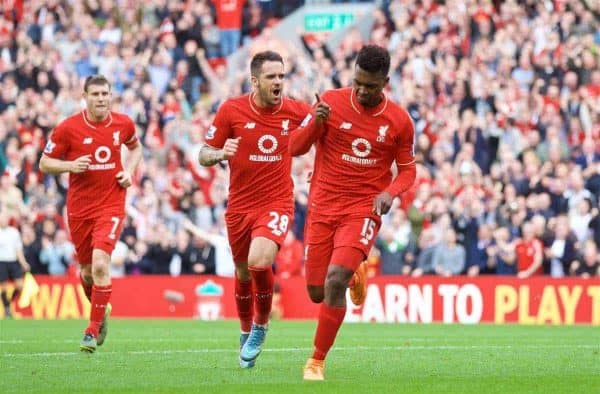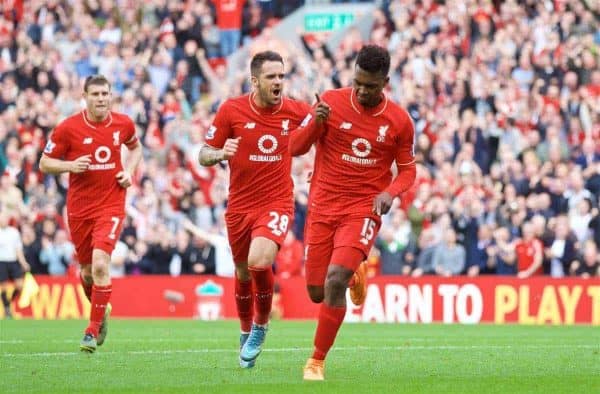 HENRY: Basically, the opposite to Benteke. Somebody who works relentlessly, links up with others, has pace, finishes ruthlessly and can play in a few positions. Someone of Sturridge's ilk would be perfect.
SACHIN: A proven one. That sounds obvious, I know, but Liverpool are at a stage now where they should no longer be signing 20-year-olds with "resale value".
We need genuine quality to push on, players of the quality of Firmino. Someone who can immediately compete for a first-team place and immediately improve the team. They also need to be mobile and able to press from the front, all of which limits the possible options.
Carlos Bacca could fit the bill. He's got 17 goals in 34 starts for Milan this season and was previously linked with Liverpool.
JEFF: Despite what I have said above, I just can't see Klopp blowing his budget in this department. The defence and midfield needs significant investment and he will likely add goals to midfield, with Gotze rumoured to be arriving. Therefore I think he will be looking to sign a gem at a reasonable price. That really put's the likes of Aubameyang and Lewandowski out of reach.
The likes of Berahino have been mentioned but does he have the mentality and attitude play in a Klopp side? Jurgen recently said he wouldn't buy an 'arse-hole'. Could he get Inaki Williams from Bilbao for around the £20-25 million we'd get for Benteke? If so he would offer pace and goals and could play across the front line, giving Klopp plenty of options.
BEN: If Klopp feels a striker is a necessity with Sturridge's injury record, the long season and other factors, I certainly wouldn't be disappointed to see a new one arrive, and I'd like that man to be Alvaro Morata from Juventus.
Whether it's a realistic proposition is open for debate, but I think the Spain striker would be an excellent option for Klopp's style – he's strong, a willing runner, aggressive, creative and most importantly, knows where the goal is.
He also boasts a lot of experience despite still only being 23 and has plenty of time ahead to improve further, which he undoubtedly would under Klopp's guidance.
JACK: As mentioned, reported interest in Batshuayi is a step forward for Liverpool: that is the type and calibre of striker that Klopp should be targeting if he wants to replace. In a 4-2-3-1 or 4-3-3, Klopp ideally needs a complete centre-forward, able to press and harry defenders, dominate physically and peel off the shoulder on the counter. Origi and Sturridge are perfect examples of this, and Batshuayi would be an ideal third.
---
How important do you think this is this summer? Or are other areas more important?
JACK: I'd put it low on the list of priorities, considering signing a new goalkeeper and another top-level midfielder are of paramount importance. I'd even put signing Mario Gotze above Batshuayi, for example, despite the abundance of attacking midfielders.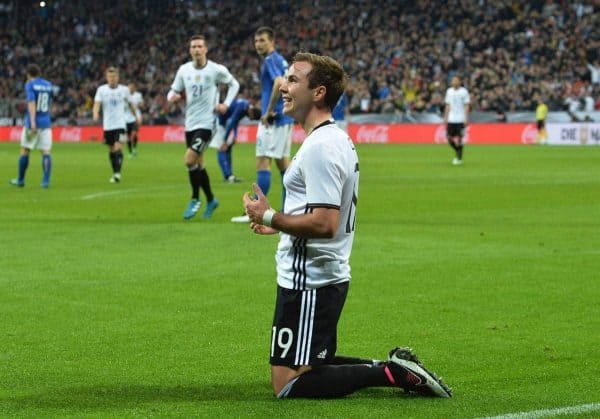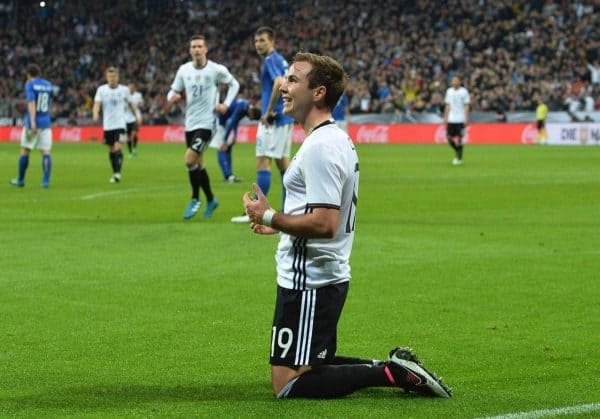 KARL: Central midfield and goalkeeper are the absolute priorities.
Get those two right and Liverpool are immediately a much, much better team, capable of beating a large proportion of this current Premier League. After that it's about incremental improvements and depth, and striker and centre-back are probably on a par for me.
That's four changes already, so not sure how much more we can get in terms of regular starters, big-money deals, but CM and GK are certainly be the first areas to look at before a large outlay on a striker.
HENRY: Bringing in top quality in other areas is far more important – there is plenty of depth in attack, as long as Sturridge is fit.
A new left-back is important, even though Alberto Moreno is certainly worth sticking with, and a midfielder with the ability to dictate play, read the game and create alongside Emre Can would be a great addition. Granit Xhaka is a perfect option, but Arsenal look likely to get him. Ilkay Gundogan is another, but again signing him feels a little like a pipe dream.
Replacing Simon Mignolet is also a must, despite an improvement from him in recent weeks, while pace in wide areas also needs to be added. Perhaps Lazar Markovic could save some money and be a revelation on his return from Fenerbahce.
SACHIN: Goalkeeper is a priority position. Mignolet has done well in recent weeks but a blunder is never too far away as far as the Belgian is concerned and if Liverpool are to push on next season than they need an upgrade between the sticks.
I did previously feel a new centre-back was also important and with the Sakho situation that seems to be an apparent need again. Another central midfielder and a wide player with proper pace are also perhaps more important than a centre forward, but I would still look to sign one.
But as said above, it has to be the right centre forward, the club certainly should not panic like they did when signing Mario Balotelli. Speaking of which, let's hope he doesn't step foot back inside Anfield next season. Anyone got a number for Shanghai Shenhua?
JEFF: Klopp has improved Liverpool going forward. We are top scorers since Christmas. Clearly our weakness has been in keeping clean sheets and in particular defending set pieces. Therefore I feel the bulk of the investment should go on the defence.
While I don't see a whole new back five, you could argue Liverpool need to strengthen across the back line. Mignolet hasn't convinced and we need cover in both full back positions.

Jurgen has said he's looking for quality not quantity now, so I would be hoping to see an ambitious statement in terms of the goalkeeping and centre-back positions. If we could do that and add Gotze and a striker like Williams, I think we could have the spine of a team that could challenge for the title next season.
NEIL: Signing a forward in the summer is of paramount importance. The Premier League is a simple business: have a couple of prolific goal-scorers and you'll finish in the top four, you may even win the league.
A new goalie is equally important. Klopp can tactic the shit out of the rest of pitch to mitigate any weaknesses in the defensive and midfield personnel. If there's any money left over, then a new left back would be next on my list.
BEN: I wouldn't say signing a striker is a priority for Klopp now with Sturridge back to fitness and the options we have in Firmino and Ings to return, but most importantly because of Origi's emergence.
His rise really has been fantastic for a whole host of reasons, and with the alternatives thereafter, it's not the most pressing concern to address this summer.
Signing a first choice goalkeeper, another centre-back to arrive with Joel Matip, and a midfield enforcer are all areas that should Klopp should attempt to sort first. Perhaps then, he should consider the pros and cons of signing Morata.
---