We review the best of the media reaction after Liverpool incredibly beat Borussia Dortmund 4-3 – 5-4 on aggregate – to move into the Europa League semi-finals.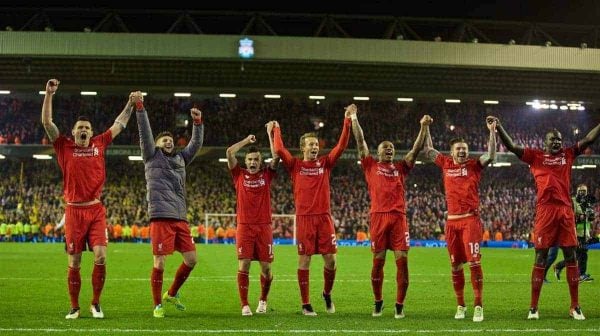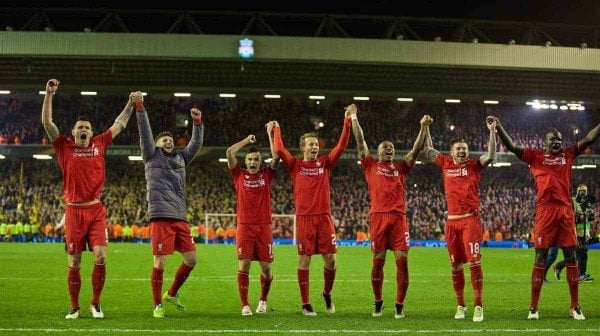 Liverpool staged one of the greatest comebacks Anfield has witnessed to knock out the tournament favourites and secure their place in the last-four.
A big night at Anfield needed a big performance and Jurgen Klopp's side delivered, refusing to give in despite goals from Henrikh Mkhitaryan, Pierre-Emmerick Aubameyang and Marco Reus appearing to have sealed BVB's progression.
But sheer spirit, fight and determination with goals from Divock Origi and Philippe Coutinho provided hope, before Mamadou Sakho equalised and Dejan Lovren completed mission impossible, heading home at the Kop end to send Anfield into delirium.
It was a night that will be talked about for years to come, and here is how the media reacted to another incredible Anfield European night.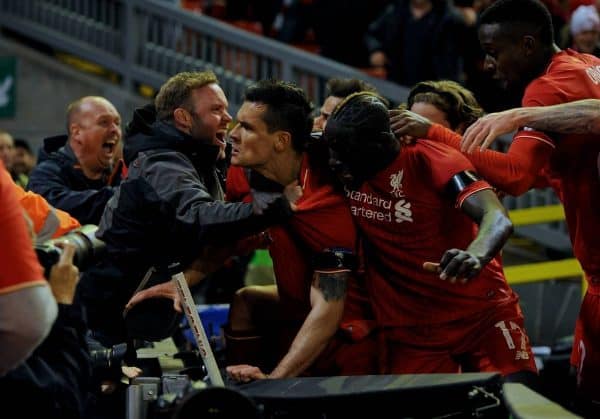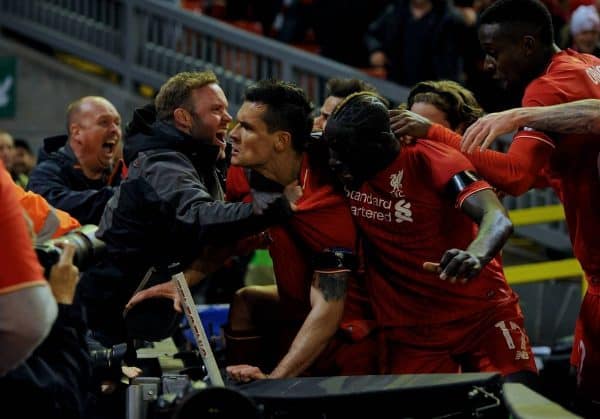 One of Anfield's greatest European nights, reporters took time to reflect on an incredible evening and discussed where the victory ranks among the many memorable Euro games.
Andy Hunter for the Guardian wrote it was 90 minutes of drama that may not bettered in Klopp's tenure:
Whatever else unfolds during Klopp's Liverpool reign, the Europa League quarter-final defeat of his old club is unlikely to be bettered in terms of one-off drama.
The Daily Mail's Martin Samuel felt it was the greatest comeback since a certain one 11 years ago:
It is hard to imagine Liverpool will play better in Klopp's first year in charge. Indeed, it is hard to imagine any English team will hit a similar height this season. There hasn't been a comeback like this in years: coming up to 11 of them, to be precise.
The BBC's Phil McNulty assessed:
The turnaround revived memories of the so-called "Miracle Of Istanbul" in 2005 when they came from 3-0 down at half-time to win the Champions League final against AC Milan.

This may not bring a trophy, but Klopp can now take his place alongside other Liverpool managers who have their names alongside famous victories.
The Express' Paul Joyce wrote:
This famous arena has witnessed plenty of incredible nights down the years, from St Etienne to Olympiakos, but rarely has there been anything like this. An evening when goals rained in and heroes emerged.
Ian Herbert of the Independent felt it surpassed the historic Olympiakos comeback:
Olympiakos, 2004, is the gold standard of course, though this one surpasses it. Better opposition, by a distance, and such precious little time to turn around a three-goal deficit.
The Telegraph's Sam Wallace noted:
The natural response was to compare it to the famous Anfield nights of the past – Inter Milan in 1965, St Etienne in 1977, Olympiakos in 2004 and Chelsea four months later – and there can be no question that is belongs among them, despite being in the secondary competition.

It was a stupendous comeback, maybe not quite at the level of Istanbul – the mother of them all – but occupying similar territory.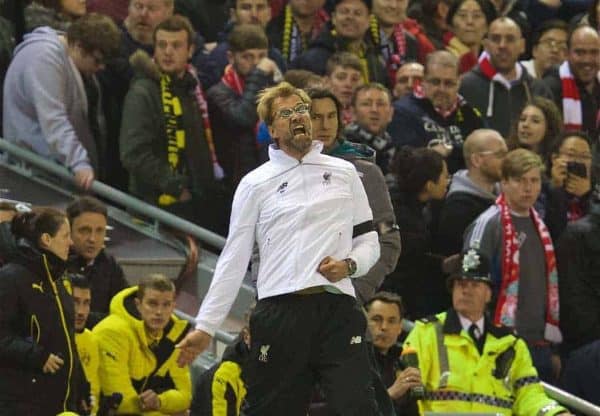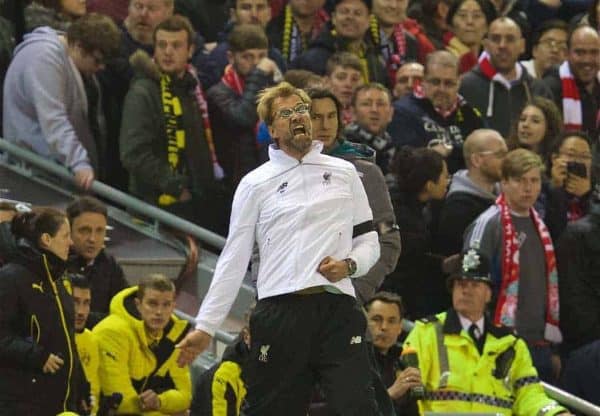 There was huge praise for Klopp, with reporters crediting Liverpool's never-say-die performance to the desire and determination of their manager.
Joyce felt it was performance that boasted everything the Reds boss wants his side to become.
[…] It capped a thrilling finale which was a blueprint for everything Klopp wants his new club to become and represent.

From the relentless, never-say-die approach in believing they could overcome insurmountable odds created when his former club scored twice in the opening exchanges to the coolness of mind that enabled them to clamber off the canvas and over the line.
Hunter commented on the spirit Klopp has instilled:
It demonstrated individual flaws in the Anfield ranks but most of all the indefatigable spirit and unity that Klopp has instilled in only six months.
The Mirror's David Maddock hailed Klopp, the "master motivator":
When he first arrived, you could never have even conceived Liverpool could produce a stirring fight back like this, but the spirit, the fight, the desire his has already instilled into this side shows just what a manager he is.
McNulty wrote of Klopp's influence:
As Liverpool chased the game in the closing stages, Klopp was almost wound up to the point of frenzy, turning around to the crowd beneath Anfield's directors' box whirling his arms in encouragement and gesturing wildly for more vocal support.

It kept the momentum going and Liverpool's supporters believing right through the dark moments when Dortmund controlled the game, inspiring his players to that sensational finale.
He also felt it was the night doubters turned to believers:
When Klopp was introduced as Liverpool manager as successor to sacked Brendan Rodgers in October, he revealed one of his priorities was to "turn doubters into believers".

And it was the transition from doubt to belief that was at the core of this remarkable Liverpool victory, both on the pitch and in the stands. If there was a trace of doubt this result would not have happened.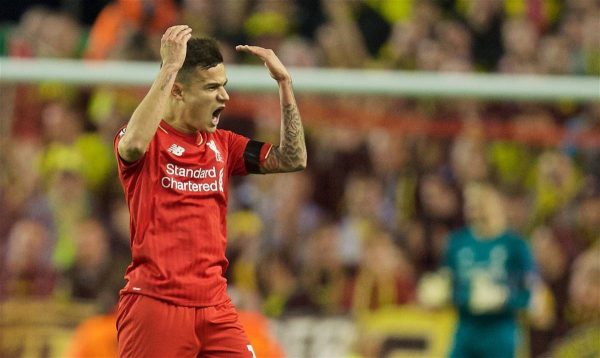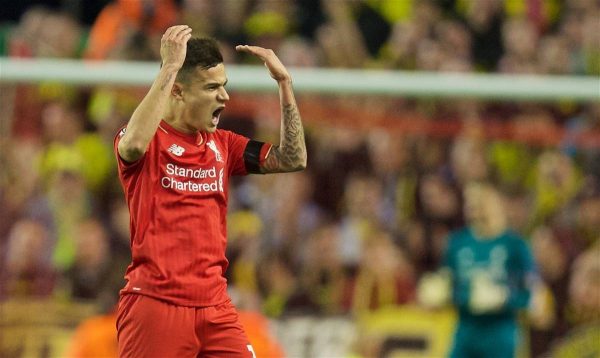 Wallace wrote on Klopp's game-changing impact:
Time and again, even when hope seemed lost, Klopp turned to the home fans in the main stand behind him and punched the air, urging them to make more noise, generate more emotion for the cause.

[…]

He changed the game with his substitutions but he also changed it through the sheer force of personality, demanding that his players did not give up however unpromising the odds.
Meanwhile, Herbert felt Klopp got his set-up wrong on the night:
And it can't be said that Klopp's strategy helped. In Germany last week, he bolstered his midfield with a shield of three, though that vanished in the absence of Jordan Henderson. Just the two of them now, and Moreno tearing up the left like holy hell.
McNulty later praised the team, and Liverpool's sheer refusal to give in:
The bow was back in front of the Kop at the final whistle here and no-one would begrudge Klopp or anyone else for taking in the acclaim.

[…]

Liverpool could have gone under when they needed three goals to go through but they created a host of chances throughout the game and not for one moment did they resemble a team who felt the task was beyond them.
Martin felt the Reds had something "indefinable":
Spirit. Passion. Will. Longing. Sometimes raw emotion is enough, after all. Borussia Dortmund had the class, but Liverpool had something more. Something indefinable.

They were beaten. They were done. And then they were not. Somehow, they returned from the beyond. Call it the spirit of Istanbul. Call it whatever you may, for nothing quite compares. This wasn't even about Jurgen Klopp. This was about Liverpool: a club who never know when a cause is lost, and certainly not in Europe.
The Liverpool Echo's James Pearce commended Liverpool spirit which he belives could lead them to glory:
On the biggest night of Klopp's reign, the Reds showcased just how far they have come.

There may be weaknesses but in six short months the German has moulded a team in his own image. He has instilled resilience and a never-say-die spirit which now threatens to lead Liverpool to their first European trophy since 2005.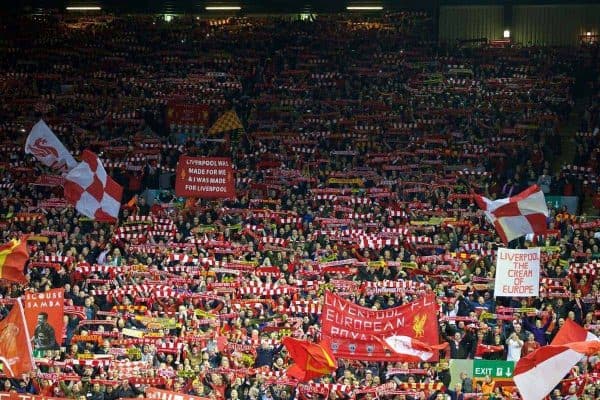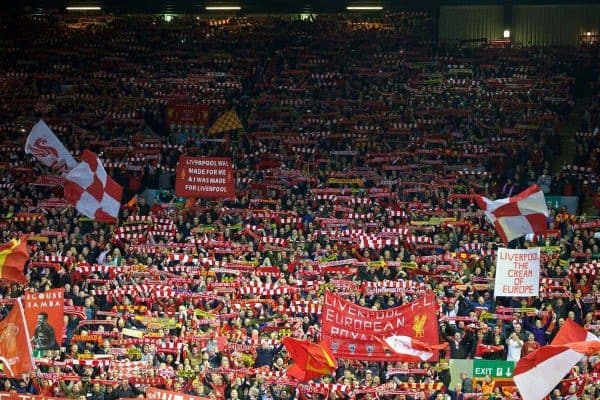 There was praise for the electric Anfield atmosphere, with the home crowd rising to the occasion and producing a stunning display of their own.
Maddock said "there is no better place than Anfield on these European nights":
This was a stunning, wondrous occasion, with deafening support from both sets of fans and an electric atmosphere that will live long, long in the memory.

This game truly ranks alongside those famous European nights of old – and probably surpasses them all.
The Liverpool Echo's Ian Doyle echoed:
The volume rarely dipped below deafening, even during Liverpool's first-half struggles.

It isn't often a match is worthy of the occasion.

This was. And then some, the Anfield crowd sticking with their team as the game ebbed and flowed.

How they were rewarded.
Samuel reflected:
That they refused to give up even then was as much testament to the Kop as to Klopp. With the anniversary of the Hillsborough tragedy hours away, emotion was high at Anfield. The atmosphere before the game was immense, intense yet also quite beautiful.

By the time the Kop had finished singing, the lady from the German radio station in the seat next to me was in tears. It was truly moving, truly powerful. And that mood continued throughout. They didn't give up for them; and they wouldn't give up on this team either.

Though the collective effort rightly commanded all the credit, there was still praise for some individual performances:
The Telegraph's Chris Bascombe praised Emre Can who was "like a one man midfield":
At times he seemed like a one man midfield, but he remained composed as those around them looked like the occasion had got to him. It was a huge loss when he had to leave shortly after Sakho headed the equaliser.
In his player ratings for ESPN, David Usher echoed on the German:
A real powerhouse performance from the young German. He was cool in possession even when under real pressure and the run and assist for Origi's goal was pure class. Unfortunately his night was ended prematurely through injury but Klopp described his display as "world class" and it's difficult to argue with that.
Dominic King of the Mail also acknowledged Can's display:
From the first whistle he was determined to impress against his compatriots and within 10 seconds he had hoodwinked Pierre-Emerick Aubameyang with a back heel. That set the tone and his efforts were glossed with the magnificent ball he threaded through to Divock Origi for Liverpool's opener.

Can was eventually substituted with an injury but The Kop sang his name as he left the pitch.
Simon Burnton of the Guardian credited another fine display from Origi:
Firmino and Coutinho were both careless during this period, but the young Belgian was the very opposite – his control was excellent, his hold-up play fine, his calmness under pressure impressive.

He scored with his one clear opportunity, and his combination of height, pace and physical strength gave his opponents a multitude of problems.