Next in our 2015/16 player-by-player reviews is the Reds' first-choice left-back and recently criticised figure, Alberto Moreno. Where does he stand heading into the summer after an up-and-down season?
Alberto Moreno had an incredibly mixed campaign for Liverpool, starting the season out of favour under Brendan Rodgers, before being part of a first-choice back four and contributing heavily to two cup final appearances — yet ended the term as one of the most vilified players in Red.
He has long divided opinion over whether his offensive traits make up for a lack of consistency and reliability in defence, but events over the latter part of 2015/16 might well have seen the decision made by the manager in any case.
There's no doubt that Moreno is a gifted player in a technical sense, and his pace is a huge asset, but equally as important is the mental aspect of the game and it is clearly here where Moreno falls short of having the capacity to be a truly top player.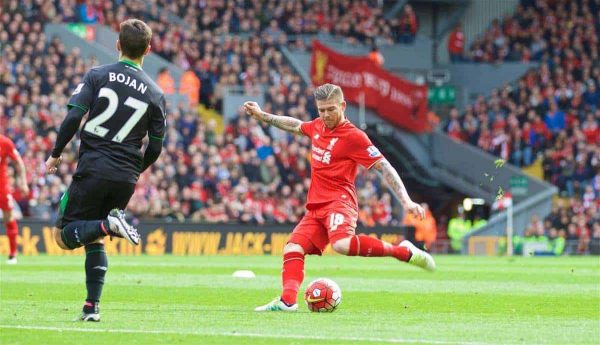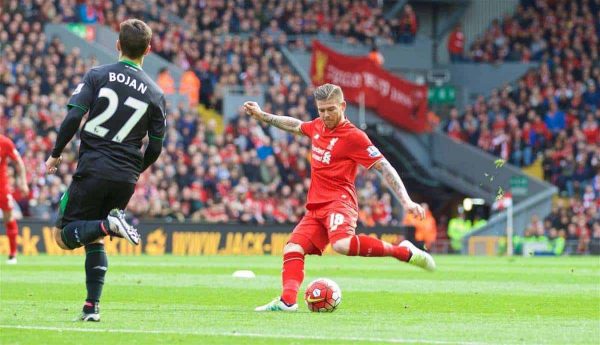 Alberto Moreno, 2015/16
Started: 45
On as a substitute: 5
Unused sub: 3
Goals: 1
Assists: 6
Clean sheets: 18
Average TIA Player Rating: 6.32 (out of 10)
Average rating under Klopp: 6.35
Wait for it…
There's no sense pretending there are no positives to Alberto Moreno's game. There are plenty, and refusing to do see them or overlooking them in favour of the negatives do not simply make it so.
The Europa League final (more on that later) had fans fuming over Moreno's defensive work, but Liverpool took the lead largely thanks to one of the Spaniard's key traits: an ability to overload and overlap down the flank at full tilt.

Nobody, absolutely nobody, in the Liverpool squad has the ability to break lines in the way that Moreno can, on a full sprint and timing runs off the ball in behind the opposition full-backs, affecting play whether he receives the pass or not.
That is a critical attribute to have in the Reds' attack which can at times be methodical and reliant on quick exchanges in central areas, and which should ideally be exploited more often than it has been.
It opens spaces, allows a change of direction pass and shifts the focus of defenders, which in theory leaves a quick-witted striker a split-second to make his move to receive a ball across the box.
At the other end of the pitch his recovery pace has proven equally pivotal at times, with (admittedly wild-looking and lunge-based) back-tracking tackles on counter-attacking forwards saving Liverpool on several occasions this season.
He links play well, is confident in possession and isn't afraid to take on a shot, even if composure doesn't quite come into the list of characteristics possessed by Moreno.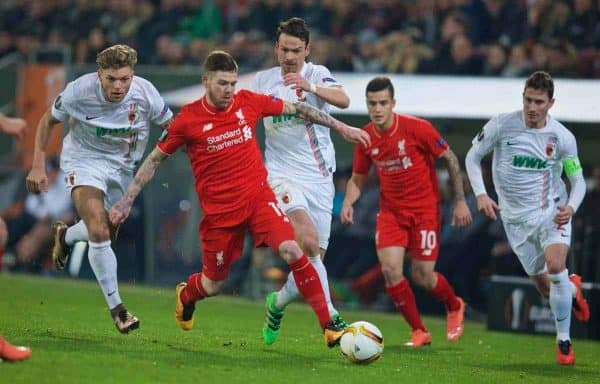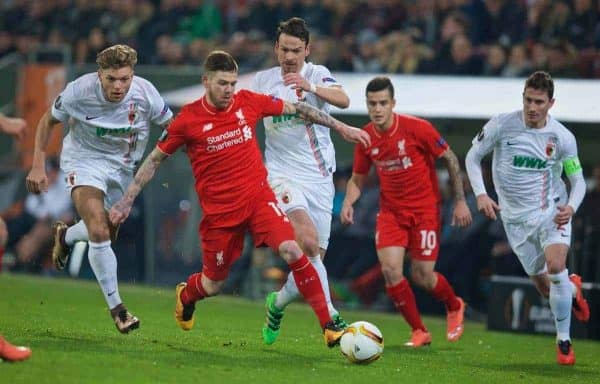 His role has changed with such frequency down the left flank in his time at the club that it's not really a surprise there hasn't been a steady improvement in any single area of his game, but as an overall package, he is levels above some left-backs Liverpool have had to endure at times and it's a worry that certain sections of the fanbase quickly forget being subjected to an inability to defend, a non-commital lethargy to the entire game or an ineptitude once crossing the halfway line.
…Ok, give it both barrels
Recovery pace is all well and good, but a lot of the time there's no substitute for awareness, discipline and positional sense. Whatever else Moreno might have given along the way in the run to a European final, he undid much of the good work with a typically Moreno 30 seconds of play after the restart: a poor starting position, a loose header and a failure to make a challenge. There was more, but nobody wants to recall the second half blow-by-blow.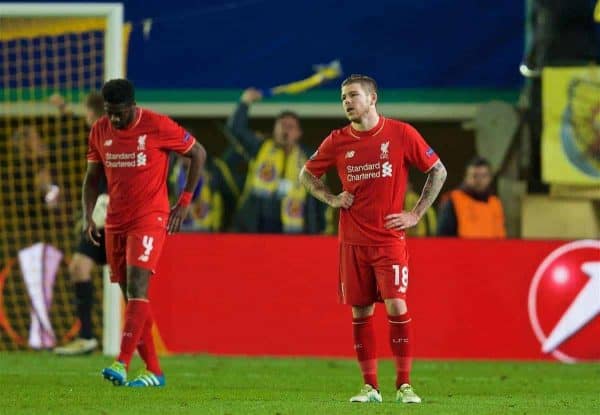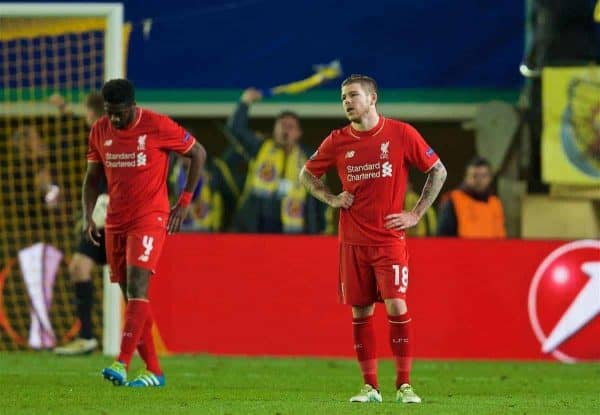 The problem for Moreno is that these moments are too often repeated, too easily recalled because of their nature and position on the pitch whereby they inevitably give up chances on goal and too easy to single out one individual being at fault: himself.
It's a simple issue to identify a lot of the time, and a terribly difficult one to fix—concentration can be demanded for weeks, but lost in an instant. At the highest level, that's all it can take to undo a season of hard work.
Clearly Moreno isn't sharp enough to maintain defensive focus for weeks on end, he gets caught up in mental battles with opponents far too often and, having lost the fans too, the writing appears on the wall for the moment.
Plenty of players have come back from worse, but it will take time and a lot of work on his part to improve his relationship with the majority from this point.
Balance, context, timing
Liverpool need improvements. Left-back is one area, but is far from the only area, and while one player is required, is there time and money to bring in more?

Brad Smith isn't of the required calibre, Jose Enrique has finally been binned two or three years too late, and no other stand-out talent has emerged in the role from the younger age groups.
Perhaps giving Moreno competition and changing his overall role is the ideal next step, rather than allowing recent fume to cloud longer-term planning.
If Philippe Coutinho is to be the left-sided starter in midfield, and a new name comes in at left-back, can Alberto Moreno not play an important role covering for both as a first-team player next season? With no European football, is that not a worthwhile consideration rather than selling him and investing in two additional faces who might not get a reasonable total of minutes combined?
Overall Assessment and Future
Talent has never been enough in football to escalate to the very top. Mentality is all-important in a team with aspirations of regular titles and the sight of Klopp raging on the touchline to his left-back was an all-too-familiar one between January and May, with Moreno too often caught up in petty individual battles and losing concentration.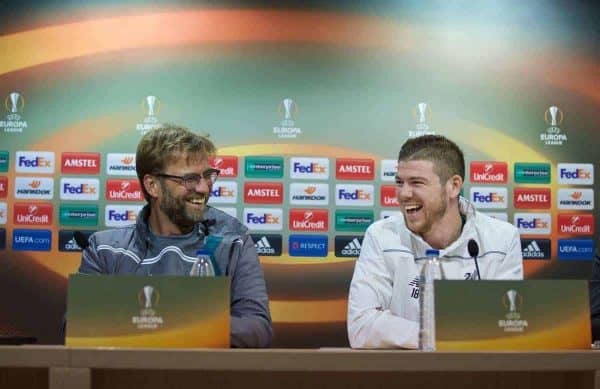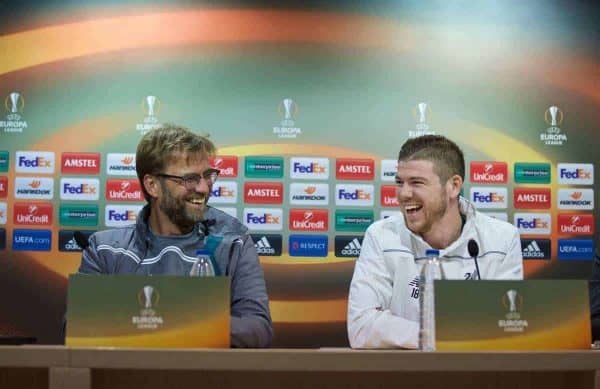 It is this which likely seals his fate as a soon-to-be ex-first team player, with a left-back almost certain to be near the top of the manager's wish-list for summer. Whether that means Moreno departs Anfield entirely or simply plays a supplementary role as back-up to left-back and left midfield remains to be seen.
Fair to say, most supporters would be surprised if he was named in the XI for the opening match of next season, and he is very much a saleable asset in terms of bringing in a good fee—young, fast, Spanish, certain excellent traits all make him a high-price commodity—and likely having no shortage of admirers.
But at the same time, it's worth remembering that many top-class full-backs had an erratic spell in their younger days and genuinely top-tier athletes for the position aren't exactly in huge supply.
At just 23 years of age, Moreno does have growth in his game and perhaps throwing him out, rather than allowing him to adapt or improve in the background of another season with the club, might not be the best way forward.
Best Moment: Scored one, assisted another and put in a generally good defensive performance against Stoke in April.
Worst Moment: The entire second half against Sevilla in the Europa League final, being largely at fault for the equaliser and subsequent collapse of the team.
---
2015/16 PLAYER-BY-PLAYER REVIEWS