Jurgen Klopp has set his sights on a fifth-placed league finish and the Europa League trophy, as Liverpool face an "all or nothing" run.
The Reds take on Chelsea at Anfield on Wednesday night, before finishing their league campaign with an away clash against West Bromwich Albion on Sunday.
Days later, Klopp will lead his side out at Basel's St. Jakob-Park, looking to seal Europa League glory with a win over La Liga challengers Sevilla in the final of Europe's second-tier tournament.
Speaking to reporters on Tuesday afternoon, Klopp underlined his intention to win each of his side's remaining three games, saying they "will try everything" to achieve success.
"What I'd prefer is Thursday next week, we've won against Chelsea and West Brom, and we're back to Liverpool with the cup," he explained.
"I like this all or nothing [situation], but only because of the opportunity to get all.
"If we lose the two next games, I will go to Basel still confident, still thinking we can win. But it'd feel better to win.
"There's no fixed rule to say we win the next two games then we'll win the final.
"Sevilla are already preparing for the final—we can't do this. They're in a fixed position, can't fall down [the table].
"It's Chelsea, then West Brom, then the final.
"Fifth [place in the Premier League] is possible. We will try everything, for sure."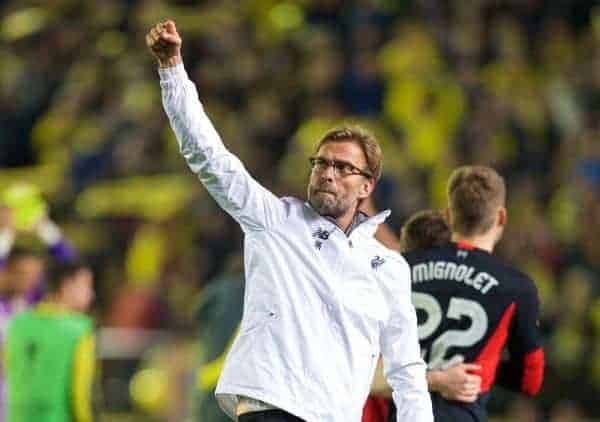 The Reds face a tough task in finishing fifth in the domestic league, needing Manchester United to lose both of their final games along with results going against West Ham United and Southampton.
But entering this make-or-break period with confidence, and setting the bar high, Klopp may provide the motivation needed for Liverpool to do their part.
Most important, of course, is next week's Europa League final.
However, Klopp is right to keep his side's focus on the games to come, with Chelsea likely heading to Anfield desperate to damage Liverpool's momentum.
As Klopp attests, wins over Chelsea and West Brom aren't paramount to their prospects against Sevilla, but as a manager who wants "all or nothing," he will hammer home its importance.