Chris McLoughlin believes Jurgen Klopp's passion and the rise of Philippe Coutinho could kick off a new era of rivalry between Liverpool and Chelsea on Wednesday night.
I'm generally to maths what UEFA are to selecting appropriate venues for European finals, but by my calculations Liverpool will be playing Chelsea for the 42nd time since the start of the 2004/05 season on Wednesday night. Forty-two meetings in 17 seasons is rather a lot when you don't particularly get on with a set of fans who could make a 3G pitch out of their flags, but is indicative of just what a big rivalry there now is between the two clubs.
To the neutral observer a meeting between the 8th and 9th best sides in the Premier League may seem rather meaningless when previous May clashes have been in Champions League semi-finals or at Wembley, but a previously neutral observer – Jurgen Klopp – isn't having any of that. In his matchday programme notes (which yet again are must-read stuff) he describes the match as having "great significance" because "regardless of where we are this is still one of the biggest fixtures in football."
Is right, Jurgen. Instead of playing things down, he can't help but talk things up he feels passionate about – including suggesting a Scouse invasion of Basel – and that's exactly what we need. If it hasn't become glaringly obvious this season that our club does better when the big, meaningful Anfield nights come along compared to the humdrum Premier League games then you've been watching the wrong team. Klopp has reignited the connection between supporters, players and manager and the more he can build up that relationship the stronger we'll be. Beating Chelsea would be another step in that direction.
Bizarrely, Chelsea will arrive at Anfield with a likeable manager who isn't Rafa Benitez. Guus Hiddink brought his entire Anzhi Makaflapjacka (or whatever they were called) squad with him when he placed a wreath at the Hillsborough Memorial when we met in Europe. He's never been here for a league game before and the caretaker boss probably won't be again with Antonio Conte already appointed ahead of next season.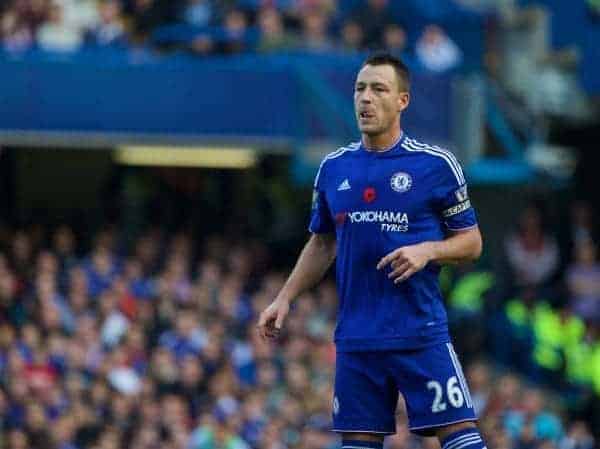 They'll also arrive without the unlikeable John Terry due to him now seeing out his Chelsea career by being suspended, although if the Londoners do win I'm fully expecting him to leg it out of the away end wearing a full strip while carrying a Liverpudlian cockerel to take home as a souvenir for his ma. All joking aside, if Terry does depart (there's a whisper that Conte is considering giving him a one-year deal) it will mark a significant moment in our modern day rivalry.
Of all the players who appeared in the five games in 2004/05, when Rafa Benitez and Jose Mourinho (who amusingly won less European silverware as Chelsea boss than Rafa) were in charge and the needle in this fixture truly started, Terry is the only player left at either club. He won't get to make a club-record 40th appearance against the Reds on Wednesday, but so much water has passed under the Bridge (Stamford, not Wayne, or his ex-missus) that he'll go down as one of the biggest rival players we encountered over the course of the last decade in the same way that Jamie Carragher (45 appearances) and Steven Gerrard (40 appearances) will do for Chelsea.
Question is, what next? Liverpool and Chelsea won't meet in Europe next season, but perhaps under our new managers a new league rivalry will emerge. I've not found a Kopite yet who believes that the Reds will be worse next season when Klopp has had a summer to get his own players in while you've got to expect Conte, who led Juventus to three Serie A titles, to have a positive impact on a side that has underperformed more than any other in the Premier League this season. Apart from Everton.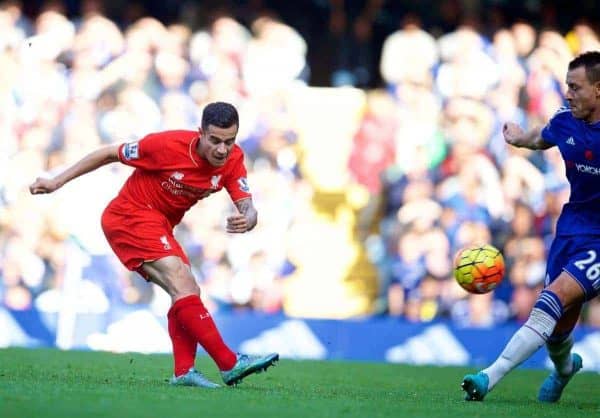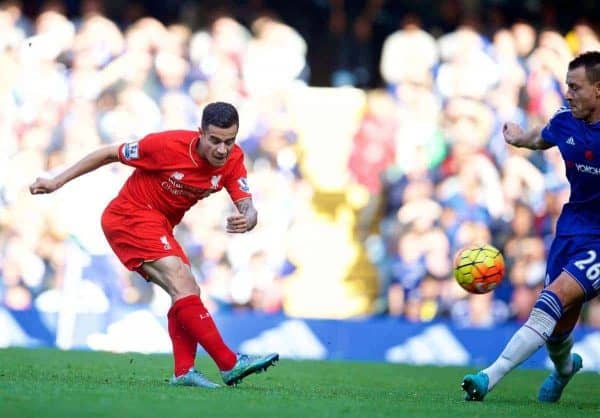 What we don't yet know is whether another Luis Garcia, Didier Drogba, Fernando Torres or Fat Frank Lampard Junior will emerge to become a regular goalscorer or match-winner in this fixture, but if Philippe Coutinho does the business again at Anfield, as he did at Stamford Bridge in October, then perhaps we've already got our new baton-holder.
Coutinho is, for me anyway, Liverpool's Player of the Season. Give the lad another Golden Samba so he's got a pair. He's still got some way to go in terms of consistency, but when the big games come along it is the Brazilian who, more and more, makes the most vital contribution. Stoke away. Chelsea away. City away. West Ham in the cup. Wembley. The Mancs in the Europa. Dortmund at home. A derby goal at Anfield. And that's without mentioning any assists.
His 12 goals this season is a new personal record in a Liverpool shirt having netted three (2012/13), five (2013/14), and eight (2014/15), but what really makes me think that he'll be perhaps the key player over the next couple of seasons is that 11 of his 12 goals in 2015/16 have come since Klopp has been his manager.
That suggests, but doesn't prove beyond doubt, that the German has already found a way to get more goals out of Coutinho than Brendan Rodgers managed to, and should give every Red hope that a player who only turns 24 next month will get even better in terms of his goalscoring and goal-creating contribution.

Speculation that other clubs would like to sign him is inevitable, especially if he has a good Copa America, and few South American players remain at the same English club for the majority of their careers, but from what I've been told Little Phil and his family are happy here and if we do win the UEFA Cup then the old 'in search of Champions League football' transfer rumour line won't be appearing on a tweet from a made-up source anytime soon.
So as we say goodbye to the old Main Stand and Paddock (RIP) on Wednesday night, it feels to me like we're also saying goodbye to the old Liverpool vs. Chelsea era in anticipation of a brand new one. If both clubs are to go on and be as successful as they intend to be the chances are that we'll soon be on another collision course with much more at stake than there is now.
---

• Chris McLoughlin writes for the This Is Anfield matchday programme and you can already subscribe for next season at www.sportmediashop.com.
Buying one at the Chelsea game would also keep him in a job and mean you get to read free stuff like this. Ta!
---