The stage was set in Basel. The historic city in Northwest Switzerland, with its population of circa 160,000, saw itself engulfed in a sea of red, writes Danny Gallagher.
This was the European final Liverpool were going to win. Another European final Liverpool were going to win. A stuttering Premier League season was irrelevant. The Reds had not long since seen their domestic campaign come to a lacklustre end with a 1-1 draw away to West Brom, but nobody cared about that.
Why would they? Europa was where it mattered, and the breath-taking, hair-raising, swashbuckling football Jürgen's men had been producing was at the forefront of everybody's minds.
Sevilla were the masters going into the final, but Liverpool were possessed. Prior to the outcome, find a man willing to heap vast sums of money on the Spaniards to collect the trophy for a third successive season and you'd have been searching for a while.
Tentative steps against United, an initial forgetting of the lines against Dortmund before a near catastrophic melt down against Klopp's old club, followed by a scare against the yellow submarine; none of it mattered. The script was written and Liverpool were overcoming the odds.
Anfield was sucking in opponents and churning them out without a care in the world, sending them back to their native homelands dazed and deflated, unsure whether they even had time to unpack.
These ingredients were all part of the recipe. All part of the final serving which would see Jürgen Klopp follow in the footsteps of Rafa Benitez and crown his inaugural season with European silverware.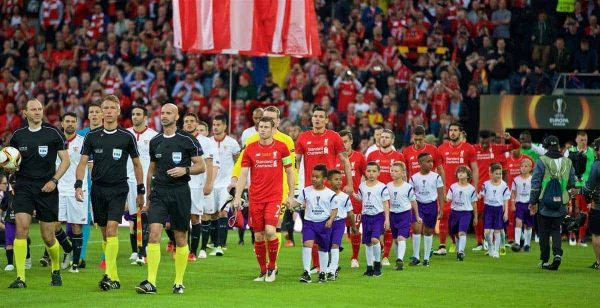 But this is football, and fairy tale endings come few and far between; least of all when you've as good as ticked them off as certain to happen.
The opening quarter in Basel began as a timid affair, both sides merely pawing at each other, neither willing to bare their teeth. It wasn't the Villarreal at Anfield kind of start, which was a worry. But, after all, European finals are always a different ball game entirely.
Time ticks by, Liverpool take the initiative. Pressure cranks; chances build; noise levels rise. Check, check, check – all part of the plan.
Daniel Sturridge's 35th minute strike was a moment of pure artistry, make no mistake about it – a finish of the very highest calibre which only a small handful of elite strikers could produce.
But something still wasn't right.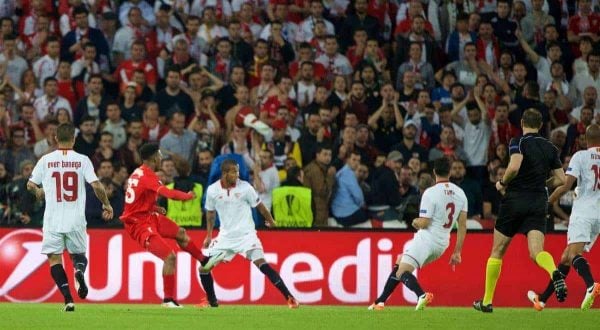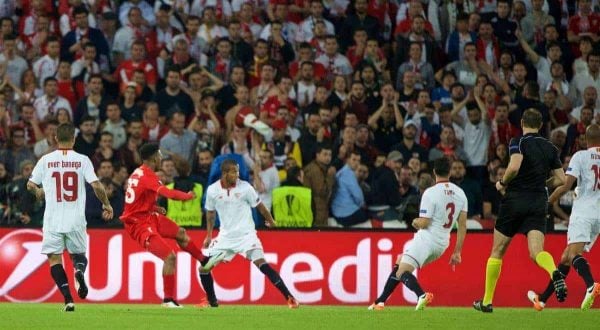 Liverpool had eleven men on the field and what seemed like an entire colony of Kopites across all four sides of St Jakob Park around them. But the final, vital cog which made the Reds such a violent assassin in previous rounds was simply missing from the machine.
The Reds were unfortunate not to go into the half time interval two goals up, after Dejan Lovren's header was – rightly – ruled offside after Sturridge's attempted intervention. But there was an undying feeling that Liverpool were just so acceptably acceptable simply because of how bloody awful their Spanish opposition were.
There was a man wearing the number 10 shirt of Philippe Coutinho out on the field. I saw him, you saw him, we all did, but it wasn't our usual magical, incomprehensibly skilful Brazilian. The same can be said for Roberto Firmino, Adam Lallana and Emre Can, to name a few others.
Not a criticism, an observation. The game passed them by. A game they each so passionately wanted to win, as did the entirety of the squad, soon began to pass them by in a blur. The Brazilian duo both had images of their loved ones emblazoned on their shin pads. This final meant everything, so much emotion was invested. But the occasion swallowed them.
Experience is spoken about often in football. Sometimes so much so it reads like the ultimate cliché, yet it's undeniably true.
It's no coincidence that 35-year-old Kolo Toure – a once steadfast piece of the finest title-winning Arsenal side ever assembled – stood up to the challenge, while those around him were simply melted by the occasion.
Seventeen seconds into the second half came the bucket of cold water to the face, ice cubes and all. Gameiro's finish was knife through butter football, assisted generously by a large helping of Cirque du Soleil defending from Alberto Moreno.
But it never felt like a mere lapse or a misjudged wobble. Within seconds Sevilla were back clawing at Liverpool's throat again and the game didn't just turn on its head, it was knocked clean off the table.
As Andújar Moreno, or 'Coke' as he's better known, rattled in two further efforts for the Europa experts, the La Liga side were rightly earning the headlines which were being hastily drafted by journalists in the Switzerland press box.
Cue the drug puns dispersing across social media in their masses. 'Revived by Coke' – 'Inspired by Coke.' Find it cheesy or find it clever, it was inconsequential as Sevilla were absolutely buzzed and looked to fit the newfound narrative quite aptly.
A pressing, passing, tireless Liverpool of the first half had been eradicated. And that hurt, badly. So badly.
There wasn't to be a Dortmund revival or a Villarreal reassertion of dominance. The final 30 minutes of the tie saw the Reds play with their European spirit scooped out, unable to pick a pass with white flags raised all over the midfield.
Emre Can cried at full-time, as did Dejan Lovren, as did many a Kopite stood speechless in the St Jakob Park stands. This was a European final Liverpool were going to win, and these tears weren't supposed to be present. But here they were, salty and real, shared by us all.
There are feelings only football can give you. There are feelings only Liverpool Football Club can give you. Numbness; emptiness; a game slipping away you can do nothing about; a flash back of Athens.
This was one of them. Now Klopp – a man who was given only somebody else's tool kit to work with, and made two cup finals in doing so – must begin a rebuilding process of his own.
Klopp's Liverpool tenure won't be built on European success, but instead the pain and anguish of having it so violently, heartbreakingly ripped away. The question of which one of those outcomes is the better fuel to ignite a new era is up for debate. Time will tell.