Liverpool's Europa League Final against Sevilla next Wednesday will be shown at the Echo Arena, and for free on BT Sport.
A big screen will be provided at Liverpool's premier entertainment venue on 18th May, following an agreement with BT, which promises to create quite an atmosphere.
With tickets extremely hard to come by for the actual game in Basel – only 10,600 have been allocated to Liverpool supporters – the city is seemingly thinking up alternatives for fans who are unsuccessful in their efforts.
Those who failed to get tickets in Monday's ballot will have first option to buy a maximum of two tickets, with 9,000 available in total. They will be on offer until 9am (BST) on Friday 13th May, on the Echo Arena's official website.
The doors will open at 6pm and it will cost just £5 for entry. All proceeds will go to the Liverpool FC Foundation, as well as BT Sport's charity, The Supporters Club.
Meanwhile, BT Sport have also confirmed that the match will be shown for free, screened live on Freeview channel 59, BT.com, BTSport.com and via the BT Sport YouTube channel.
BT Consumer's chief executive, John Petter, explained the reasoning behind the decision, with the Champions League Final between Real Madrid and Atletico Madrid also being given the same treatment.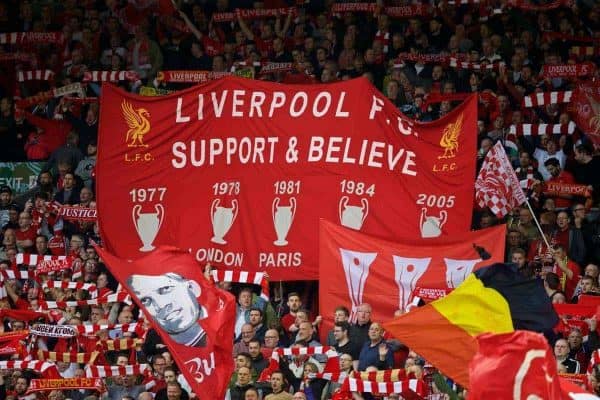 "We've always said we wanted to give top quality sport back to the people and making the UEFA Champions League and Europa League finals free to everyone in the UK does this in a big way," he said.
"We're also bringing BT Sport to a new generation of younger sports fans who view their entertainment online, through social media and on their mobile devices.
"We plan to make these finals the most social sports broadcast ever, with lots of exciting content in the build-up and on the night across YouTube, Snapchat, Facebook, Instagram, Twitter and Vine."
Liverpool's showdown with Sevilla kicks off at 7:45pm on Wednesday, as Jurgen Klopp's side look to win their first piece of silverware since defeating Cardiff on penalties in the 2012 League Cup Final.
It is the Reds' first European final since their 2-1 defeat to AC Milan in Athens nine years ago, and victory would mean a place in next season's Champions League.