Signed in a deal worth up to £29 million last summer, Roberto Firmino has proved his worth in his first season at Liverpool.
When Firmino made the move from Hoffenheim to Merseyside in June of last year, the Brazilian captured the imaginations of a Liverpool support desperate for a return to form in 2015/16.
In a post-Luis Suarez landscape that saw the Reds struggle for goals the previous season, with their attacking line lacking the intensity and cutting edge that the former No. 7 provided, Firmino was highlighted as the solution.
Making the switch from a lower-level Bundesliga side to a Premier League challenger was a big step, but after a slow start under Brendan Rodgers, Firmino is now key to the Liverpool cause.
As we continue our season reviews for some of Jurgen Klopp's regular fixtures, Firmino stands out as a real gem.
Roberto Firmino, 2015/16
Started: 40
On as a substitute: 2
Unused substitute: 9
Goals: 11
Assists: 11
Average TIA Player Rating: 6.43 (out of 10)
Average rating under Klopp: 6.51
Slow Start in Unfamiliar Role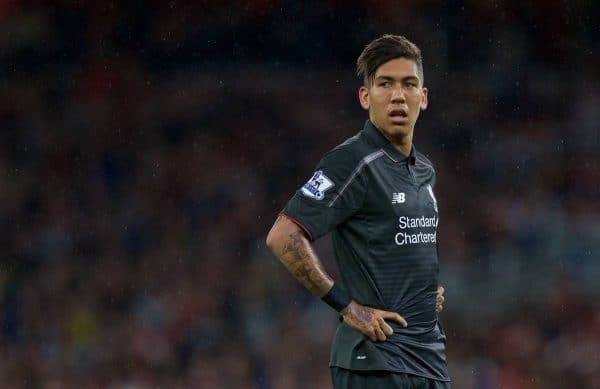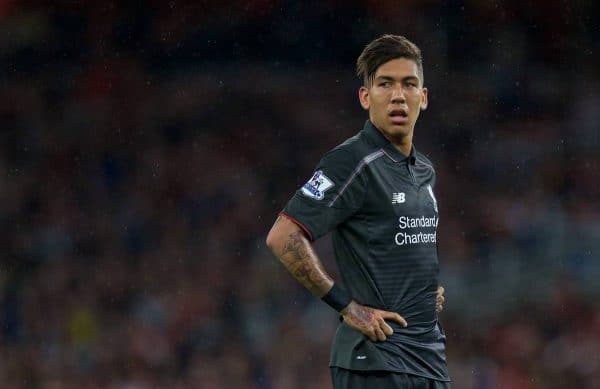 Soon after the deal to sign Firmino was completed, Rodgers provided his view on a player the Reds had been following for over a year.
While the Ulsterman insisted that he was not a "direct replacement" for the departed Raheem Sterling, he emphasised similar qualities in his attacking style:
"The flexibility of the player is important.

"He's got outstanding talent, wonderful touch, a great appreciation of the game. He can play on the sides, through the middle or in behind.

"He's accustomed to European football. He is a talent who wants to score."
Firmino played just three games on the wing for Hoffenheim over the previous two seasons, once on the right in 2013/14 and twice on the left in 2014/15, but this was the role he was ordained by Rodgers on his arrival.
This saw appearances in a wide role against Bournemouth, Arsenal, West Ham United, Man United and Norwich City, with the attacker struggling to find form as a result.
Aside from a seven-out-of-10 display away to the Gunners in August—a first start for the Reds that saw This is Anfield's Henry Jackson conclude "will only improve the more game time he gets"—Firmino was far from his best under Rodgers.
Most worrying was Rodgers' use of Firmino in a withdrawn, almost wing-back role in September's 3-1 defeat at Old Trafford, as the Ulsterman resorted to panic stations with the pressure increasing.
A back injury suffered in the 1-1 draw with Carlisle United in the League Cup ended Firmino's time under Rodgers, though the impending appointment of Klopp was set to kickstart his Anfield career.
Liberated Under Klopp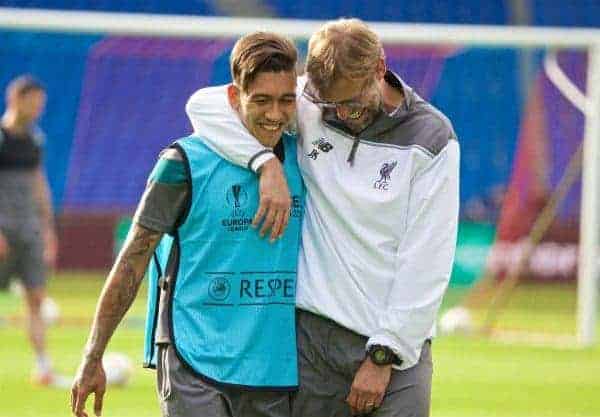 The arrival of Klopp saw Liverpool pair their big-money summer signing with a manager hugely familiar with his talents, with the German having taken on Hoffenheim many times during his spell with Borussia Dortmund.
While Klopp's assessment of Firmino, coming shortly after his arrival at the club, was similar to that of Rodgers back in July, there was an emphasis on the central role that proved key:
"Usually he plays in offensive midfield, or second striker, or he can come from the wing. He's a pretty skilled player.

"There was some time one year ago he was, for a few months, for sure the best player in Bundesliga.

"Everybody could see that he can be a very, very good player and when I heard Liverpool took him I thought 'good choice'."
Klopp knew what a talented player he had in his midst, and it was this stressing of the central role that would see him coax the best form out of Firmino in 2015/16.
Recovering from injury to return in October's 1-1 draw with Rubin Kazan in the Europa League, Firmino took just two appearances before he could truly showcase his ability, shining in a focal role in the Reds' 1-0 win at home to Bournemouth in the League Cup.
Days later, Firmino took up a role as Liverpool's No. 9 in the 3-1 win away to Chelsea, before a virtuoso display in his same position away to Man City in November, scoring once and laying on a further two goals as Klopp's side ran rampant, winning 4-1.
His performances as a centre-forward were perhaps most surprising in 2015/16, with Firmino able to press from the front with his tremendous work rate, but also punish defences with a new-found, clinical edge.

Between eight league games from January to March, Firmino scored seven goals and registered four assists, going a considerable length to justifying his £29 million price tag.
In his maiden campaign with Liverpool, Firmino quickly developed into a key player, though there were poor performances along the way, with Sion and Watford away and the Europa League final loss to Sevilla perhaps serving as the best examples of his tendency to fade.
Improvements & Moving Forward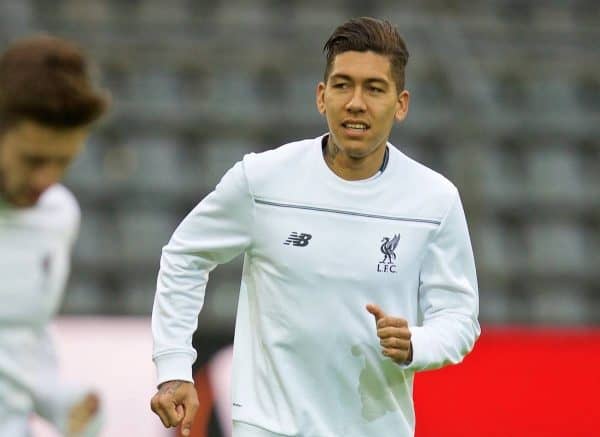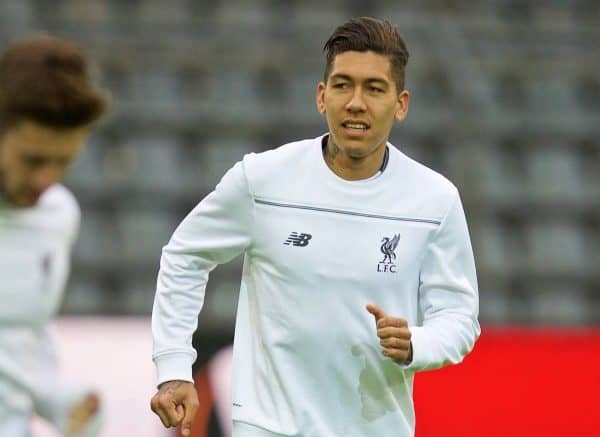 Overall, it was an excellent campaign for Firmino at Liverpool, with the 24-year-old finishing the season as the Reds' top goalscorer in the Premier League with 10 goals, and having scored 11 and laid on 11 assists in all competitions.
Adjusting to a new league, without a pre-season, hampered with injury and undergoing a change in manager, Firmino has done excellently and no doubt the influence of Philippe Coutinho has helped.
Alongside Coutinho and Adam Lallana, Firmino contributed to some of the best team performances of the season, most notably at the Etihad Stadium in November.
In these games, Firmino was able to terrorise defences with his guile, finesse, technical quality and never-say-die attitude, and Klopp can look forward to more of this in the future.
But as the German assesses Firmino over the summer, his performance in the Europa League final may stick in his throat.
At times in 2015/16, Firmino was guilty of fading out of games, offering little more than a hardworking presence in the final third, lacking the incisive forward play that has become the norm.
His passing can be sloppy, and his combination play with particular attacking colleague needs to be worked on, but at 24, Klopp will be aware this is a work in progress.
Given the mitigating factors following his move from Hoffenheim last summer, Firmino has done excellently in 2015/16, belying his paltry average rating of 6.43, and he will only get even better.
---
2015/16 PLAYER-BY-PLAYER REVIEWS
LOANED PLAYER REVIEWS