We continue our overview of Jurgen Klopp's key men in 2015/16 with Liverpool's first-choice goalkeeper, Simon Mignolet.
Mignolet's 55 starts between the posts this season mean that he made more appearances than any other Liverpool player throughout 2015/16.
The Belgian has been at the club for just under three years, and fans now know what they're going to get from him.
No amount of training appears to improve him as a footballer, but as a shot-stopper he can produce saves that many other goalkeepers might not get close to making.
It's often said that shot-stopping should be a prerequisite for a goalkeeper and that it's something which shouldn't be pointed out when discussing their strengths, but Mignolet has made it this far in his profession thanks to his prowess in this area.
The past season has seen more of the same: some poor kicking, hesitant distribution, and rash decision making, mixed in with the odd world-class save.
Simon Mignolet 2015/16
Started: 55
Unused substitute: 4
Clean sheets: 20
Average TIA Player Rating: 6.22 (out of 10)
Average rating under Klopp: 6.23
Steady Start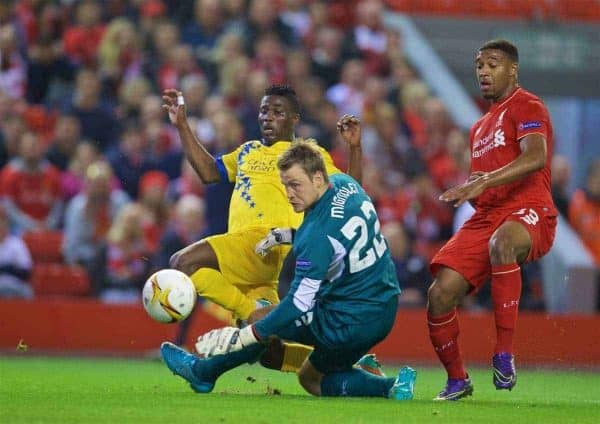 Mignolet started the season with three clean sheets in a row, which included an outstanding performance in the second half of a 0-0 draw against Arsenal.
After this, however, he put in a series of mixed displays.
A Europa League low point against FC Sion at Anfield, where he was beaten by a soft shot at his near post, was followed by two impressive performances in the league.
He made several good saves against Everton at Goodison Park, including one to deny compatriot Romelu Lukaku to earn his side a point.
He went on to do the same against Spurs in the next game, making excellent stops to deny Harry Kane and Clinton Njie.
It wouldn't have been undeserved to give him the man-of-the-match award in either of these games.
21 Seconds To Go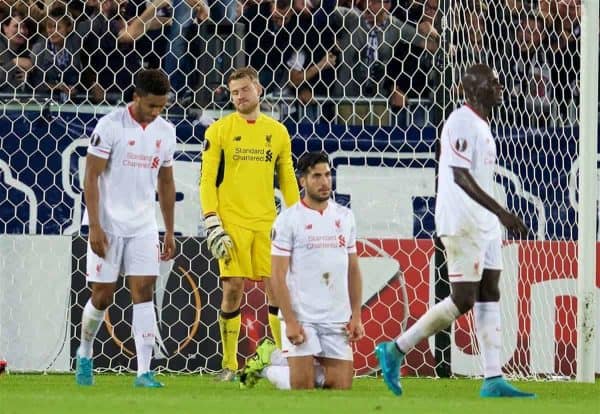 However, more inconsistency was to come before the year was out, and another poor display in the Europa League saw him give away a free-kick against Bordeaux for holding onto the ball for too long.
He kept the ball in his hands for at least 21 seconds, giving the referee no alternative but to enforce a rarely seen six-second law.
Henri Saivet scored from the free-kick to rub salt into the wound.
Mignolet's worst performance of the season – against West Bromwich Albion, where he was given a 3/10 rating on this site – preceded a good four-game run over the festive period and into the new year.
Shootout Heroics & Saving Face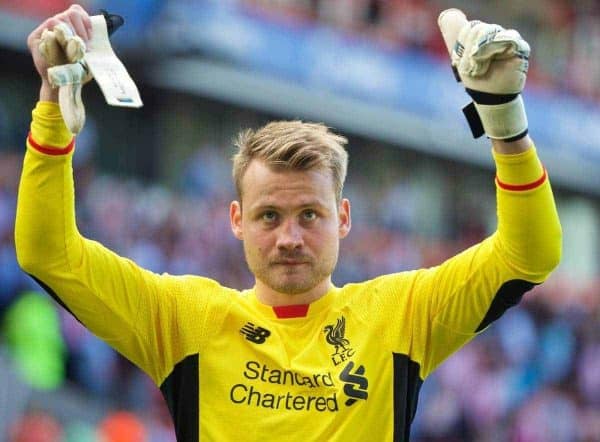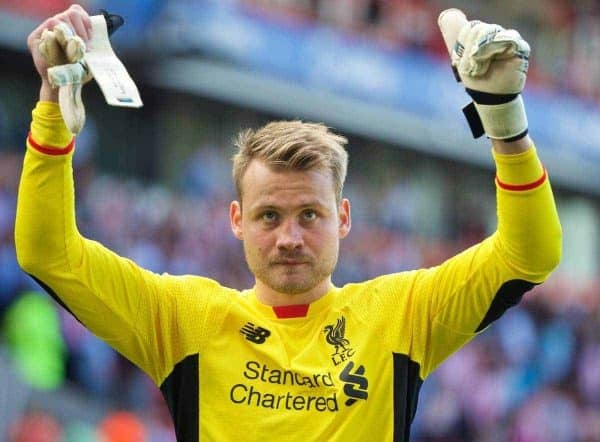 This string of four clean sheets included penalty-shootout heroics in the League Cup semi-final against Stoke, where he saved spot-kicks from Peter Crouch and Marc Muniesa to help his side reach the final.
We all know what's coming next. A miserable performance against Arsenal had the critics on his back again as he let in a couple of soft goals from Aaron Ramsey and Olivier Giroud.
From the last-16 tie against Augsburg in late February, up until the 4-0 win in Merseyside derby at Anfield in late April, Mignolet went through one of his most consistent periods since joining the club.
But in the following game against Newcastle he gave a reminder of why so many fans had been calling for a change in the position.
Liverpool were cruising following excellent goals from Daniel Sturridge and Adam Lallana, but when Mignolet came for a Vurnon Anita cross and missed it completely, it left Papis Cisse with an easy header to score and gave Rafa Benitez's Newcastle some belief, leading to a 2-2 draw.
He managed to save some face in the games against Villarreal, making some good stops at important moments despite being a spectator for long periods over the two legs.
Uncertain Future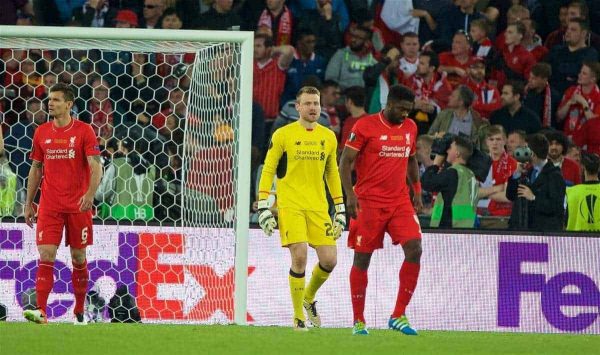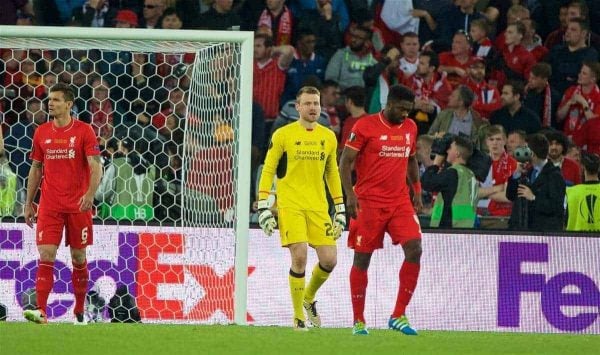 But all the talk after the Europa League final was of which goalkeeper will replace Mignolet as the No. 1 next year, rather than any hope that the incumbent between the posts will improve for next season.
A goalkeeper should be one of the club's captains and leaders on the pitch even if he doesn't wear the armband, and although Mignolet has become more vocal at the back, sometimes it looks like he's just shouting at his defenders for the sake of it.
What should be an organisational skill becomes a sporadic barking of instruction which on occasions can look as though it's causing even more confusion at the back.
However, if the club sent out a video compilation of Simon Mignolet's saves to clubs across the continent he'd have no shortage of takers.
For the right club he'd make an excellent goalkeeper, as long as they don't require him to be a footballer as well.
Best Moment: The 0-0 draw away at Spurs – some great saves from Kane and Njie.
Worst Moment: Holding on to the ball for more than 12 seconds vs. Bordeaux, and conceding from the subsequent free-kick.