With a new keeper and a centre-back sorted and plenty of left-backs linked, Liverpool should be targeting creativity in midfield this summer.
The majority of Liverpool supporters have high hopes going into the 2016/17 season, with Jurgen Klopp set to enjoy his first summer in the transfer market at Anfield.
It is clear that a number of additions are required in various areas of the pitches, although the additions of Loris Karius, Joel Matip and Marko Grujic will already make a difference.
While a replacement for left-back Alberto Moreno is the priority for some – a speedy wide man would also make an undoubted difference – Klopp should make a creative midfielder his most pressing matter.
Borussia Monchengladbach man Mahmoud Dahoud appears to be the 48-year-old's priority signing in that role, and he would be ideal for the Reds.
Missing piece of the jigsaw
With talks with Udinese's Piotr Zielinski cooling, Dahoud is the man Klopp is looking at to add a spark to his midfield.
The 20-year-old is seen as one of Germany's most exciting young players, and a superb 2015/16 for Monchengladbach has further enhanced his reputation.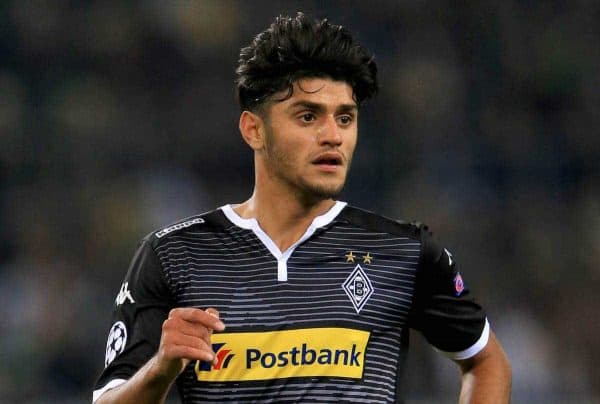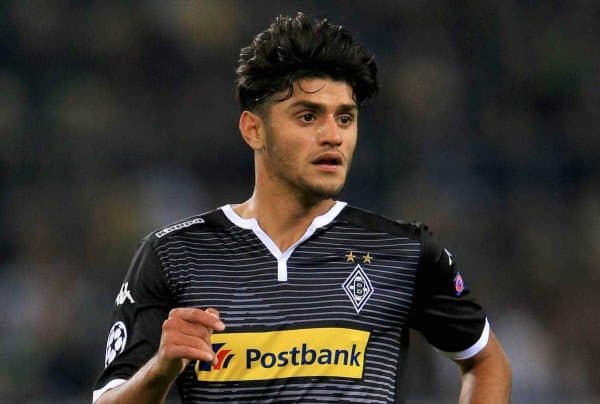 In fact, Dahoud comfortably outshone teammate and new Arsenal signing Granit Xhaka.
The Germany U21 man possesses great dribbling qualities and can pick a pass, and the fact that he can thrive as both a playmaker and a box-to-box midfielder make him a rare commodity.
The playmaking aspect is something that Liverpool have been missing since Xabi Alonso's heyday in the Reds midfield and adding some flair and ability to unlock defences would be welcomed this summer.
It must be stressed that the current Reds midfield has some very good options in it, but a lack of guile has been alarmingly apparent for too long.
Limited
The likes of Emre Can, Jordan Henderson, James Milner, Joe Allen and Lucas Leiva all proved their worth at different times in 2015/16, but something was always lacking.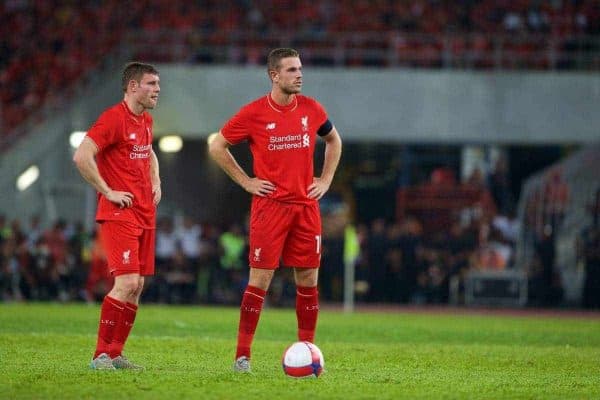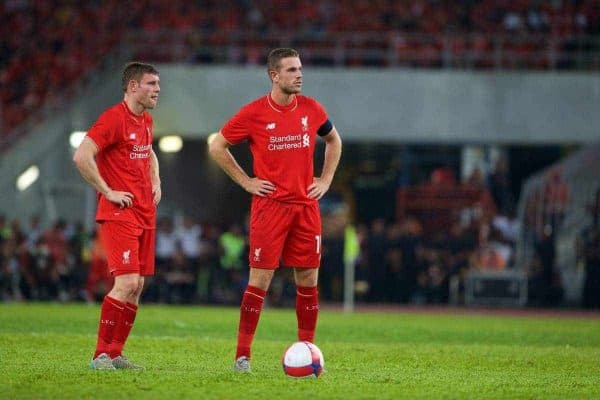 When it came to breaking down teams, there was far too much reliance on the attacking trident of Philippe Coutinho, Adam Lallana and Roberto Firmino, with the midfield built around functionality rather than exuberance.
Can enjoyed a superb campaign, but for all his many qualities, there weren't many times when he proved to be a subtly creative force for Liverpool.
His sensational outside-of-the-foot pass to Daniel Sturridge, against Southampton in the League Cup, outlined his class, but brawn has often overshadowed brains with the young German.
Henderson has come in for plenty of criticism for a lack of quality, and while he remains underrated in possession, the Reds skipper is not someone who opposing teams will fear with the ball at his feet.
Exactly the same applies to both Milner and Lucas, who for all their many enduring attributes, are not going to win you games from the middle of the park.
Milner's impressive flow of assists in 2015/16 may cloud that opinion, but it is perfect proof that statistics in football are far from the be all and end all.
Milner still deserves credit, but he was far from the creative hub of the team, with a number of his assists coming from crosses out wide – not from playmaking in midfield.

Ironically, Allen is the most adept at picking a pass in the middle of the park, but his Liverpool future looks very uncertain.
New signing Grujic may have the capabilities to shine to an extent in a creative sense, but it's early days for him.
Philippe Coutinho was used in the midfield three towards the end of the 2013/14 season, a player who can certainly provide that magic in the middle, but he's barely featured there in the two seasons since and never tested there under Klopp.
Long-term issue
Steven Gerrard may have produced a virtuoso 2013/14 campaign in a deep-lying playmaker role, but Liverpool have been lacking craft in midfield for six or seven years.
Alonso's exit in the summer of 2009 hit the team hard, and the disastrous capture of Alberto Aquilani did little to fill the void left by the Reds' magnificent Spaniard.

Since then, reliable, combative midfielders have been preferred to those with cunning and ingenuity, and it has affected the attacking threat of the side.
Raul Meireles and Christian Poulsen will forever be linked with Roy Hodgson's disastrous reign as Liverpool manager, while Charlie Adam was just not good enough for a club of Liverpool's stature.
Jonjo Shelvey tried and failed to bring some elegance in the middle of the park, while Jay Spearing simply never cut the mustard. Nuri Sahin was never played in his correct position by Brendan Rodgers.
As touched upon, the current array of Liverpool midfielders bring a number of qualities in their own right, but that little of bit of genius is missing badly. They're all very similar players.
It is similarly what held Man United and Man City back last season, with an over-reliance on functional players such as Morgan Schneiderlin, Michael Carrick and Marouane Fellaini, and Fernandinho and Fernando.
Vital addition
2016/17 represents a genuine opportunity for Liverpool to mount an assault on the Premier League title – something that has been the ultimate goal for the Reds ever since their last league crown in 1990.
No European football should be a huge advantage to Klopp and his side, and given Leicester's extraordinary 2015/16 campaign, there should be nothing to fear next season.

Added depth throughout the squad is imperative, and while numerous areas of the pitch must be improved upon, Klopp must bring in a midfielder with the ability to create opportunities from the middle of the park; somebody to control the tempo of a game, much like how Sevilla did in the second-half of the Europa League final.
Too often over the years we have had to witness Liverpool's midfield hopelessly failing to break down the opposition, with a lack of risk all too common. That must change.
Composure, class and control are required.
Dahoud appears to be a good fit, and his arrival would aid this. The young German would bring the endless running that Henderson and Milner do, as well as a clever reading of the game defensively, but he would also open up defences, beat players and add another dimension to the team.
Klopp is a man we should all trust, and we should be excited that Dahoud is seemingly his number one midfield target.