Sachin Nakrani questions why Daniel Sturridge, one of the most prolific goalscorers in the Premier League, doesn't get much love from supporters for club or country. The truth may be uncomfortable and unconscious.
Ian Wright was a brilliant striker but he is not always a brilliant pundit, deciding as he has to occasionally play the role of tub-thumping man-child, urging and despairing rather than offering considered, balanced analysis, something which has been on show at these Euros and particularly so when 'Wrighty' has been working on England game. How remarkable, then, that from the same person should come a verbal offering that years on continues to live with me, such was its sharpness of delivery and point of view.
I can't remember the exact date, but it was sometime in late 2007/early 2008 and during the BBC's live coverage of an England match at Wembley. Michael Owen was starting in what was one of his final appearances for the national team and, as part of the pre-match build-up, there was an interview with the forward in which he reflected on his career.
Owen namechecked Gary Lineker and Alan Shearer as being among his goalscoring heroes, which was the source of much mirth back in the studio, where the pair were sat with Wright. Watching on, I expected the former Arsenal player to respond by acting the child again. Instead he knocked me sideways with his less-than-articulate but very grown-up assessment:
"You know why Michael didn't name me, don't you?" Wright asked of Lineker and Shearer. "Cause I'm a bruvva".
In case you haven't got it, what Wright was saying is that Owen didn't name him because, to put it bluntly, he is black. It was not an accusation of racism but rather a highlighting of an absence of racial empathy – Owen did not grow up seeing himself in Wright, or any other black striker plying their trade in this country or abroad during his formative years. Instead he saw himself in the likes of Lineker and Shearer, white Englishmen scoring for England. Easily relatable figures for the boy Owen, figures he could easily aspire to becoming.
There's nothing wrong with that – after all, the reverse is equally prevalent. For example, ask Jermain Defoe who he grew up wanting to be and he'd no doubt namecheck Wright. It's a natural way of thinking. When it comes to race and football, the problems lie elsewhere and, if you'll excuse the pun, it does not always come down to black and white cases of out-and-out racism. There can be a more subtle form of discrimination, namely unconscious racism.
It's what John Barnes has spoken of when reflecting on and analysing why so few black players have made it as managers. Currently there are only three black and minority ethnic managers (BME) in this country; Chris Hughton at Brighton, Jimmy-Floyd Hasselbaink at Queens Park Rangers and Keith Curle at Carlisle. A paltry total that tells you a lot about how this country's predominately white chairman and chief executives view the ability of people from different races, and black people in particular, to lead a team.
As Barnes put it in a column for the Guardian in November 2013, the likes of himself, Cyrille Regis and Luther Blissett are viewed as "good athletes but incapable of being anything above and beyond that", and more often than not by people who would in no way class themselves as racist.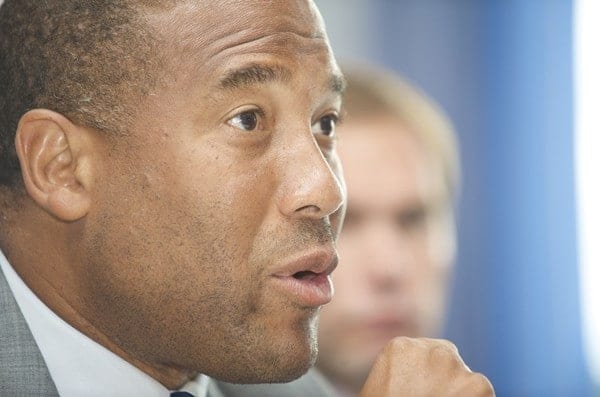 It should be pointed out that Barnes has been given opportunities to manage teams and ultimately his lack of success with Celtic and Tranmere Rovers can be put down to this once incredible midfielder simply not being cut out for the job of making decisions from the dugout.
But that doesn't mean Barnes doesn't have a point. Indeed his assertion that black footballers are only renowned for their athletic prowess can be seen by the way in which those who are over 6ft tall, powerful and muscular are often referred to as "beasts".
Yaya Toure is a beast, as is Victor Wanyama. As was Patrick Vieira. It's not meant with any malice but that phrase used in that context is utterly awful if you stop to think about it. As Barnes says: unconscious racism.
Unconscious racism is a term also used by experts, such as Nathalia Gjersoe, a lecturer in development psychology at the Open University. Gjersoe wrote an entire article about the subject for the Guardian last July in which she spoke of how a "conflict between people's dearly held explicit beliefs and their nasty little unconscious racial biases has real-world consequences", referring to the "classic" Implicit Association Test to make her point.
"Presented with identical, moderately-good resumes attached to a picture of a white or black candidate," Gjersoe outlined, "interviewers are significantly more likely to shortlist the white candidate for interview". Swap "interviewers" for "chairman and chief executives" and that could be a telling of what happens in football boardrooms up and down this country, year in year out.
Unconscious racism is very real, therefore, and something I've been mulling over ever since I returned from Basel last month. There I witnessed Liverpool lose the Europa League final in staggeringly poor fashion and Daniel Sturridge score their only goal of the night in staggeringly brilliant fashion. I moved on from the former surprisingly quickly. The latter, however, has stuck with me and led to some soul searching. Uncomfortable but important soul searching.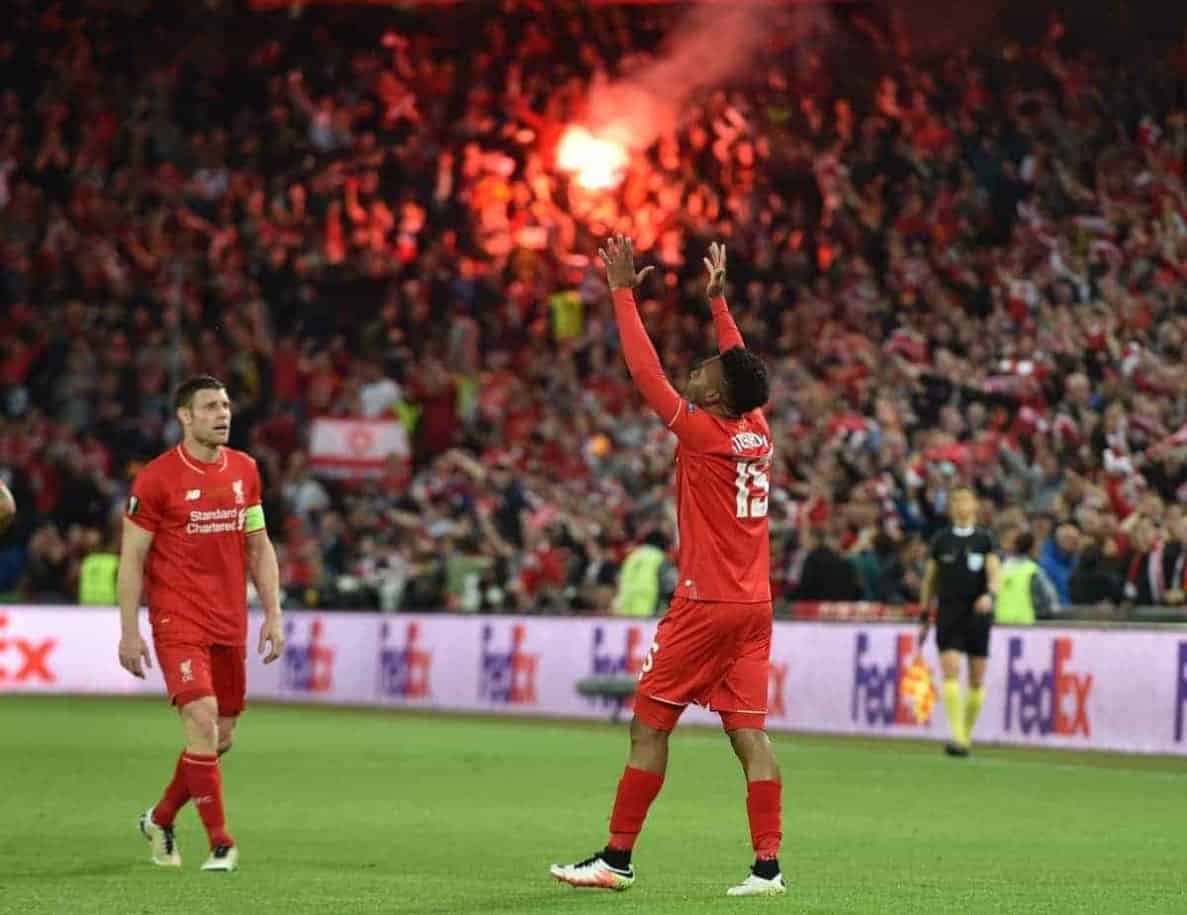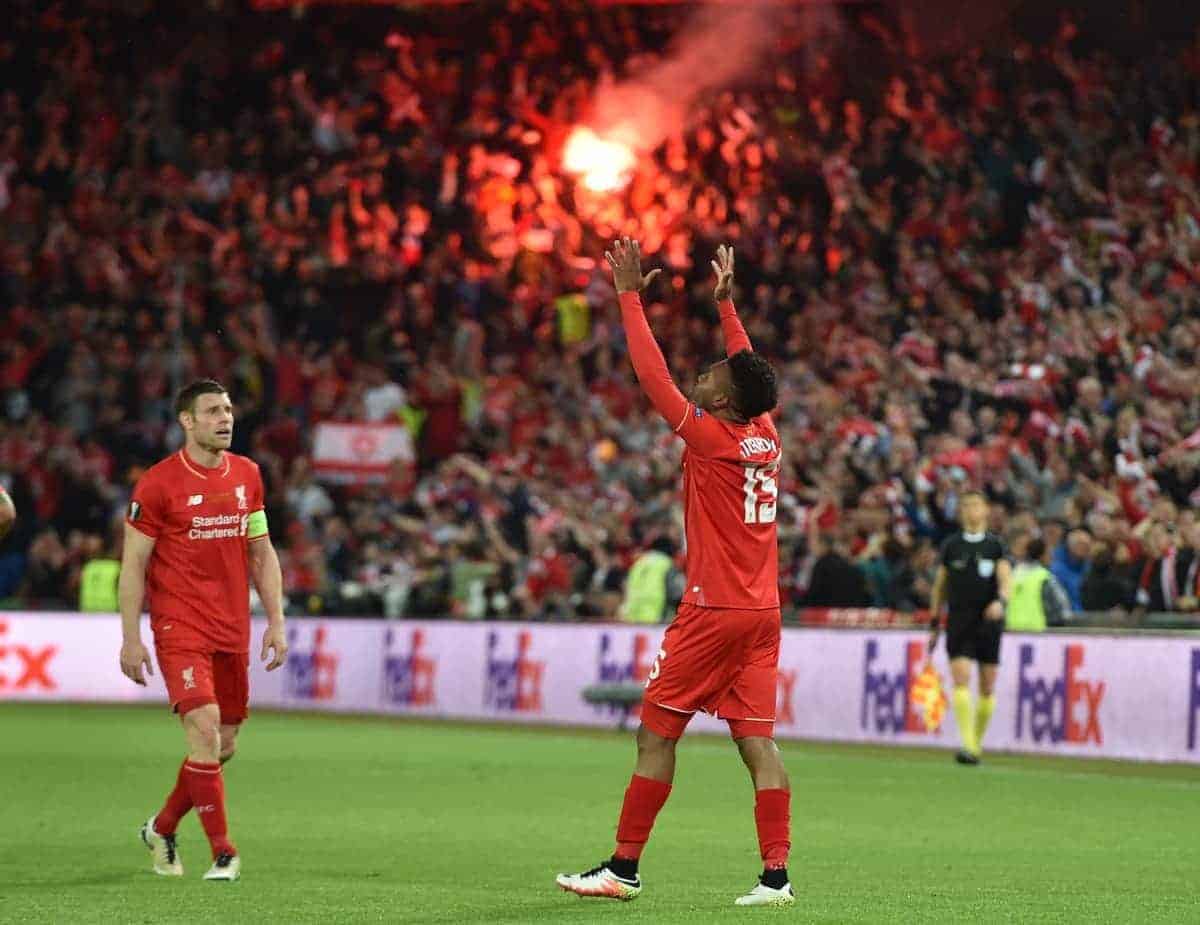 Sturridge has become a divisive figure within Liverpool's fan base, generating a range of emotions from frustration and suspicion on one side to unadulterated adoration and unwavering backing on the other. I place myself on the middle of the scale but for some time have generally leant towards the negative end. The numerous injury problems have annoyed me, made me question Sturridge's desire to play for the club and wonder if it would be best for all involved if he was sold sooner rather than later.
All of which flooded through my mind in the aftermath of Sturridge's outside-of-the-boot strike against Sevilla. A gorgeous goal and his 13th of what was supposedly a difficult season. The 26-year-old finished as Liverpool's top-scorer and proved he is a brilliant player. Something he highlighted again with his cooly-taken, expertly-finished winner for England in their 2-1 triumph over Wales on Thursday.
The overall numbers back this up. Sturridge has 53 goals in 92 appearances for Liverpool since arriving from Chelsea in 2013 and reached his half century quicker than Luis Suarez, Michael Owen, Robbie Fowler and Kenny Dalglish. For England, meanwhile, he now has six goals in 19 appearances. He is on course for legendary status for club and country yet there are many Sturridge-followers who remain emotionally detached from Daniel.
At Liverpool this can be seen by the fact he still doesn't have an established song/chant or a flag on the Kop (and yes, I'm aware of the "Stu-rridge" chant, but it doesn't count given the regularly half-hearted manner in which it is delivered). Philippe Coutinho has both and he joined the club at the same time as Sturridge and has made no greater contribution. Indeed, it can be argued that the Brazilian has achieve less in a Red shirt than the man with No15 on his back.
In regards to the lack of a Sturridge song, this can partly be put down to the fact there are generally fewer doing the rounds now then there were during, say, Rafa Benitez's heyday. But it's still startling that one of Liverpool's best players of the past 10 years doesn't have a ditty. So why the lack of clear and consensual love for Sturridge? Here comes the uncomfortable bit…

As well as being deemed not intelligent enough to hold positions of authority, there is a view among black athletes that they are also viewed as not caring enough by the wider world, that they are too easy going. Feckless. It's something the West Indies batsman Chris Gayle touched upon during a recent interview when speaking of his belief that the criticism directed towards him is often racially motivated: "People think that my attitude towards the game stinks. That's how it comes across: lazy".
While it is best to ignore most things that come out of Gayle's mouth, he is right to be angered by this perception of his contribution to cricket. After all, and as Andy Bull pointed out in a piece for Guardian (that's my last mention of the Guardian, honest), this is someone who played 103 Test matches in 14 years for the West Indies, scored triple centuries against South Africa and Sri Lanka and has become the best Twenty20 batsman in the world. If there's one thing Gayle is not, it's lazy.
And neither is Sturridge. His injuries – of which there have been 18 since 2013, forcing him to miss over 600 days of football – have been frustrating for supporters but they've been frustrating for him too, and such has been the forward's desire to overcome them that he travelled to the United States last summer to undergo hip surgery and rehabilitate from the procedure.
Yes there are some psychological issues in regards to his ability to get over his physical problems, something Steven Gerrard has made reference to, but questioning Sturridge's desire to get fully fit and play is misguided at best and outrageous at worst.
Yet many of us (former players included) have been guilty of that and since Basel I have asked myself if this is a consequence of unconscious racism. Sturridge is black so he doesn't care enough, he's too easy going. He's lazy.
Like everyone I am undoubtedly capable of unconscious racism, and have the anecdotal scars to prove it. A few years ago, my wife and I were on a train home from Brixton. It was late and we could hear music being loudly played from a set of seats occupied by two teenage boys, one black and one white, and quickly decided the black one was at fault. We didn't express this openly but it was clear in the way our eyes lined up that we were pinning the blame on him. Tuts followed.
A couple of stops later, the white teenage boy got up and departed from the train. The music followed him. It had been him all along and I felt immediately and deeply embarrassed, as did my wife.
These are the judgements our minds make without our permission. It's what Barnes believes has held back the likes of himself, Blissett and Regis from establishing successful careers in management and what Gjersoe believes makes the most tolerant and warm-spirited of people harbour divisive points of view. As the later points out: "Implicit [unconscious] racial biases … can develop as young as three years of age and once established are surprisingly resilient to change". Hardened, hidden mindsets and something I can't help feel may have affected the way I and others view Sturridge.
Let me be clear: I am not accusing Liverpool fans of being racists. In huge numbers they, we, have welcomed and embraced players of different races and cultural backgrounds, with few – black, white, English or foreign – adored by Kopites quite like Barnes (my childhood hero, met him once and felt giddy about it for days afterwards). And in regards to outward shows of adoration, it should be remembered that Mamadou Sakho has a flag on the Kop and a regularly belted-out chant, both of which are sure to return if/when the defender returns to action.

In 24 years of going to the match I have also not once been subjected to racial abuse by my fellow fans, nor have the vast majority of the other brown-skinned Reds I know. Anfield is a welcoming place and it has welcomed Sturridge, too. But equally there is no hiding from the sense that a player of his talents and contribution should be embraced tighter than he has been.
Would a white player who has scored as many goals as Sturridge be viewed with the same level of distrust due to a string of injuries which he more than anyone wished had never taken place? I'm not sure.
Neither am I totally sure that my use of unconscious racism to explain the separation that exists between Sturridge and some Liverpool supporters is fair. It's possible that I'm needlessly barking up a controversial tree and that the reason some fans feel cold towards our red-hot striker is purely sporting – the consequence of seeing him in action only sporadically and because when Sturridge was at his peak and practically injury-free, during the 2013/14 season, he was overshadowed by Suarez. A firm bond between supporters and Sturridge would have developed then had it not been for the utter brilliance of our Uruguayan No.7. He stole the attention as well as the headlines.
Whatever the case, I personally feel troubled by the lack of love shown to Sturridge and will spend time this summer thinking of a chant/song and a flag for the man with stardust in his boots and the country in his debt. He's a special player, the type of player, indeed, that future strikers will namecheck as their goalscoring hero.