Liverpool's new Main Stand is due for completion in time for the 2016/17 season – regardless of whether the Reds' first home game ends up being against Burnley or Leicester City.
Liverpool have asked Burnley to swap fixtures, which would allow an extra three weeks for work on the new stand. Regardless of whether that change goes ahead, the club insist the stand will be ready.
The Burnley game is scheduled for August 20th, while the Leicester game is after the first international break, on September 10th.
Whenever, the first home game will be, Anfield's new capacity will be around 53,800 – Anfield's highest attendance since 1977.
The new stand will see the tunnel move to the centre of the stand, on the halfway line – a decision the club were undecided about during the development process.
The tunnel will also be significantly wider (3 meters) than the previous famous narrow tunnel. The steps in the tunnel will be no longer but a slight slope will remain in order for the 'This Is Anfield' sign to remain a prominent feature.
The dugouts will also be moved to the halfway line, with each team now having their own area, rather than the shared area of before.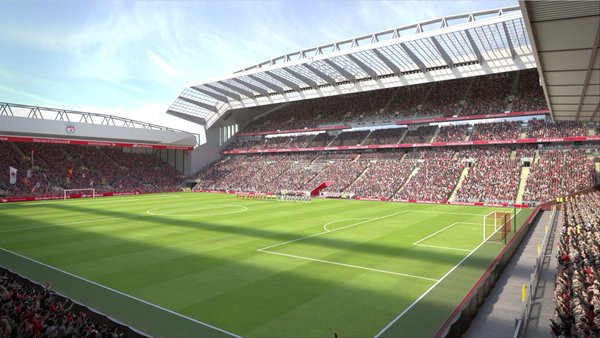 The press box will remain in a similar position to before, slightly offset from the halfway line.
The TV camera positions will also be in a similar position due to the roof of the old Main Stand being the same height as the middle tier of new stand where camera will be located.
Externally, the new stand will see the teams arrive by coach going directly into a specific access road under the new external podium and beneath the stand itself.
There will also be a new area where the Hillsborough memorial will be reinstalled, providing a sheltered space for fans to pay their respects.
Work is also going on to provide better pathways and access to the stadium from Stanley Park.
This week has seen the new middle tier put into place and seats in the upper tier now are completely installed.