With Liverpool submitting a £9.5 million bid for Piotr Zielinski, we get the lowdown on the young Polish midfielder.
The Reds appear to be in prime position to sign the Udinese midfielder, having lodged a £9.5 million bid after Zielinski reportedly turned down a move to Napoli in favour of securing a switch to Anfield.
Rejecting the lure of Champions League football by refusing a move to the Italian side will only add to the attraction Klopp has in signing Zielinski; the German boss having stated he only wants players who are prepared to 'push the train'.
Zielinski has caught Klopp's eye after impressing for Serie A club Empoli where he has spent the last two seasons out on loan, playing 66 times and scoring five goals.
But the versatile midfielder is still something of an unknown quantity to the majority of Reds fans, so we spoke to Polish football journalist, Ryan Hubbard, to get his thoughts on what Zielinski can bring to Anfield.
Hi Ryan. Piotr Zielinksi is still something of a new name to a lot of Liverpool fans, so what can you tell us about his style of play, strengths and weaknesses as player?
Still aged just 22, Zielinski has already spent five years in Italy, and has developed substantially since signing from Polish club Zaglebie Lubin.
Although capable of playing out wide if required, Zielu's favoured position is as an attacking midfielder, where he likes to receive the ball in deep-lying positions before advancing either with short one-two or a mazy run. If neither option is on, he's also as equally adept at spraying a longer ball forward or cross-field.

However, even for the less-physical Italian game, his relatively-slight build can put him at something of a disadvantage; so to thrive in the Premier League he'll be required to bulk-up a little. He's not particularly strong in the air either, so would work well paired with a big and strong midfielder.
He spent a second season in a row on loan at Empoli last year. How did he perform during 2015/16 season?
After an average showing during 2014/15, it's possible that even Zielinski himself was surprised when Empoli announced their wish to bring him back for another season. But what an inspired decision it proved to be.
The Silesian started 35 times for the Tuscan club, scoring five goals as they finished in tenth position. Zielu also earned a spot in the Serie A team-of-the-season alongside Paul Pogba and Miralem Pjanic – in fact, he was the only player from a club outside the top-six to be selected.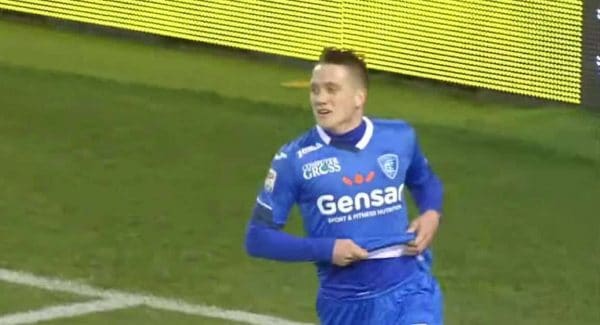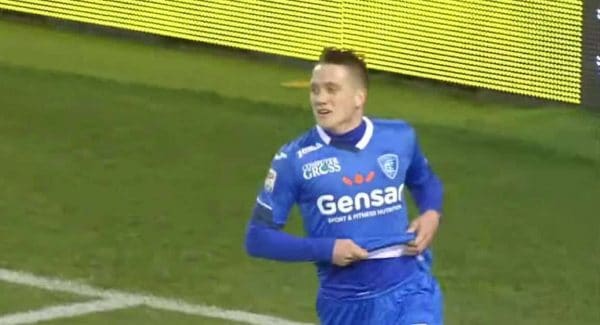 Is there a Premier League player – past or present – that Zielinski's style of play and qualities can be likened to, for those of us that don't follow Serie A quite as closely as the English top-flight?
Although not entirely alike, Zielinski's attacking movement is similar to that of Eden Hazard at Chelsea. Maybe not as flash, but he likes to receive the ball deep and advance as far up the field as possible, whether it be on his own or with the help of team mates.
If he does decide to pass forward, don't expect him to stop either: he'll continue to try to advance and get himself in a threatening position.
However, Zielinski doesn't quite possess all of the attributes of the Belgian: around the box he is less-prolific, while his lacking in strength means he can be pushed-of the ball more easily.
A player who is viewed as being versatile, where do you feel his best position is? And with Klopp a manager who prefers a 4-2-3-1 formation, where would Zielinski best fit into in Liverpool's system?
Without a doubt it's the central attacking midfielder role in which he plays his best football. He can play in one of the two more-defensive spots, but is probably too lightweight for that in the Premier League just yet.
In the middle of the attacking three he would be able to work his way into the box, and either feed the front man, or possibly contribute a few goals himself.
There is a feeling among the Liverpool fan base that a creative central midfield player needs to be signed this summer. Can Zielinksi be the man to provide that figure?
Yes, I believe that he can. He may have only contributed four assists this season, but Zielinski has played an integral role in driving his side forward, and creating openings for the strikers.
His impressive footwork and comfort on the ball can help him to evade opponents in crowded midfield areas, freeing up space to offer a quick change of direction or an attacking break.
Zielinski became a key player at Empoli in his two seasons there, so having picked up vast experience in Serie A despite being only 22, is he ready to command a first XI role upon arrival?
In terms of experience, confidence and ability, without a doubt; however it would be adapting to the English game which would likely be the most difficult aspect of a move for Zielinski.
Fortunately though, it is something that could easily be worked on, and shouldn't prove much of an issue.
Finally, is there anything else that you feel should be mentioned to enlighten Liverpool fans on Zeilinski?
He hasn't been shy in making his feeling known on the possible move to Anfield, declaring his desire to work under Jurgen Klopp, and even speaking to international team-mate Jakub Blaszczykowski for inside information on the former Dortmund coach.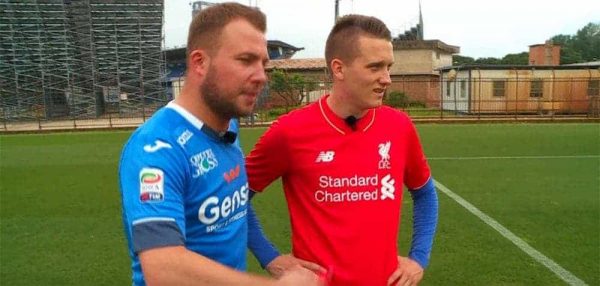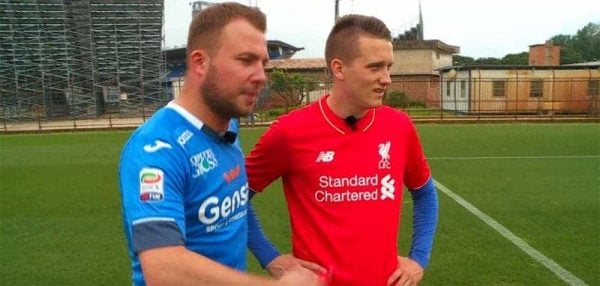 He also didn't shy away when presented with a Liverpool shirt by Polish TV last month. Rather than laugh it off, he proceeded to wear it over his Empoli training kit before proceeding to fire several free-kicks into the net.
However, Zielu has also stated that he'd be more than happy to remain in Italy for the foreseeable future, having settled in the country as a teenager. With interest from Napoli also on the table, and a chance to make an impact at the Euros, his final destination may not yet be decided.
A big thanks to Ryan for answering our questions. Follow him on Twitter:@Ryan_Hubbard.