With an additional 8,500 fans expected at each home game this season, new options are in place to make travelling to/from Anfield more convenient.
Fans are being encouraged to plan how they will travel to and from games, as Anfield gets ready to welcome thousands more through the turnstiles, with the opening of the Main Stand.
Liverpool FC, Merseytravel and transport operators have been working together to help make matchday travel more convenient for supporters heading to the Stadium this season.
The focus is on helping fans understand all the available travel options to get them to and from the game quickly and safely, while easing congestion on the city's transport routes.
The additional capacity will mean more fans travelling to and from the Stadium – using public transport will be the easiest and most efficient way to reach the game due to no additional parking being available in the local area.

LFC Matchday teams based at city's transport hubs to assist fans
Express 917 bus services which will run direct from Liverpool City Centre to Anfield up to every 10 minutes on a matchday. New £12 return ticket for groups of four
Free parking at East Lancashire Road (A580) major route into the city where fans can leave their cars and connect to bus services
New taxi pick up points located around the Stadium
Free and secure Cycle Hub available in Stanley Park
New pedestrian routes installed from Lime Street Station and nearby Sandhills and Kirkdale to assist fans walking to the game
Soccerbus will continue to run between Sandhills train station and the stadium for Merseyrail passengers
Fans will be able to catch the 917 express bus services which will run direct from St Johns Lane, Liverpool City Centre to Anfield up to every 10 minutes. Matchday staff will also be on hand to assist fans using buses departing straight after the game. A £12 return ticket will also be available for groups of four.
Free parking facilities will be available for supporters at A580 East Lancashire Road a key route into the city; from here fans can catch the 19 bus to Anfield. Only fans with a pre-booked car parking pass will be able to park near the Stadium, where a resident parking scheme will be in operation.
New taxi pick up points have been installed outside of the Stadium and on major routes, making it easier to get home after the final whistle.
New walking routes will also be signposted from Liverpool Lime Street station and nearby Sandhills and Kirkdale stations to assist fans who travel to the game using local Merseyrail services. Fans using rail services to Sandhills can also connect to the Soccerbus which will operate direct to the Stadium.
The free Cycle Hub will return to Stanley Park for the new season. The hub allows fans who cycle to the game to park their bike safely and securely with an attendant.
Soccerbus runs between Sandhills station and the stadium for approximately two hours before kick-off and fifty minutes after the final whistle. Merseyrail passengers can add a return Soccerbus ticket on to their rail travel for just £1.60 for adults and £0.80 for children at any staffed station.
Fans are also being encouraged to avoid the crowds and get to Anfield early to enjoy the new facilities. The Fan Zones on Anfield Road or in the Main Stand public realm open four hours before kick-off and are ideal for enjoying the pre-match build up.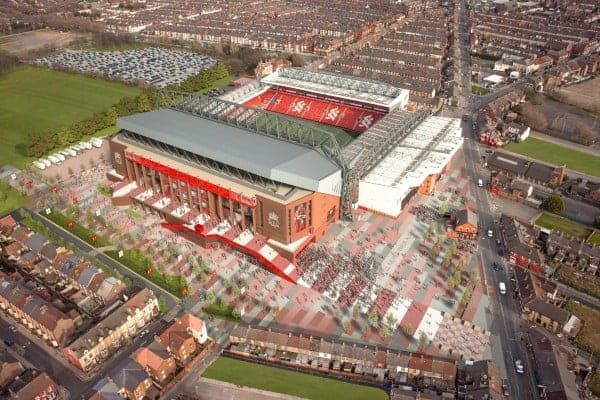 Andrew Parkinson, Operations Director, Liverpool FC said
"This season we're welcoming an additional 8500 fans to Anfield. That's a lot more people to get to the Stadium and home again so we're advising people to think about their transport options now. We encourage fans to use public transport where possible and to consider park and ride, or our free Cycle Hub facilities. Safe and efficient travel is an important part of the matchday experience and we hope that these new services will make public transport the first choice on a matchday".
Liz Chandler, Merseytravel director and Chair of the Liverpool City Region's Major Events Transport Board said:
"We've been working with Liverpool FC and transport operators to improve links to and from the ground and to ensure that travel information and advice makes clear all the options available. With the Stadium and surrounding area likely to be busier, we want fans to perhaps think differently about how they travel, or at least ensure they can make an informed choice and get to and from the game quickly, easily and safely."