Welcome back Premier League and welcome back Liverpool. It looks like it's going to be one hell of a ride.
After a match involving seven goals, a missed penalty, a close-run comeback and a manager losing his glasses on two separate occasions, onlookers should be left in a state of bewilderment.
But for Liverpool supporters, what took place at the Emirates Stadium on Sunday was all-too-familiar, an explosion of events and momentum-swing which has become the hallmark of their side. Here we go Reds, it looks like it's going to be one hell of a ride. Again.
The first thing we should focus on is the result – Liverpool won. That is always good and especially so when it occurs on the opening day of the season and at the Emirates Stadium, a venue where Liverpool have triumphed only once before. They deserved the three points, too, for refusing to wilt after Theo Walcott had given Arsenal the lead on 31 minutes and for then performing like a cross between Brazil-1970 and Holland-1974 during the opening 18 minutes of the second half.
The visitors were sensational, cutting Arsenal to bits with precision of movement and distribution and scoring three of the finest goals you'll see in a single game anywhere this season. Jurgen Klopp often asks his players to be "brave" and, boy, were they that. A swaggering army of ravenous bastards in black and after Saido Mane had made it 4-1 on 63 minutes, it was a case of cancel the rest of the season and engrave the trophy because Liverpool are definitely going to be champions.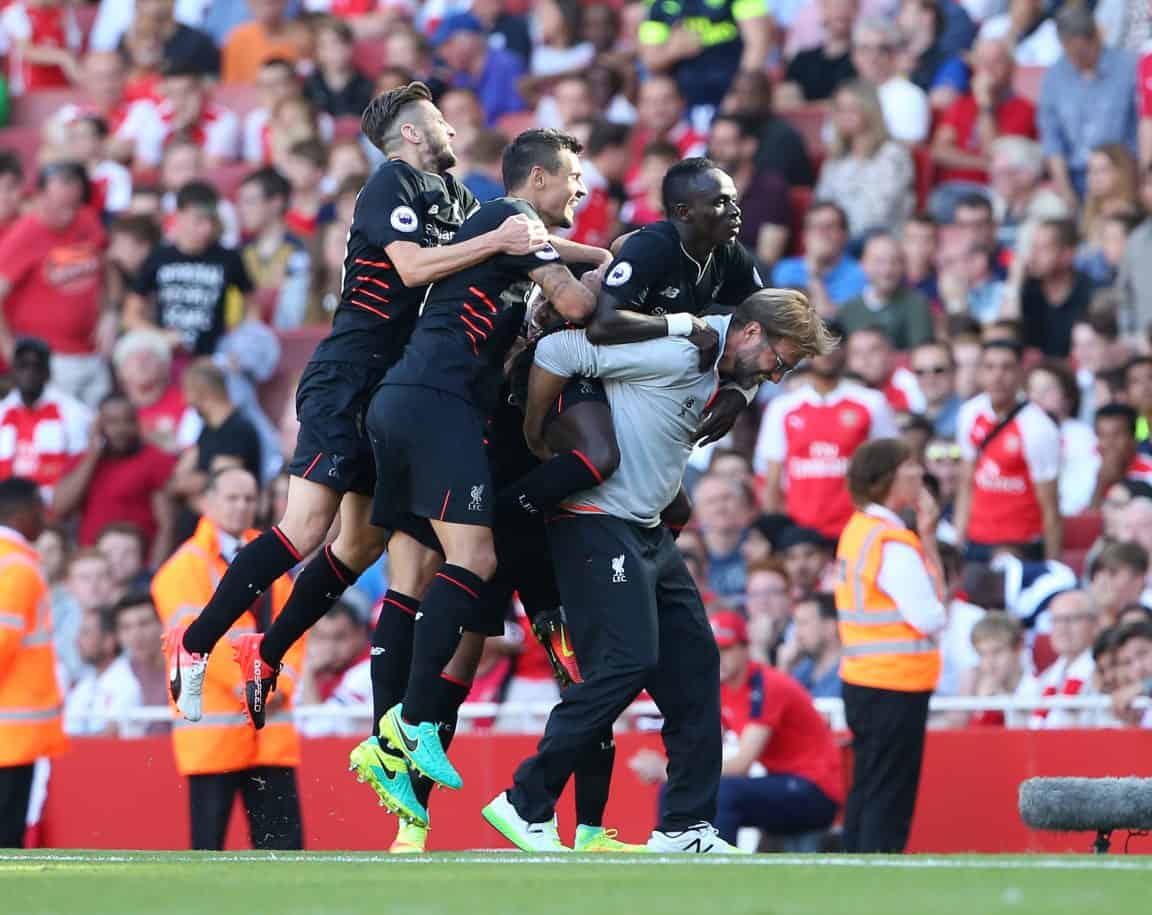 And then the familiar happened – Liverpool defended poorly. First, and within a minute of Mane's goal, Dejan Lovren decided he'd rather make a marriage proposal than properly block Alex Oxlade-Chamberlain's low shot, and then, on 75 minutes, nobody in the visitors' ranks was able to stop Callum Chambers from converting Santi Cazorla's left-sided free-kick. 4-1 to 4-3 in less time than it takes to cook a frozen pizza.
In fairness, Cazorla's delivery was excellent, but the goal came as no surprise – partly because Liverpool are vulnerable at set pieces and partly because they provided Arsenal with the time, space and, crucially, impetus to claw their way back into the contest. Gaps opened up, runners were not tracked, defenders did not do their jobs and a team on their knees, playing to a backdrop of boos and howls of disgust, quickly found themselves within sight of salvation.

We've seen it all before and for all of Klopp's love of "full-throttle" football, a certain level of caution must overcome the German if he and his team are to progress. A cross-roads have been reached and at the end of one path stands Kevin Keegan and Faustino Asprilla regaling stories of great wins that led to fuck-all trophies. We don't want to go there. Not now. Not ever.
Liverpool's inability to defend properly has being going on for so long that it's almost become institutional. Not since 2008/09 has the team looked properly capable of stopping the other team scoring lots of goals against them. That season, Rafa Benitez's side conceded 27 goals during the league campaign – the second lowest – and kept clean sheets at Stamford Bridge and the Bernabeu. They were properly drilled, from front to back, and consequently came within four points of winning the title.
Since then there has been steady a disintegration of the team's sturdiness, seen through the managerial reigns of Messrs Hodgson, Dalglish and Rodgers. And yes, I know Liverpool nearly won the league in 2013/2014 and probably would have done had Steven Gerrard not … you know, but that campaign was an outlier in regards to title pursuits. Liverpool conceded 50 goals across their 38 fixtures, only three fewer than Hull, who finished 16th.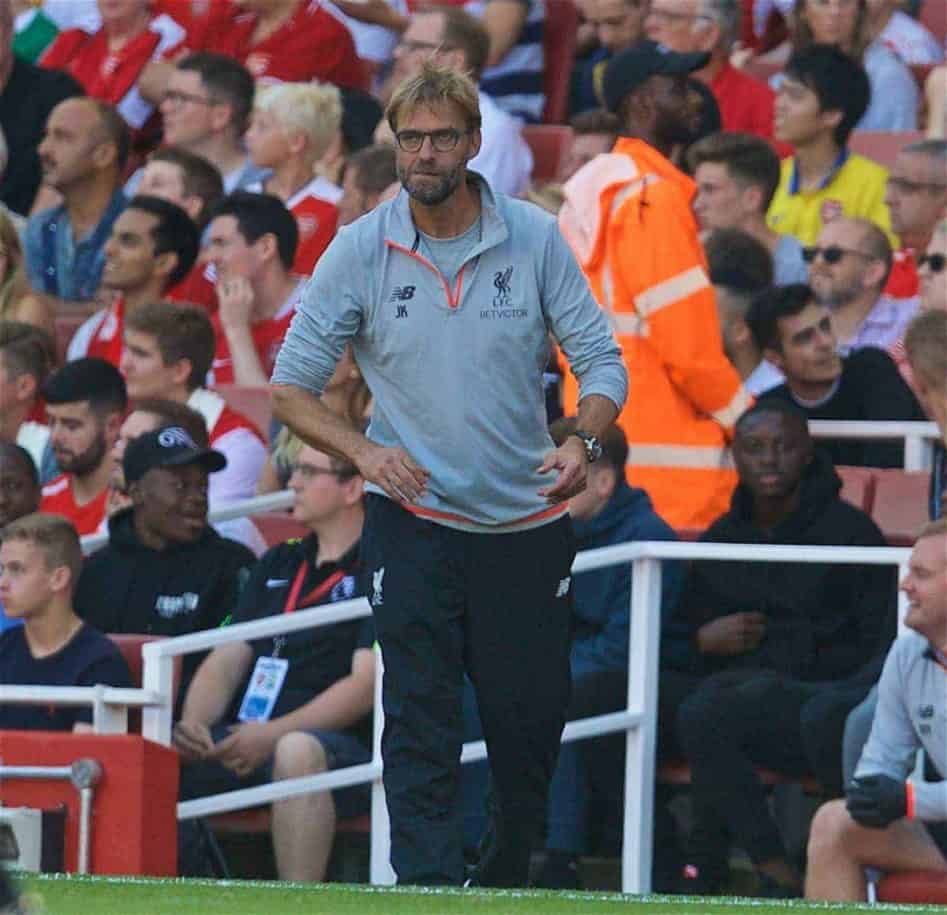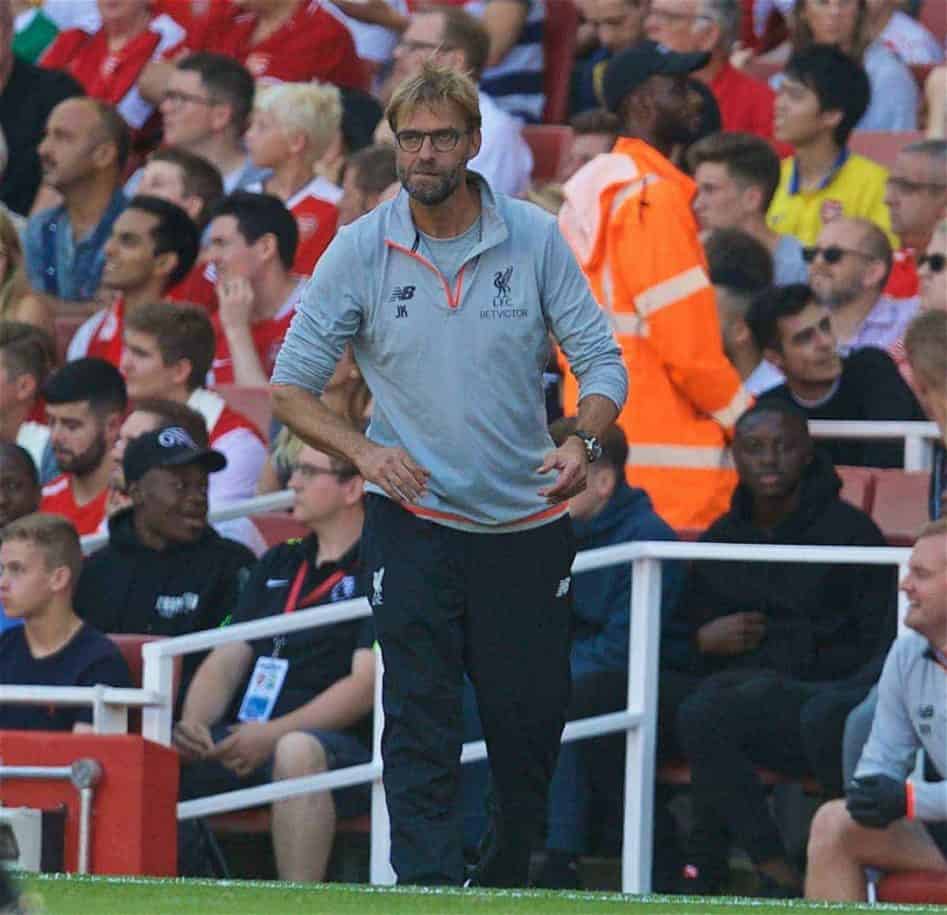 The causes for the disintegration are various, among them the failure to replace Javier Mascherano, the changing trend in how full-backs are deployed and Brendan Rodgers not giving a fuck about organising a back four. Ultimately it has led to a situation where Liverpool are leading 4-1, in total control of proceedings and it comes as no surprise to see them hanging on in stoppage time.
At least they did hang on. Last season, Klopp's men dropped 19 points from winning positions, with Norwich, West Bromwich Albion and Southampton, twice, among the teams to peg them back. And then there was the Europa League final, when the Reds suffered a collective brain freeze that cost them a first trophy in four years and a place in this season's Champions League.
The good news is that the manager is aware of the need for defensive improvement. He said as much after Sunday's match and one can only hope that back at Melwood he will immediately gather the midfielders and remind them that their job is to destroy as well as create.
Sunday's match showed that it remains too easy for opposition sides to 'transition' through Liverpool, and in that regard the return of Emre Can to full match-fitness cannot come quickly enough. The German came on as a 70th minute substitute against Arsenal and showed in that short time a robustness without the ball and ability to control proceedings with it that was crucial to Liverpool's success in seeing out the win. We no longer have the 'best midfield in the world' but that doesn't mean we cannot have one that functions to a high standard and, long-term, Can is key to that.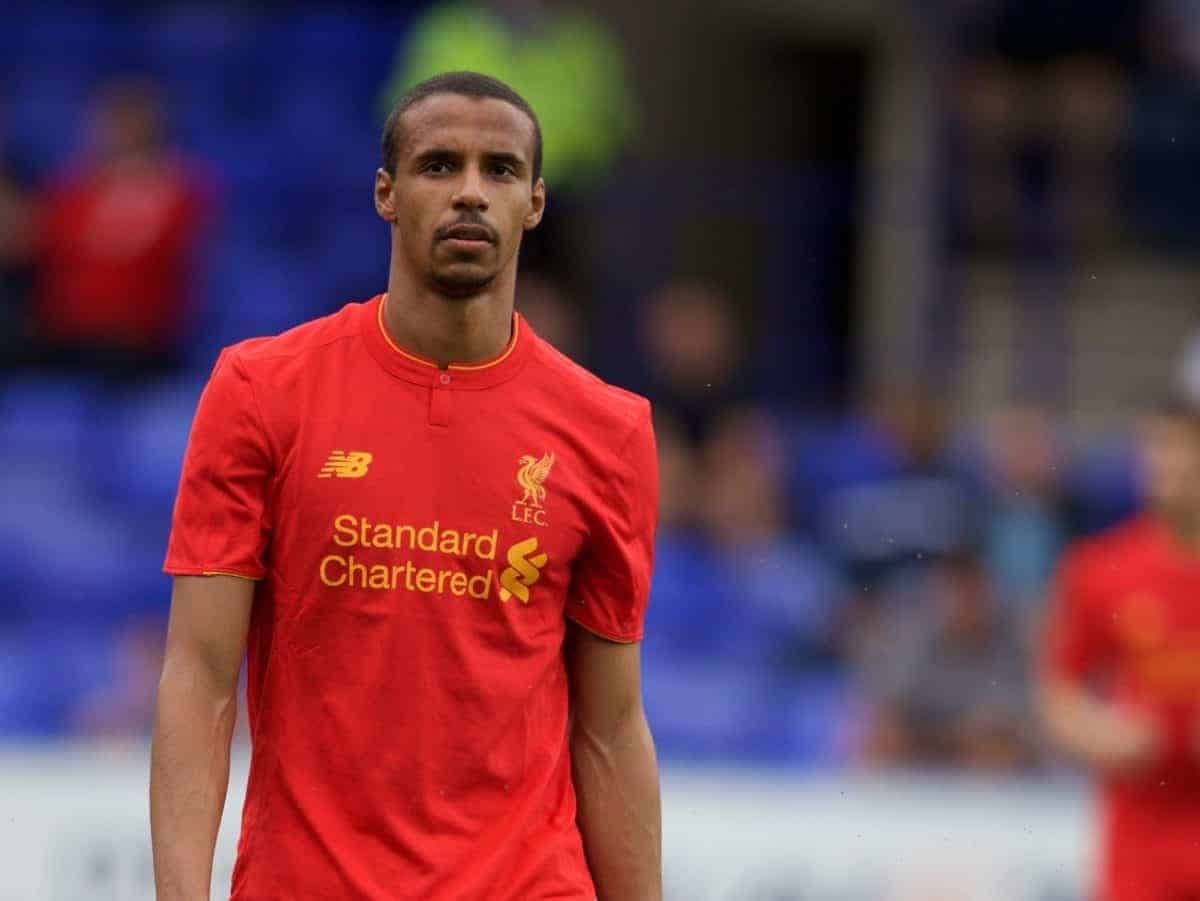 The defence itself also needs stiffening up and that may ultimately come about once Mamadou Sakho and/or Joel Matip are selected at centre-back, for it is impossible to envisage Lovren, for all his improvements, and Ragnar Klavan, for all his decent showings in pre-season, being the long-term answer to a long-term problem.
Overall they played as a reasonably good partnership against Arsenal, but reasonably good partnerships are not sufficient any more. Matip, who was a unused substitute on Sunday, may well be the answer we have been searching for in the post-Hyypia/Carragher/Agger world. Certainly his superior level of distribution should aid the team's ability to control matches and not find themselves constantly on the retreat.
At full-back, Nathaniel Clyne and Alberto Moreno appear to have picked up from where they left off last season, which in great in the former's case and a fucking nightmare in the later's. OK, Moreno did well in the second-half on Sunday, but to use Gary Neville's description during commentary, his defending for the penalty was "garbage", while the manner in which he was again caught of position for Arsenal's first goal was maddening.
As Jim Beglin tweeted afterwards: "Bursting forward without a guarantee of possession is a habit that Moreno has to break." Sadly he appears incapable of doing so – nice lad, whacky hair, but utterly brainless.

Speaking of the penalty, it cannot go unmentioned that Simon Mignolet saved it and, overall, performed well on what was his 150th appearance for Liverpool. But we all know he's going to chuck one in sooner rather than later so it's a cause of relief that Loris Karius is on the mend.
So there are reasons to believe Liverpool will solidify as this season goes on and in the meantime we can enjoy their attacking play, which on Sunday took the mind back to the 4-1 victory at Manchester City last season. Like then the link-up play was as positive as it was poised, with Philippe Coutinho yet again central to all it. He got the ball rolling (literally) with that sensational free-kick just before half-time and played a crucial role in Liverpool's second goal before then scoring the third himself at the end of a jaw dropping team-move.
For a second season running, the little fella with No10 on his back has started with a bang and Burnley, who face Liverpool next, should be taking a collective gulp right now.
And speaking of starting with a bang, how good was Mane? Pace and power allied to a rugged work ethic suggests he could be a bargain after all, with that ability to charge into space increasing the variation in Liverpool's attacking play to an extent which could make all the difference this season. It certainly did at the Emirates with what proved to be the winning goal – a driving run, two players left for dead, a thumping drive and a piggy-back off the manager. Now that's what you call a debut, Zlatan.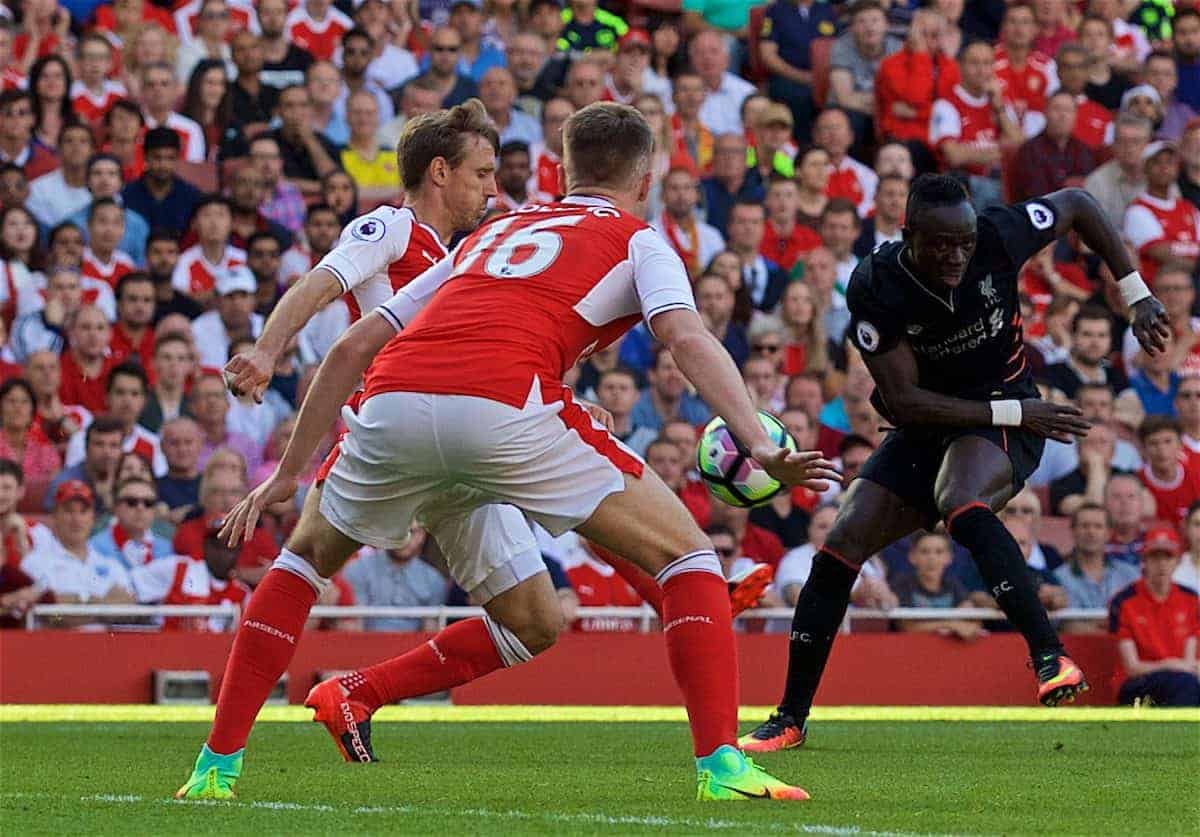 Others in black also impressed – in particular Adam Lallana, who combined his usual hard running with that most precious of things; a goal – and overall it was definitely a day to be positive and believe that the 2016/17 season will be a good one after all.
But with the belief must come a successful pursuit of practical necessities: men behind the ball, marking runners, marking players at set-pieces and generally playing with a level of concentration and leadership that doesn't see three-goal leads vanish from view. Yes Liverpool came from behind against Arsenal, and yes they ultimately saw the game out, but too much defensively was indefensible for a team with their sights on trophies and titles.
And that is ultimately the point of all of this – to win things. Liverpool more than showed they are capable of doing that on Sunday but with the brilliance came that familiar brittleness. Future success simply cannot occur if it is not once and for all made a thing of the past.