Fox Soccer presenter and commentator Keith Costigan previews the 2016/17 Premier League campaign for Liverpool.
Liverpool fans have incredibly high expectations. After 26 years without a league title that is something that has never wavered. Every year presents us with an opportunity to return to a now distant former glory.
Expectations coupled with hope offer fans even more optimism that the Premier League crown could end up at Anfield. Two years ago Brendan Rodgers' Luis Suarez-led side inspired hope with an improbable run of results that had the title within grasp, but ultimately slipped out of the club's hands, just as it had in 2009 under Rafa Benitez.
After that near miss in 2014 Liverpool lost their star striker, Brendan Rodgers lost his way, and you could argue that fans lost any hope the club could challenge for a title again. Something had to be done to reinvigorate a fan base that had become disillusioned with the direction of the team and the owners moved swiftly to secure a man they believed could restore hope and belief in the squad, Jurgen Klopp.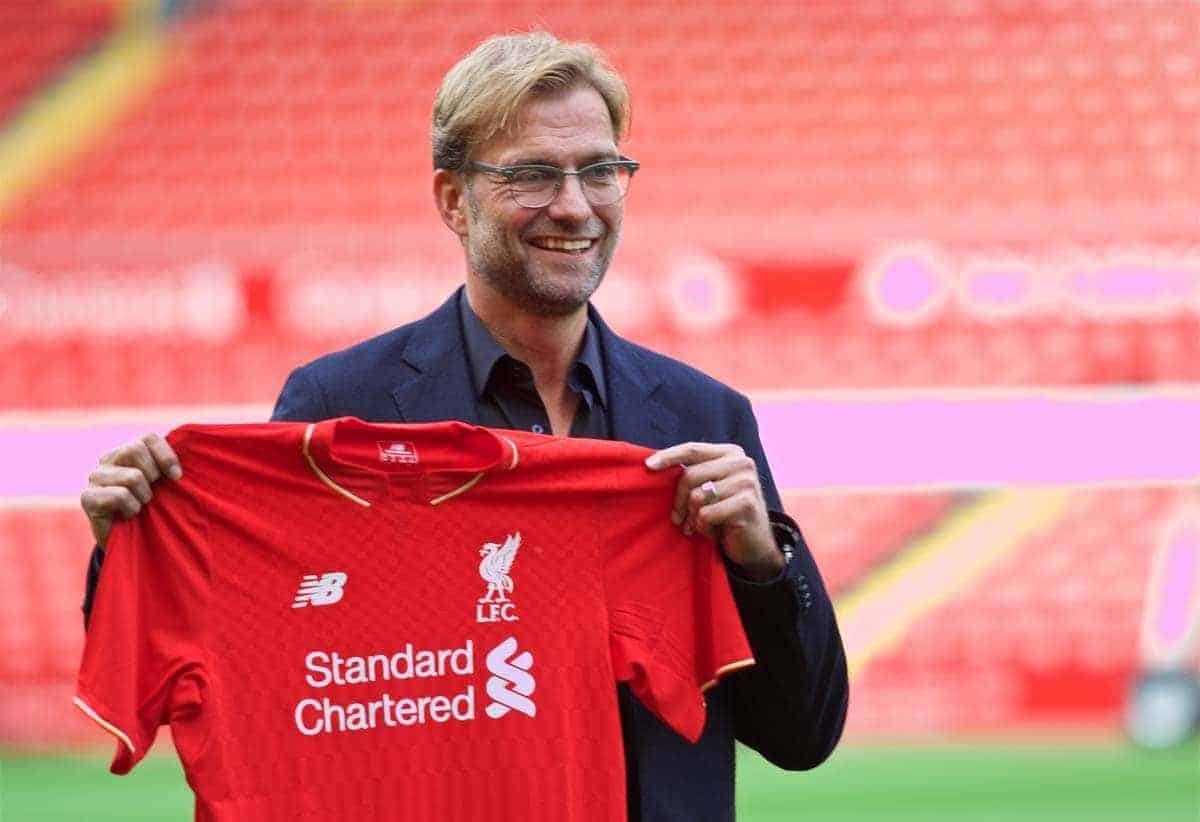 Klopp's coaching track record at Borussia Dortmund meant he could quite easily have walked into any top job in Europe so securing his signature was quite a coup for FSG.
His impact on the fan base was immediate. A well worded comment on fans leaving the ground early helped Anfield regain an atmosphere lost under the last few weeks of the Rodgers regime.
Wins over City, Chelsea and a Europa League run that included a memorable Anfield comeback against Klopp's former club has fans optimistic heading into the new campaign.
Now once again the expectations of the fans have been coupled with the hope Klopp has brought back but even if Klopp does get the best out of the group of players at his disposal, will it be enough to bring a title to Anfield?
The transfer dealings in the summer have seen Klopp lead the way, bringing in the likes of Joel Matip, Ragnar Klavan and Loris Karius. All three are Bundesliga signings and are proof that any transfer dealings are being led by the coach. Add in the additions of Sadio Mane and Georginio Wijnaldum and the squad has been improved. The question is has it been improved enough to meet the hope and expectations of the fans?

When asked that question most fans will once again point to Klopp's work at Dortmund, and while taking on and slaying Bayern Munich was impressive, Klopp will have to manoeuvre his way past a few more giants to have similar glory in England.
Chelsea have brought in one of the top coaches in Europe and added the best defensive midfielder in the Premier League to an already impressive squad. Manchester City brought in the man widely regarded as the brightest tactical mind in the game and spent big once again. Then Manchester United went the big name route on and off the field by bringing in Jose Mourinho along with Zlatan and the world's most expensive player, Paul Pogba.
That still leaves an Arsenal team that consistently position themselves in the top four, the reigning champions Leicester, and a Tottenham side that played some superb football last year under Mauricio Pottchetino.
These six teams will all be going into the season with the belief they have what it takes to lift the Premier League next May and it is that strength in depth in the Premier League that would arguably make lifting the title with Liverpool an even bigger accomplishment for Klopp than winning the Bundesliga title with Dortmund.
There is no doubt Liverpool have got one of the best managers in European football but it can be argued that winning the title has never been harder. What City and United in particular have done is to try spending their way to a title, and who can argue with that tactic?

Leicester's run last year aside, the Premier League has generally been contested by the teams that have spent the most money in the transfer market. Roman Abramovich made Chelsea a force with this tactic and Man City forced their way into the elite of English football by spending big.
Liverpool has gone a different route and hope that Klopp's ability to unearth talent and take on the giants without spending at their level can lead to success like it did in Germany.
The fact that despite this massive outlay from other clubs hasn't dampened the hope and expectations of Liverpool fans is a testament to how much belief there is in Jurgen Klopp.
* We've previewed every Premier League team, getting the views from opposing fans from all 19 teams, ahead of the new season. Read them all here.