Despite calls for Liverpool to add a new left-back to their ranks this summer, Jurgen Klopp says it is unlikely he will do so.
With Alberto Moreno coming under widespread criticism in recent weeks, and the Spaniard representing the Reds' only specialist left-back, supporters have been left with major concerns.
A move for Leicester City's Ben Chilwell, and reported interest in Cologne's Jonas Hector, failed to materialise this summer, leaving Klopp to turn to James Milner as Moreno's deputy.
Moreno produced a worrying display in Sunday's 4-3 win away to Arsenal, conceding a penalty that was thankfully saved by Simon Mignolet.
But speaking to reporters at Melwood on Thursday afternoon, Klopp insisted he has plenty of options at left-back.
"The most comfortable situation is if you have three players in each position," he explained.
"If one gets injured you still have another option. It's not about risking one position.
Klopp explained that he would have signed left-back, but only if the perfect fit could have been found:
"If we would have found the perfect fit, with all the things around—it's not about money, only playing style, defending skills, offensive skills, technical things—if we could have found this then you would have known because we would have made the transfer.
"We have a lot of players, in our opinion, who can play in our style of play at left-full-back.
"I'm sorry not everyone is happy with Alberto Moreno. Milly can play [there], you saw the Barcelona game.
"I talked to him, I don't want to force a player on a new position, I need the player to be convinced.
"[Nathaniel] Clyne has played it, we have a wonderful young player in Trent Alexander-Arnold who can play on the right side.
"Ragnar Klavan in a very defensive way can play left-back.
"We can take another one, but only if he's the guy we want."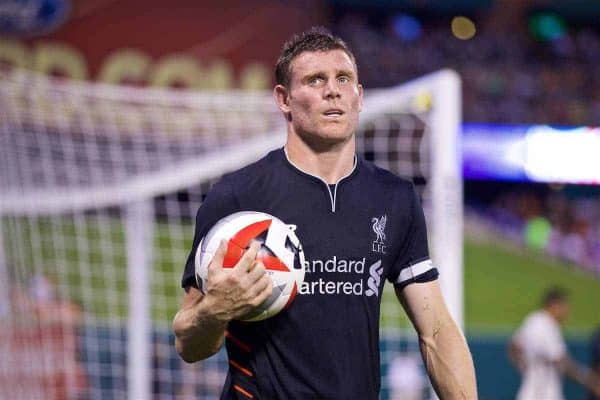 Klopp also moved to defend Moreno from criticism, but also suggested Milner would come in to start at left-back for Saturday's clash away to Burnley.
"Maybe I should read more newspapers? The world is not satisfied with our left-back?" he continued.
"Things like this are always possible, we won 4-3, but it's not that I thought we couldn't have done better.
"I've not made a final decision on the lineup [for Burnley].
"I told the players in our meeting [after Arsenal] that it was good enough in our first game, but we have things to do.
"Emre Can is now in a good way, Daniel Sturridge is now back, [Divock] Origi is getting better and better so he could be in the lineup, the same with Joel Matip. Milly is back.
"My job is to watch during the week who is giving me the right signs, then I make the lineup.
"The last game is one thing I think about, but it's not the only thing I use for my decision.
"Milly is back, he missed eight or nine days, but he's always in a good physical shape. He's an option, like a few other players too."
Klopp has continually expressed his faith in Moreno at left-back, but with his allegiances seemingly turning to Milner as his first choice, the German has laid down the gauntlet.
---
---