Jurgen Klopp blamed Saturday's shock yet somehow inevitable defeat on poor decision making. He was right, though many of the calls were his own.
Liverpool were caught cold at Burnley, stung by an early goal which not only derailed their own game plan but gifted 'plucky' opponents something to hold onto.
Never give them something to hold onto.
The significance of the first strike in such encounters cannot be underestimated. Teams ensconced in the lower half of the table are seldom going to take a game to Liverpool. Why would they? It would be suicidal.
Instead they seek to stifle and – ever so occasionally – counter. Hand them an early foothold and a tough assignment becomes doubly difficult.
The reds were then naive in their eagerness to play out from the back so early. Architects of our own downfall, sluggish starts have become all too familiar under the German's stewardship.
A newer yet no less perplexing trait is the selection of players out of position. There was evidence of this across the park on at Turf Moor.
Milner at left-back
In truth none of us were taken aback by the sight of James Milner lining up at left full back. That decision had been mooted all week and given Alberto Moreno's recent struggles it was somewhat inevitable.
Nevertheless that does not make it right.
The left-back conundrum is a debate in itself but that we have entered a new season with the Spaniard as our only recognisable contender is a dereliction of duty.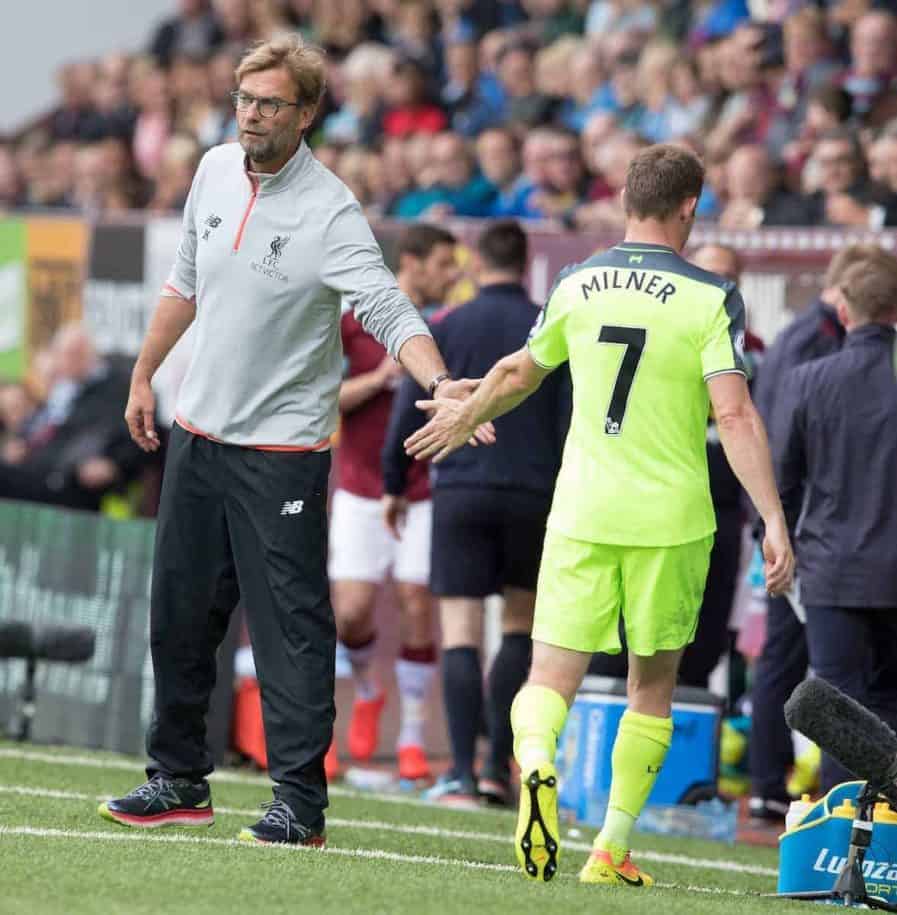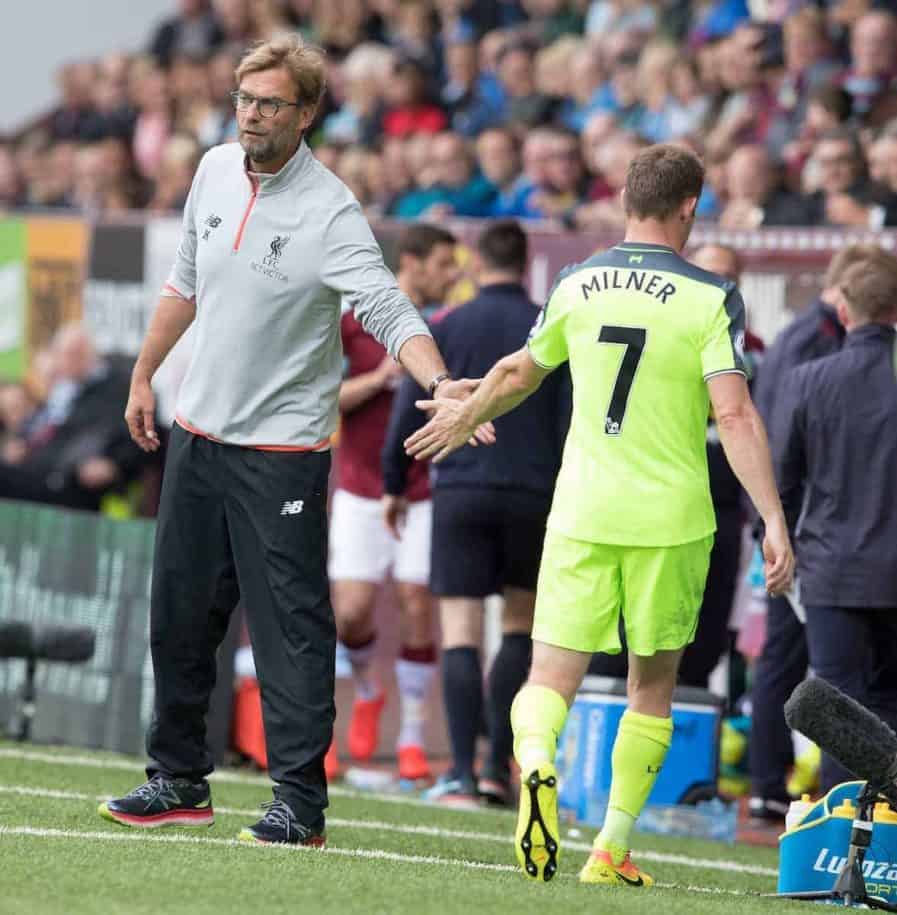 Someone in the corridors of Liverpool Football Club – be it Klopp, Ian Ayre or members of the covert transfer committee – should have secured the signing of an alternative and, moreover, a replacement.
Our failure to do so almost cost us dear at Arsenal and on Saturday's evidence Milner can never be seen as anymore than an emergency option.
To be fair to the veteran midfielder he did all that was asked of him – that not to be Moreno.
Disciplined, he prioritised positioning ahead of lung busting runs and kung fu tackles. There was never any danger of him conceding a penalty, nor evidence of a top knot.
Yet ironically Moreno's abandon was missed.
Milner was afforded acres of space down the left flank, an occurrence that can only have been a Burnley – rather than a Liverpool – tactic.
Sean Dyche and his troops no doubt clocked a tendency to cut back onto his right foot before delivering any hint of a cross. That slight hesitation gave the home side time to set and clear. It also slowed Liverpool down, making them ponderous and predictable.

Moreno may be a liability when facing the better sides in this division but the cannon fodder must be broken down – and width is key to achieving that.
Unbelievably the Spaniard created more chances than any defender in Europe's top five leagues last term. Perhaps that is why Klopp is reluctant to give up on him just yet. Perhaps that stat alone necessitates his inclusion in such games of chess.
As for Milner, he belongs in midfield. He may no longer be an automatic starter in that position but shoehorning him in elsewhere will make us blunter still.
Henderson as the holder
Moving further up-field Liverpool's engine room was nothing short of abysmal yesterday. Central to that was the display of the captain, who now stands at a crossroads.
Again however he is being asked to play a position that quashes natural instinct.

Anyone who has followed Jordan Henderson's career will list forward surges, raking passes and devilish deliveries as key components of his game. Dropped into defensive midfield he is half the player.
Indeed, placed there his passing rarely exceeds five yards, while those attacking forays are nonexistent.
The skipper is never going to beat a man from that starting berth, nor venture wide to deliver with pace. Neither is he great at tracking runners or anticipating danger in the manner of a Lucas Leiva.
The question then is what exactly does he offer in the deep lying role?
This is not meant as an attack on a fantastic player. Compilation videos highlighting his worst bits do nobody any favours but clear to see is the inhibition of an athlete.
Henderson is best deployed as a midfield runner – contributing to defence and attack in a throwback. If that position still exists in a Klopp set-up he appears some way down the pecking order. That of course begs the question of whether a squad player is fit to be club captain.
Invisible Wijnaldum
Alongside him Giorgino Wijnaldum is a curious case. A self-proclaimed attacking midfielder he too is being asked to sit deep and by consequence vanishes from games.
His first half at The Emirates left much to be desired, only for flashes of his quality to shine through after the interval.

As Liverpool found a second wind, the Dutchman was breaking from midfield, arriving late into the box and wreaking havoc through sheer presence alone.
On Saturday he was totally anonymous. A post-match interview reminded us he was in fact involved, though even extended highlights cast doubt on that assertion.
The former Newcastle man may well start deeper for The Netherlands but – as with Henderson – such deployment is painfully restrictive. Quite how he plans to register ten goals from there – as promised – is anyone's guess.
Wijanaldum is an attack minded player in a squad packed full of them – making his very signing peculiar.
Sturridge out wide…
The strangest of all selections, however, was that of Daniel Sturridge – a onetime forward now auditioning as anything but.
Indeed our star striker started on the right of a three pronged attack, only to hug the touchline in the vein of a winger.

Before long he was back in midfield, then trying his hand as a number 10. Come to think of it, the England man popped up just about everywhere other than where required.
His tendency to drop deep sparks heated debate. To some it underlines an eagerness to be involved, to dictate play. To others it masks a loss of pace and an inability to run in behind.
Whether it psychological or physical we have not seen an explosive burst from Sturridge since 2013/14.
Given that failing he must be surrounded by speed. Without the lightening Sadio Mane, there was none to speak of.
It is becoming ever more obvious that Sturridge now requires an out and out partner to bring out the best in him. That player may be Divock Origi but to start the two of them would require a change in formation and the removal of one or more of Mane, Philippe Coutinho or Roberto Firmino.
It is hard to envisage that happening all that regularly this term, which in turn sparks uncertainty around Sturridge's future.
On recent evidence he cannot play wide – at least not to the devastating effect he did in 2013/14. If the 4-3-3 is to be retained he must be played through the middle with pace alongside.
Right now, given the choice, Klopp would surely plump for Origi, the latter on course to become our 'Number 9' by the end of the season.
Ultimately the manager would be better served pitting them against one another as opposed to accommodating one as he did at Turf Moor. He would also do well to ditch the square pegs in round holes approach that ultimately did for Brendan Rodgers.
If those 20 second half minutes at The Emirates were a glimpse into Liverpool's future, Saturday transported us back to the dark away days of Newcastle, Watford and Swansea.
It was a bad one for the collective, manager included. Even great coaches get things wrong.
What sets them apart is the ability to admit that and rectify their errors. If and when Klopp does so he may upset a few of his star men. If that makes performances like yesterday's a thing of the past, so be it.