Football writer and author Jonathan Wilson joins This Is Anfield to analyse the Reds' opening day performance and Jurgen Klopp's tactics against Arsenal.
Where to begin? There are certain games that seem to defy rational analysis and, even allowing for the fact that Jurgen Klopp's approach probably lends itself to the frenetic, Liverpool's opening match of the season was one from which you'd be reluctant to draw firm conclusions, tactical or otherwise.
There was much that was good from both sides but also much that requires significant work. And while Liverpool must derive encouragement from just their second victory away to Arsenal since 2000, it should also be remembered that the win was achieved against an injury-ravaged side that has made a recent habit of losing its opening home game of the season.
Klopp, for most of his career, has preferred a 4-2-3-1, but here he followed the pattern of preseason and opted for something closer resembling a 4-3-3, with Jordan Henderson sitting just in front of the back four, with Georgino Wijnaldum to one side and Adam Lallana to the other. The logic, presumably, is to give Roberto Firmino space to drop into in his role as a false nine, while having a potential four players pushing up around him to take advantage of any space he may create.

The attacking benefits of that were clear: Philippe Coutinho, drifting in off the left flank, was a constant menace, Wijnaldum kept finding space around the edge of the box, while Lallana's goal came from a late run that Arsenal failed to pick up.
There are dangers, though. Neither Wijnaldum nor Lallana is exactly a dominant defensive presence, while Henderson, for all his energy, has never seemed to have the positional sense to be a true holder – certainly not as the lone figure. Lallana, notably, didn't make a single tackle in the game, while Wijnaldum made just two.

In a sense, that isn't hugely significant for Klopp's conception of the game. His preference is for proactive defending, for pressing the opponent high up the pitch and stifling them by keeping the shape compact. Presence can force mistakes. Energy, determination and pace then become at least as important as the positional sense you would associate with a more traditional holding player.
Of course it's important to have an awareness of the pitch and the distribution of players upon it but the proactivity of high pressing changes the dynamic and means that applying direct pressure becomes the key: any error is far less likely to be decisive than in a more reactive, deeper-lying approach.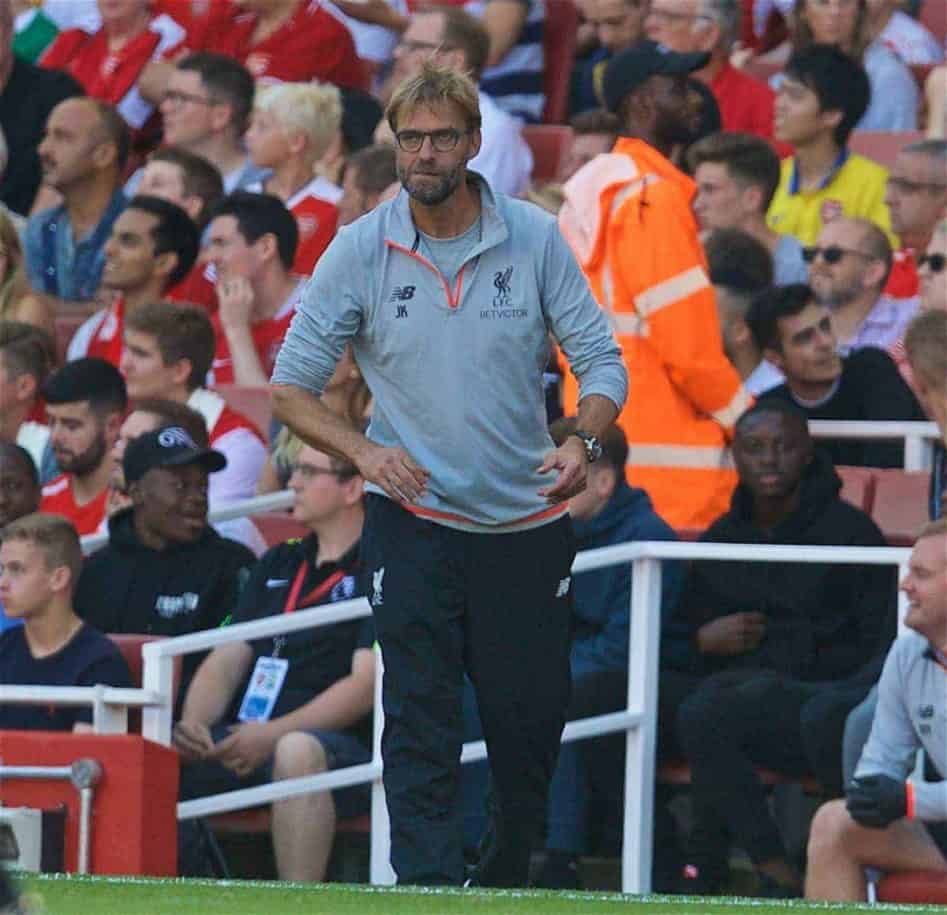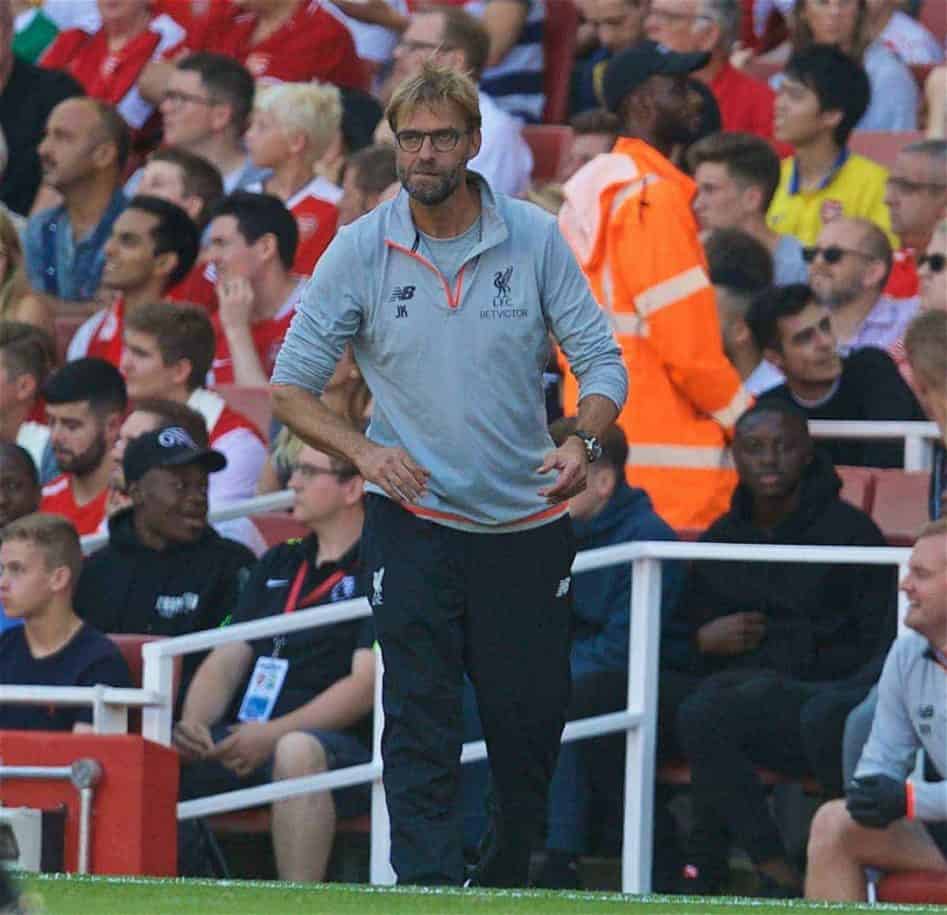 That was apparent in a first half in which Liverpool didn't play well, as Klopp acknowledged. "We did it at 50% of being convinced about what we had to do," he said.
It's an intriguing admission: even now, 10 months after he took the job, after a pre-season in which he has been able to bring in his own players and prepare in his way, his squad, under the pressure of the first league game of the season, still didn't quite trust in his method; there was still a reluctance to press as high as he demanded, a tendency to drop off and operate in a more traditional way. The result, Klopp noted, was that, "it was much too easy to play football between our spaces."
But only one goal was conceded during that period. It would be easy to blame Alberto Moreno, who's not exactly a stranger to costly errors, particularly given his carelessness in conceding the penalty a couple of minutes earlier, but it's the nature of Klopp's approach with overlapping full-backs that they can be caught up the pitch if the ball is lost in midfield. In that regard the greater fault probably lies with Lallana. That too, perhaps, is an issue of conviction: when the plan is for rapid transitions, it's imperative the ball isn't turned over like that.

Even after Coutinho's brilliant equaliser, Klopp admitted he was glad when half-time came so he could re-organise. "When we used the full width of the pitch Arsenal had to run," he said. The impact of the change was devastating. The third goal, perhaps, best demonstrated what Klopp meant, the ball being worked from one flank to the other five times before Nathaniel Clyne – showing the benefit of the attacking full-back – crossed for Coutinho to score.
Klopp blamed Arsenal's comeback on the way his celebration of Sadio Mane's goal had suggested the game was won, leading to a slackening of intensity. That's probably true, and having conceded the third, Liverpool did become more "compact" again but it may not be merely a matter of focus.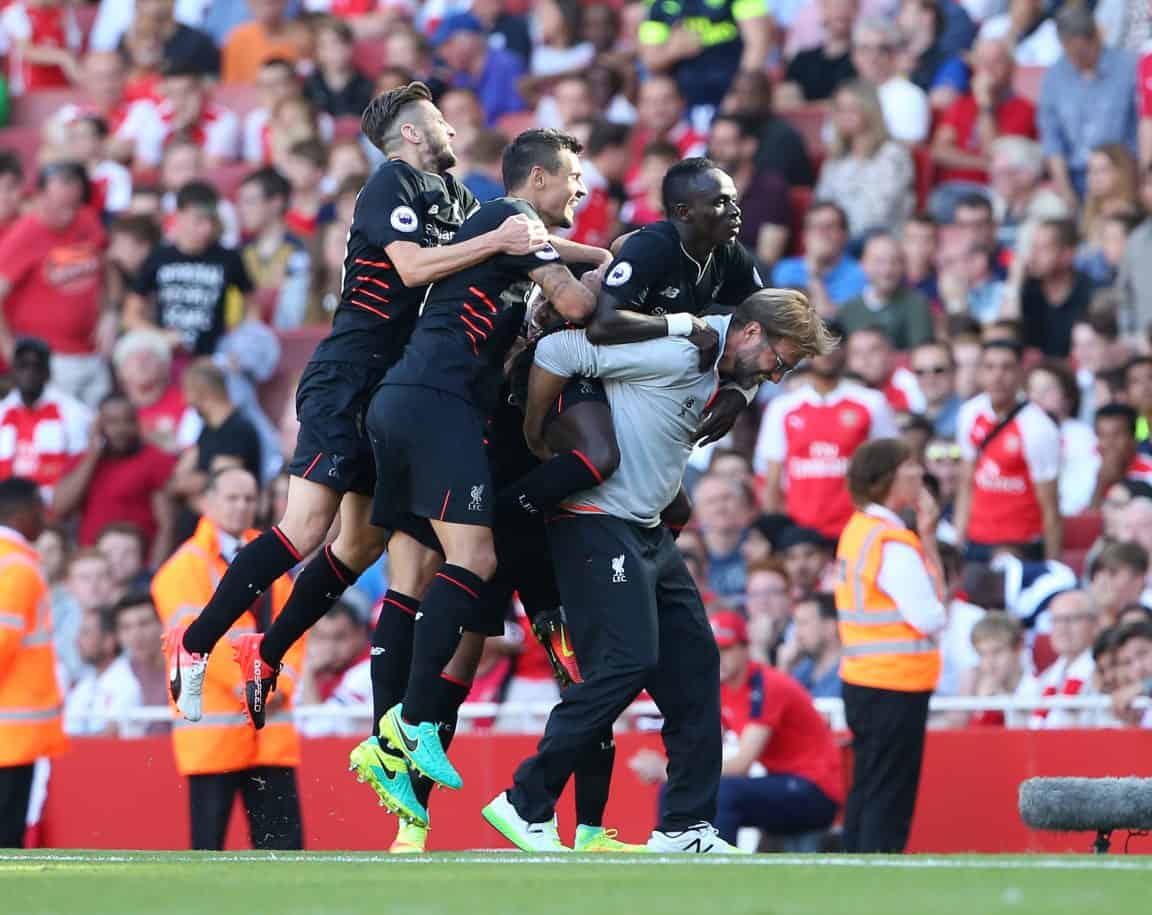 The delivery from Santi Cazorla for the third was good and occasionally there are goals that are essentially undefendable, but Liverpool have conceded too often in recent seasons from set-plays for there not to be a qualm of concern at the familiarity of it all.
"We were far away from showing our whole quality," Klopp acknowledged. It wasn't perfect but for 20 minutes after half-time there was a flash of how good this Liverpool could be. And to win 4-3 away to a Champions League contender when some way from your best can never be a bad thing.
* Jonathan Wilson is a football writer and author, and will be penning a monthly column for This Is Anfield looking at Klopp's tactics during the 2016/17 season.