Jonathan Wilson on Jordan Henderson's all-action midfield display and the Liverpool captain's role as the holding midfield player for Jurgen Klopp.
The commonly held view was that Jordan Henderson had answered his critics. He scored a brilliant goal – not just a long-range strike but one that was guided up and around Thibaut Courtois into the very top corner.
He was his usual thrum of energy. He had 82 touches, more than any other Liverpool player. He completed a respectable 83.8% of his passes. He made two tackles and four interceptions. Generally, he played well. But that's not really the point.
Henderson is a good player. Those who don't see him regularly perhaps don't realise quite how good. There is something slightly ungainly about him – that gait issue of which Alex Ferguson spoke, perhaps – that maybe disguises his quality. The way his jaw sags when he plays gives him the look at times of a loyal but not particularly bright spaniel.
The book Soccernomics promoted the idea of the availability heuristic: blonde players stand out more and so tend to be transferred for higher fees. Henderson is the opposite: he looks like what a hard-working and unimaginative player should look like and so when people want to demonstrate the failings of English football, it's easy to turn to him.
But he is more than that. His greatest gift, perhaps, is the speed with which he learns, something that was particularly clear watching him develop at Sunderland. But none of that's the point.
The point is whether he is a holding midfielder (and perhaps also what Jurgen Klopp expects from the deepest man in his midfield three).

Chelsea's goal on Friday highlighted part of the issue. Nemanja Matic went too easily past Adam Lallana. By the time he got to Henderson he was moving at pace, making a tackle difficult, but Henderson let him go; he didn't track him. That left Matic free to take a return pass from Eden Hazard, skip round a strangely ineffectual challenge from Joel Matip, and cross for Diego Costa to score.
There are two questions to be answered there. Firstly, why did Lallana and Henderson make such limp efforts to stop Matic? Were they exhausted? That always seems a potential issue with the style of a Klopp team, for all he insists it isn't.
And secondly, why was Henderson as high up the pitch as he was, as removed from the defensive line? One of the keys to pressing is compactness: opponents can't be allowed to pass through the first line into a gap in front of the next line; Arrigo Sacchi spoke of an ideal of 25m from the front of the team to the back. Here there was more than that between Henderson and the back four, which is why Matic had space to accelerate into.
Football is a fluid game and it's easy to take one particular moment, spy a player in an unusual position and be condemnatory. But this is how Henderson plays. A chalkboard of his 71 passes at Stamford Bridge is extraordinary. Of those passes, 62 come in the middle third of the pitch (three of the ones that didn't were part of corner routines), and in that central band they are almost equally distributed, front to back, left to right. He was everywhere; it was an all-action midfield performance.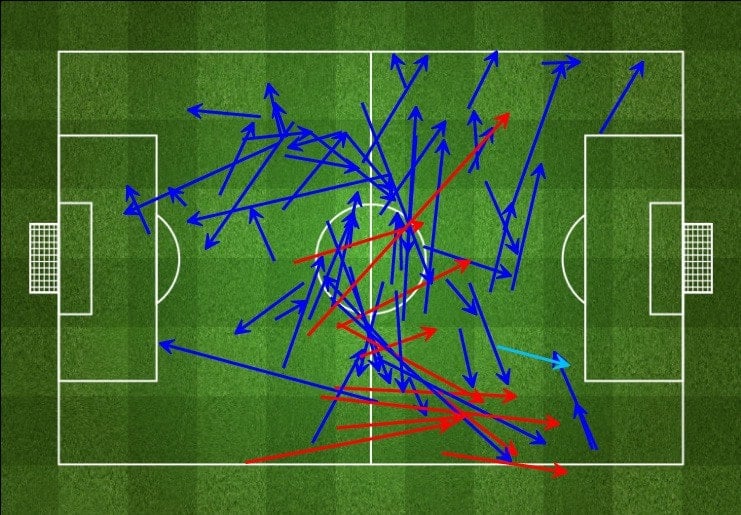 Henderson's passing vs. Chelsea (Via FourFourTwo StatsZone).
---
Perhaps that is what Klopp wants. Perhaps the idea of his midfield three is to be a mobile unit of destruction and distribution, but if it is, then there must always be a risk of leaving the back four exposed.
Given how good Liverpool have been (the Burnley game excepted, and only other matches against similar sides will reveal whether that was a blip that can be written off or whether this Liverpool will struggle to break down teams that sit deep against them and look primarily to frustrate), there's something slightly baffling about a record of no clean sheets in five games. It's intriguing in that regard that Manchester City have also had defensive problems: perhaps hard pressing games require recalibration from the Bundesliga for use in the Premier League.
Klopp on Henderson: I don't think before the season he thought he could play the '6' but he can, good footballers can. He did well.

— This Is Anfield (@thisisanfield) September 16, 2016
But Henderson does not play as, say, Sebastian Kehl, Sven Bender or Ilkay Gundogan did for Dortmund. They were much more restrained, much more likely to hold a position just in front of the two central defenders. To say Henderson is a very different type of players is not to denigrate him, but he does not seem like a natural holder.

It may be that when Emre Can is fit he comes into that anchor role and Henderson moves up to compete with Lallana and Georgino Wijnaldum in the slightly more advanced midfield roles. Perhaps the shape will become 4-2-3-1, or a hybrid of that and 4-3-3. Either way, a midfield with Can and Henderson in it would probably offer more solidity.
Or perhaps Klopp doesn't care; after all, the only game Liverpool have lost this season was at least as much to do with attacking failings as laxity at the back.
* Jonathan Wilson is a football writer and author, providing a monthly column for This Is Anfield looking at Jurgen Klopp's tactics during the 2016/17 season.