Jurgen Klopp told supporters last week "if you really love this club then you need to believe in our way" but Sachin Nakrani says no supporter should employ blind faith in anyone in football.
Two things happened last week which in isolation were not particularly noteworthy but coming so close together felt like a case of the Timing Gods telling me to see the relevance.
Last Friday I received an email from Spirit of Shankly notifying me that my membership with them was up for renewal – upon reading it I immediately paid the £10 fee and aligned myself to the supporters union for another 12 months. A couple of days later, I then read quotes from an interview Jurgen Klopp had done in which he touched on Liverpool's transfer policy over the summer. One line in particular stood out:
"All I can say is that if you really love this club then you need to believe in our way and that way is not always going to be easy, but I think we will do it."
Stirring words from the manager and reading the interview as a whole, it felt easy to trust that Klopp's way – not spending vast sums on single 'marquee' signings, having faith in the potential for growth of the existing squad, consistently striving to make sure the team is functioning at full capacity – will take Liverpool forward.
But that line, or specifically the first part of it – "if you really love this club then you need to believe in our way" – made me uncomfortable.
In football as well as in life, love and blind faith are not inextricably tied. It is possible to love someone or something without always believing he/she/they are doing the right thing, that he/she/they are above criticism.
And before the Klopp-is-God crew lose their shit, let me stress that I am fully behind the German, absolutely delighted, in fact, that he is manager. But equally, that does not entitle him to hold me or any other supporter to emotional ransom, to claim that loving the club must mean backing his methods without question or query.
As a supporter it is your right – nay, your duty – to scrutinise every player, manager, chief executive and chairman who puts themselves forward to represent your club. Regularly and without fail, questions should be asked about their interests and desires, their beliefs and their principals, and whether they are simply fit for purpose. If the negatives begin to outweigh the positives then there are problems and if those problems become grave then it is time to take action. Which brings me back to Spirit of Shankly.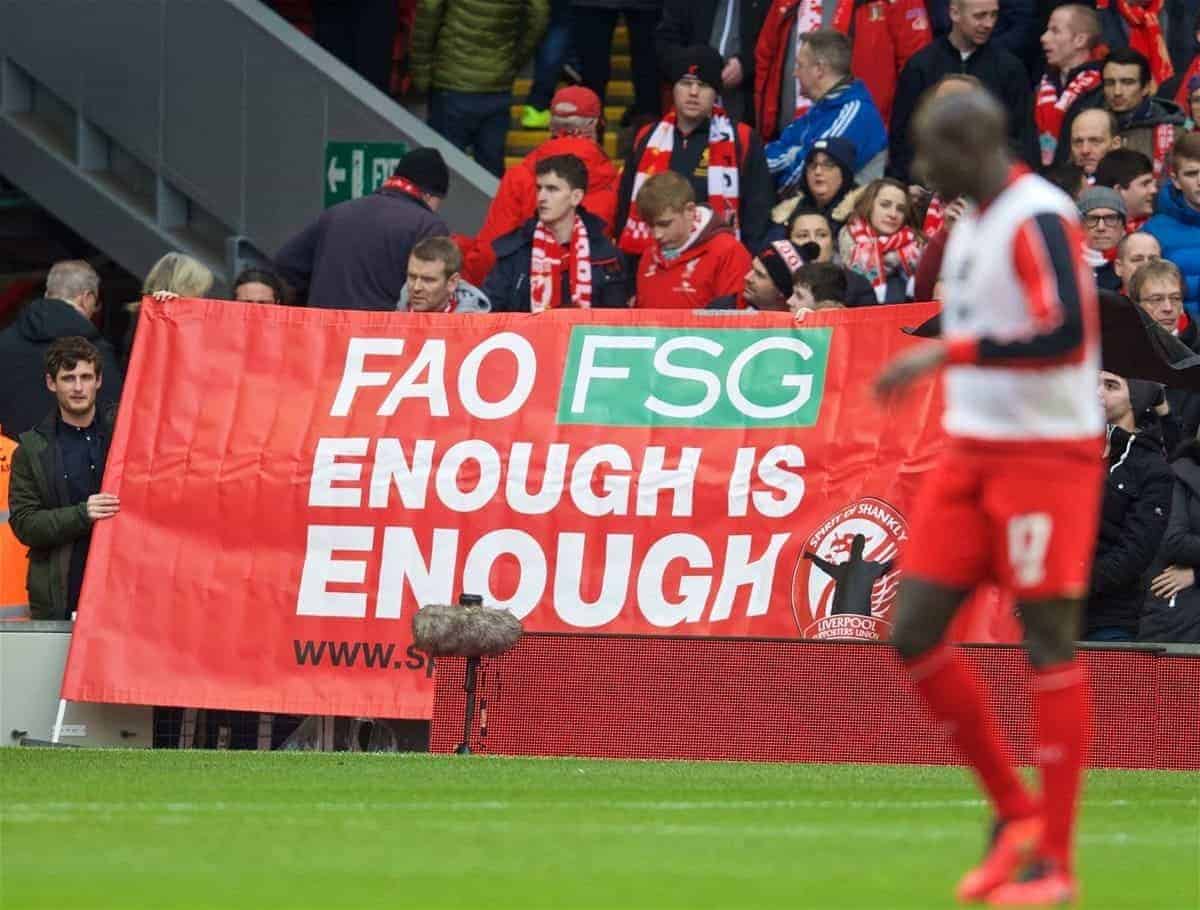 For the unaware, SOS was created in January 2008 following a meeting of over 350 Liverpool fans in The Sandon, that pub on Oakfield Road, a short walk from the ground, that is heaving on matchdays. Those who gathered discussed a range of issues effecting them and the club at the time but top of the agenda was the ownership – namely the financial drain being perpetrated by Tom Hicks and George Gillett. It was blatant, severe and harmful to the short and long-term future of Liverpool and so, it was decided, the fans had to make a stand.
I wasn't in The Sandon and I don't pretend to have played any major role in the fight SOS led in the almost three-year spell that ran from its formation to the moment a judge ruled Hicks and Gillett could not block the £300m sale of the club to New England Sports Ventures.
I went on as many pre-match marches as possible and was at London's High Court in October 2010 when Mr Justice Floyd delivered the verdict that prevented Liverpool going into administration and, to all intents and purposes, bust, but otherwise, nothing.
However, I've always paid my membership fee and always backed SOS because without them there would be no Liverpool, certainly not in its current state: financially-stable and in position to prosper.
And what is SOS if not scrutiny? While Tom and George were insisting the cash register was full despite the banks stating otherwise, and LFC TV maintained their 'nothing to worry about folks, why don't you enjoy these John Aldridge goals from the 87/88 season', stance, it was the fans, led by those who met at a boozer on a winter's evening, that shone a spotlight on the truth, allied to the efforts of then manager, Rafa Benitez, and a group of journalists who – and call me bias if you want – frankly don't get the credit they deserve.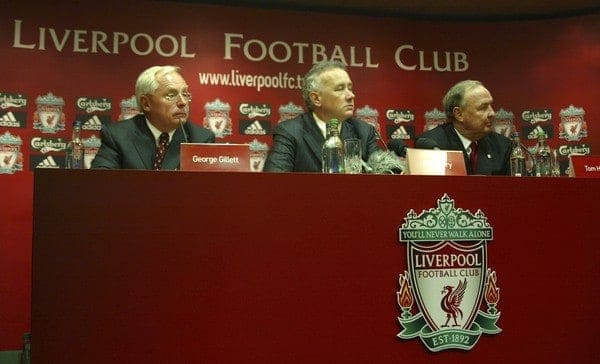 The situation now is nowhere near as grave as it was then but neither is it wholly wonderful. Next month NESV – now Fenway Sports Group – will have been in charge for six years and while John W Henry and his staff deserve credit for the sizeable role they have played in getting Liverpool back on sound footing, it should be noted that their spell at the top has seen more managers than trophies arrive at Anfield, a drain of player-quality on the back of a flawed transfer process and the team's league position rise from 8th at the end of FSG's first full season in L4 to er … 8th at the end of their most recent.
Off the pitch there have been problems, too, among them a conflict between the club and the supporters group Spion Kop 1906 that temporarily led to no flags being present in the most flag-renowned stand in the country, and a ticket-price increase that led to an unprecedented mass walkout at Anfield last February. And who played a prominent role in both affairs, standing up for fans against officials out of touch with the people they are meant to be representing and protecting? SOS, of course.
That's real love right there, and in that regard there is a paradox to being a supporter, for it requires you to occasionally be unsupportive.

But to stress – I am not unsupportive of Klopp. My backing of the 49-year-old may not be as zealot-like as other Reds but it is real enough. On the whole I feel he has made significant progress since replacing Brendan Rodgers last October; the team is better, results have improved and, least we forget, two finals have been reached.
In regards to Liverpool's summer transfer strategy, the thing Klopp says fans "need to believe" in, I think it's fallen short by a left-back, defensive midfielder and a more significant upturn in quality. But Sadio Mane looks the business and, as thing stand, I am willing to believe in the manager's ability to do very good things with the squad at his disposal.
But what's for sure is that Klopp isn't perfect – mistakes have been made and more will follow between now and the moment he departs. That is a simple fact of football, of life, and supporters should feel free to point that out and question decisions made by the manager and others at Anfield, Melwood and Chapel Street.
Blind faith in any person or institution is not only misguided but dangerous. Remember that the next time you walk into The Sandon.