Jurgen Klopp will continue to embrace his Liverpool players as he looks to spread the love at Anfield this season.
The Reds have emerged as potential Premier League title contenders following Friday night's 2-1 victory at Chelsea.
Goals from Dejan Lovren and Jordan Henderson in a first half which saw Liverpool outplay their hosts proved enough to seal three points, despite Diego Costa reducing the arrears after the break.
The impressive win at Stamford Bridge follows on from a 4-1 victory over reigning champions Leicester as well as an opening-day win at Arsenal and a draw at Tottenham.
Klopp, so often animated on the touchline, has also been known to run onto the pitch to hug all of his players following a victory.

He forgot to shake hands with Chelsea counterpart Antonio Conte as he did just that on Friday, and the former Borussia Dortmund coach will keep up the routine to show his players just how much he appreciates their efforts.
"I enjoy it more," he said, when asked about the importance of hugging his players.
"I'm really demanding to be honest, and I really want a lot of them. When you can really see how they fight, with the last drop of fuel in their machine … that's the most easy thing to do (hug them).
"That's what makes it for them more enjoyable. Now, having something like this in the dressing room and seeing them there all smiling … that's really nice."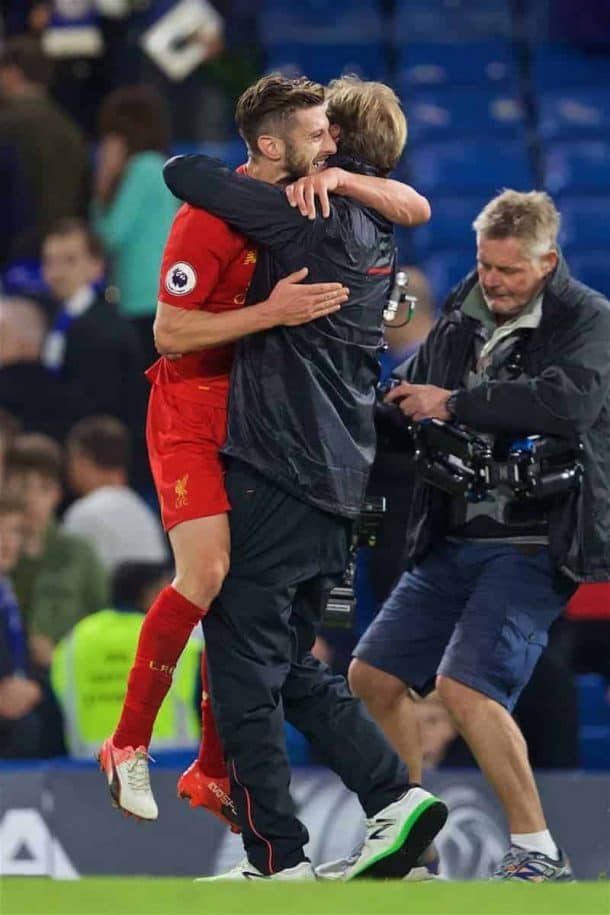 Asked if he was feeling the love at Liverpool, Klopp replied: "All good, all good. We are together, and we want to go this way together.
"The more we believe in our way, the more likely it is we can go through whatever it will lead us to. I have no idea, but I think it makes football much more enjoyable when you really feel this togetherness because we are often enough alone. I love this really."
Despite an impressive start, Klopp is still calling on everyone at Liverpool to keep proving themselves at present – rather than contemplate any talk of winning the title.
"We feel on a good way, but we have to prove it. We have to prove it every day, and that's our job," Klopp added.
"That's how it is … it's deserved, all these points, spectacular football against Arsenal, really good organised against Tottenham and (against Chelsea) was a kind of mixture of these two games. It was good."