Hull City captain Curtis Davies has lavished praise on Liverpool, after their 5-1 victory over the Tigers on Saturday afternoon.
Davies' were subject to a mauling at Anfield, with goals from Adam Lallana, Sadio Mane, Philippe Coutinho and a pair of penalties from James Milner sealing an emphatic win for the Reds.
It was one of Liverpool's best performances of the season so far, but one that continued a trend of overwhelming displays from Jurgen Klopp's side.
Speaking after the game, Davies explained how the Reds' suffocating, hardworking off-ball game, complementing their attacking might, made Hull's afternoon "very difficult."
"When you play against a Liverpool team that is vibrant, exciting and enjoying itself it is tough," he said.
"They are a side which literally plays with [Jordan] Henderson and the two centre-halves at the back and the rest can go wherever they want.
"That is not ill-discipline, it's organised. The interchanging, the good football, the passing—they are a very, very tough team to deal with when they are on their game.
"It is hard to lay a glove on anyone, put it that way. When there is so much interchanging you cannot put your mark on one person.
"It is tough to try and get in and try and make a tackle which makes them think again because literally one second Mane will be in that hole, then Lallana and then Coutinho.
"With the full backs playing like wingers it becomes very difficult because you end up with backs against the wall."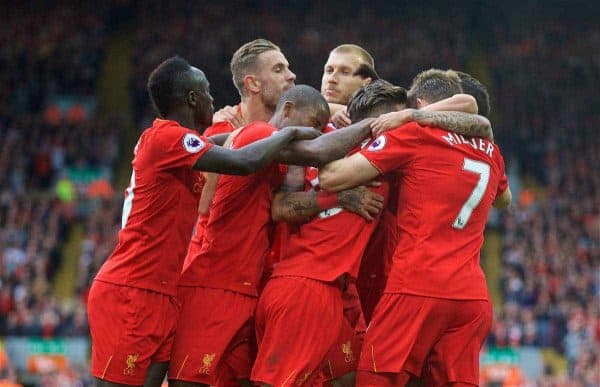 Davies also compared Liverpool's performance to that of Arsenal in Hull's 4-1 defeat at the KC Stadium the previous weekend, but suggested Klopp's side boasted a more well-rounded threat.
"Last week against Arsenal, we had 10 men but it was a different performance," he said, with Jake Livermore and Ahmed Elmohamady sent off in the two games respectively.
"We were good. We kept hold of the ball but Liverpool, with their pressing game, they weren't going to be satisfied with 3-0.
"They weren't satisfied with 4-0 or scoring five. They wanted six, seven, eight and that is the difference.
"Arsenal were like, 'We will sit, we will let them have the ball and then we will have it for another five minutes'.
"But Liverpool didn't give you a chance to breathe to be honest.
"Arsenal are a very good passing team, but a lot of their stuff is on front of you. Nice little passes.
"Liverpool have that mix of nice little passes and then people who will run and run at you and beat you as well. Like Mane. Like Coutinho.
"They will open the game up just on their own by making runs and beating people. It is very difficult to take.
"When we went down to 10 men then, if I am being honest, as a Liverpool player I would be thinking, 'We can give them a hiding. Let's be ruthless.' And they were ruthless."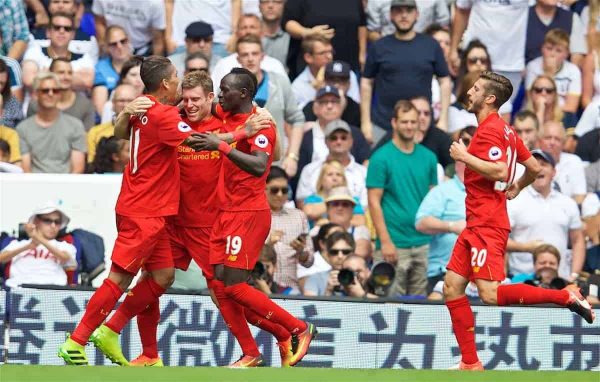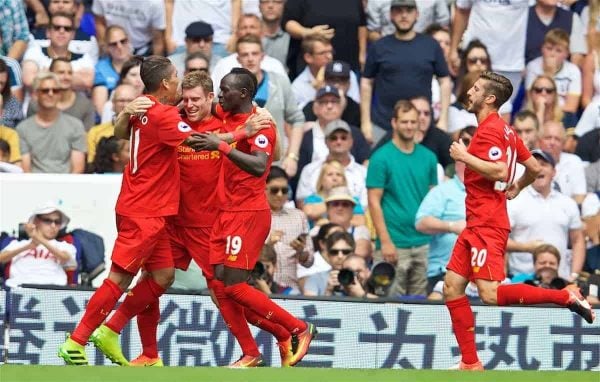 Davies' praise echoes that of Danny Rose following Liverpool's 1-1 draw with Tottenham Hotspur in August, with the left-back saying it was "probably the hardest game I've had in the last few years."
Rose hailed the relentless energy and pace of Mane, but as Davies attests, Klopp has a plethora of options at his disposal.
That opposition players are taking such a stance following their outings against Liverpool this season is a testament to the quality of this new-look side.
Klopp looks to have restored Liverpool's fear factor, something that has arguably been absent since 2013/14.
That season, the Reds challenged for the Premier League title, and the hope is that this formidable unit is capable of doing the same in 2016/17.