Liverpool's resilience to see out the win at Chelsea on Friday night displayed the team's improving ability to control the game, writes Sachin Nakrani.
We live in the era of statistics. Some people love them, some people loath them, and in regards to football it can lead to a polarising debate between those who think numbers tell you all you need to know and those who think they are a method used by geeks to complicate what is essentially a simple sport. Metrics versus mud on boots, to put it another way.
While no statistician myself, I have an appreciation for the power and purpose of numbers when it comes to analysing football, in the short, medium and long-term. Equally, however, I am of the opinion that data can be misleading.
Take, for instance, the post-match statistics for Liverpool's 2-1 victory over Chelsea on Friday. According to Opta, the two sides both had seven shots on goal (four on target and three off target by Chelsea; five on target and two off target by Liverpool), practically the same amount of corners (six compared to four), with Chelsea coming out on top in relation to pass success rate (87.5% compared to 83.6%), duels won (56.5% compared to 43.5%), and overall possession (52.7% compared to 47.3%). Liverpool, meanwhile, won more of their tackles (73.7% compared to 68.4%).
A relatively even match, then, as far as the stats are concerned, yet to have watched it is to know Liverpool were by far the superior side. The men in red dictated proceedings for all but a short spell after the hour mark when Diego Costa pulled one back for the hosts and a one-goal winning margin does not do justice to just how good Jurgen Klopp's side were, as neither does Opta's aforementioned numbers. They're not wrong – Opta is a highly-respected, high-level operation – but they fail to represent what took place at Stamford Bridge.

I was lucky enough to be at the ground and watching on from the upper tier of The Shed when a rather uncommon feeling took grip – calm. "The Reds have got this, they've fucking got this" were the words moving through my head even before Dejan Lovren struck on 17 minutes and that sense only solidified after the captain curled a beauty into the top corner not long before half-time.
There was some panic after Costa's goal but overall this was a night to feel Liverpool are developing qualities lacking from the side for some time – control, poise, mature in-game management.
The mind was sent back to the 2008/09 season when Liverpool lost just two league games under the king of control, Rafa Benitez. The years since have seen the Reds take us on a weekly rollercoaster – inconsistent and flakey displays resulting in a pile-up of matches in which momentum has swung this way and that, leads taken and lost.
That may be an over-simplification of Liverpool's recent history. After all, there were times during Benitez's reign when his side won without necessarily controlling matches.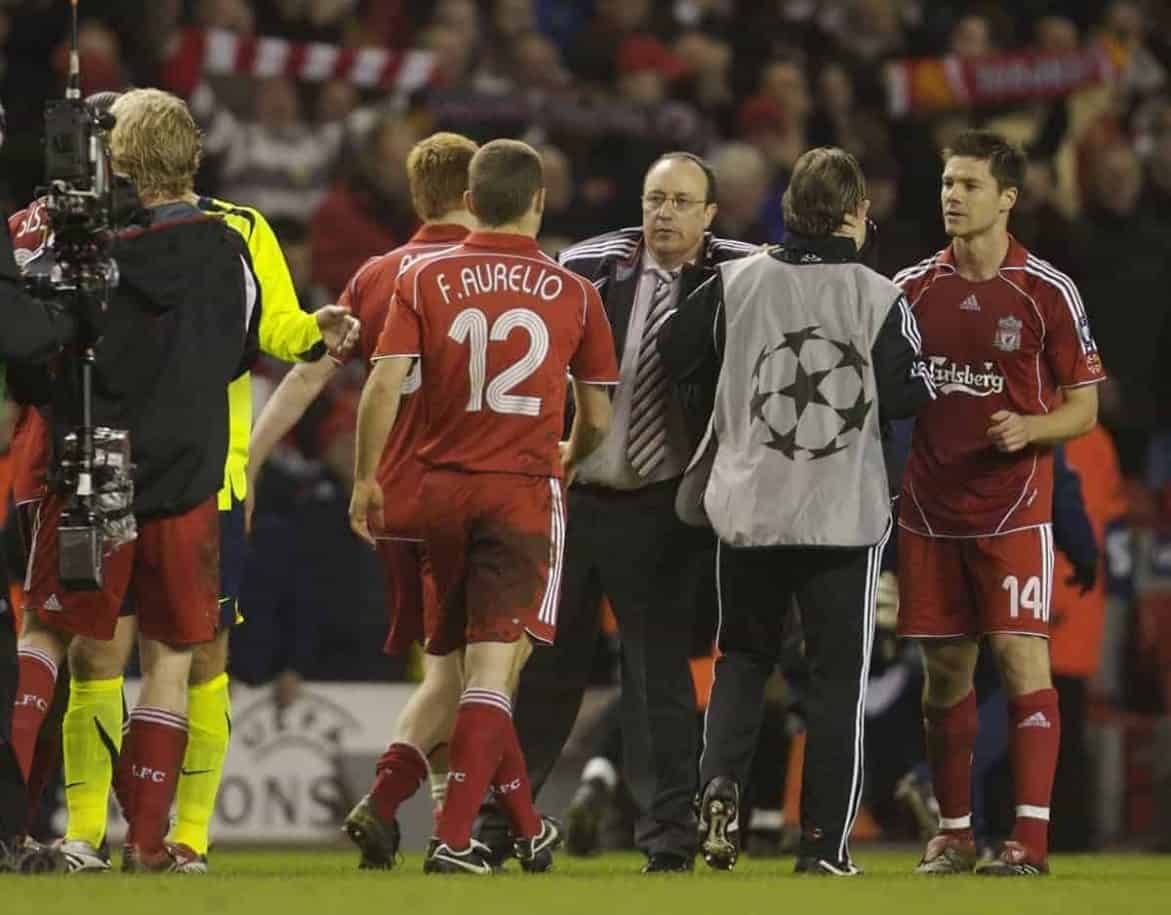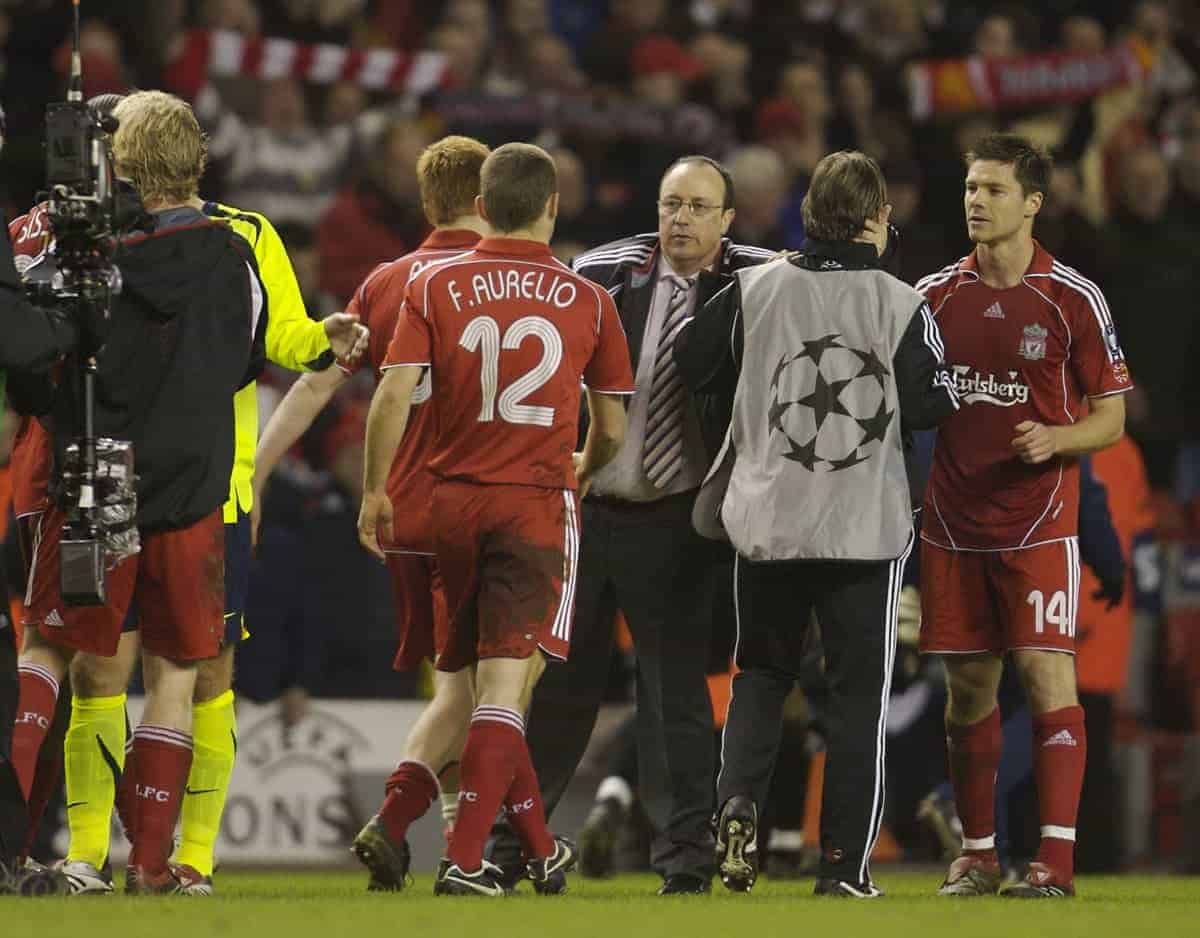 And under Kenny Dalglish and Brendan Rodgers, Liverpool had spells when they beat opponents through just those means. Like statistics, however, those are details which are accurate but do not reflective the wider picture and the wider emotions we feel as supporters. Feelings like calm.
The midfield is key. It was in 08/09 when Xabi Alonso, Javier Mascherano and, just ahead of them, Steven Gerrard patrolled the centre of the pitch with a level of mastery that proved fundamental to Liverpool getting within four points of the title and, in my opinion, making that side the best to represent the club since the class of 87/88.
The subsequent years have seen a drop off in the quality of those operating in the centre of the pitch, both individually and collectively, and while that remains the case now, the manner of Liverpool's displays this season have shown that the midfield is getting consistently better at dominating and controlling games like they once did, with Friday's showing a spike in the upward trajectory.
Liverpool lined-up in a 4-3-3 formation with the ball and 4-1-4-1 without it, and while the latter was clearly evident the former was less so.

Observing from high-up it was almost as if Jordan Henderson, Georginio Wijnaldum and Adam Lallana had been asked by Klopp to fill spaces ahead of each other, in that order, when the visitors were in possession – a tactic that allowed them to build momentum in phases through intelligent passing and cover as much territory as possible through clever movement, squeezing Chelsea and pulling their own midfielders out of position. Certainly those in blue seemed baffled by the approach of their opponents in central areas, not sure who to pick up, not sure who to press.
And when it was Liverpool's turn to pick up and press, they showed great tenacity and desire, no one more so than Henderson who arguably delivered his best display in a red shirt since arriving from Sunderland five years ago, one decorated by the strike he sent past Thibaut Courtois' right hand and that ultimately proved to be the winner.
It was intriguing to see Henderson perform so well as a defensive midfielder while sharing a pitch with N'Golo Kante, who for many is the best in that country at fulfilling that role (albeit not on the evidence of his contribution on Friday). Does that end the debate around Klopp's decision not to sign a 'proper' DM during the transfer window?

In my opinion, no, but what Henderson's performance against Chelsea shows is that the 26-year-old is capable of succeeding in a deeper midfield role if he is part of a properly functioning midfield, one in which everyone knows their duties and carries them out to a high-level.
Henderson did a lot of protecting but he was also well protected himself, particularly by Wijnaldum, whose three tackles and seven recoveries (and yes, I got those numbers from Opta, too), testify to the doggedness of his display.
Gutsy without the ball and great with it, Liverpool overwhelmed a Chelsea side who were were below-par but have shown against West Ham and Watford this season that given the chance they can find their way back into matches. They only were only given a glimmer of hope on Friday before the men in red showed the necessary nous to take the sting out of the opposition.
Liverpool's was a collective success but largely it came down to the midfield, and to think; Emre Can is still to come back into the fold. As things stand, he may struggle to reestablish himself in the first team and arguably should not get in until the Henderson-Wijnaldum-Lallana axis proves incapable of giving Liverpool a platform to control and dominate proceedings as they did on Friday, building on their displays against Burnley, Tottenham and Leicester – three mixed results but matches in which Liverpool largely bossed the centre of the park.
Henderson-Wijnaldum-Lallana may not and never be Mascherano-Alonso-Gerrard but they're increasingly looking the best midfield pack Liverpool have had since that A-list group. Over to you Emre.

The Klopp era was meant to be about heavy metal football coming to Anfield and to an extent it has been – Liverpool have become a thrilling and potent attacking unit under the German. But with that there has remained the old failings – poor goals conceded, momentum lost – and the sense now is that the manager is turning down the volume a little in order to make the team a more secure and consistent outfit.
Perhaps that was the plan all along and what we are witnessing is a group of players maturing in a way that was inevitable given time under their new manager. Whatever the case, it is great to see Liverpool once again not only taking the game to the opposition but controlling it.
That's how it feels anyway.