Liverpool goalkeeper Loris Karius has revealed he is "ahead of schedule" as he recovers from a broken hand.
The 23-year-old suffered the injury during the Reds' 1-0 defeat to Chelsea in pre-season, ensuring he missed the start of the 2016/17 campaign.
Karius has so far sat out of the first four games of the new season, and is likely to miss Liverpool's next competitive clash at home to Leicester City on September 10.
But while the German should be absent as the Reds make their first appearance at the redeveloped Anfield, his return won't come much later.
After a breakthrough in his recovery this week, taking to training on Tuesday before undergoing an operation to remove a wire support in his hand on Wednesday, Karius has explained how he is now "ahead of schedule."
But speaking during the international break, the summer signing insisted he wouldn't rush his return.
"I don't know if it is going to be a week or however long [before I am back in full training], I just need to see how it feels," he explained.
"But I can now start using my hands and catch balls. It's up to me now, basically.
"We're ahead of schedule because in total it's been about five weeks [since the injury] I think, but I don't want to rush it too much.
"Now I am in the last stages, I just want to feel good and confident about it, that it's all done.
"I am not going to rush it because of two or three days, but if I feel good then maybe I will be back way sooner than expected."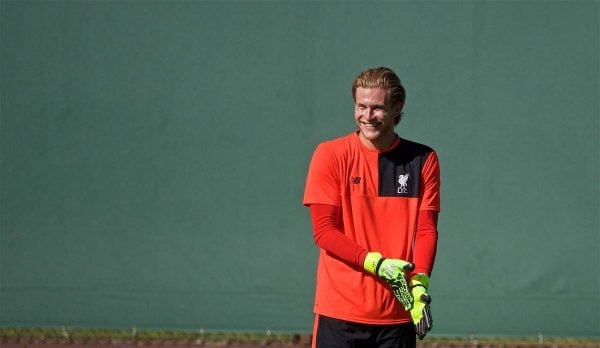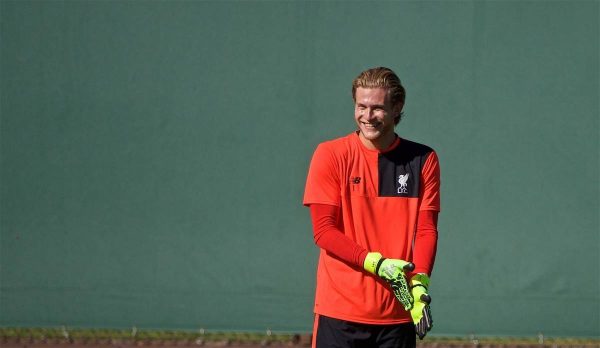 However, while players typically take time to get back to full fitness following injury, a broken hand has not stopped Karius from maintaining his sharpness.
In fact, the supremely confident goalkeeper stressed that he wouldn't need "any time to improve" on his return.
"My fitness level is where it should be, I don't think I am going to need any time to improve on that, so that will help me to be fit by the time I feel confident with my hand," he continued.
"We haven't wasted any time there, in fact we've probably even improved me on some stuff.
"We did a lot of kicking with John Achterberg—after every training session we did work to improve on kicking, so I feel really good.
"I don't really think I am going to need a long time to be back on my best level.
"My body is there, it's ready, it's just the one hand I need to be sure of now and that it's not giving me any problems.
"I am pretty sure next week I will feel fine.
"Obviously I can't say 100 percent because I'll need to see how it is when I am in full training next week, so we'll see but I don't think it is going to be long now."
Karius is primed to take up a key role when he recovers from his hand injury, and the former Manchester City youth is clearly set on usurping Simon Mignolet as first-choice goalkeeper.
The Reds have conceded six goals in three league games so far this season, but the hope is the more front-footed Karius will bring more stability.
---
---