The media were full of praise for Liverpool's ruthlessness and relentless pressing after Jurgen Klopp's Reds blitzed 10-man Hull City 5-1 with an outstanding performance at Anfield.
Liverpool continued their fine start to the Premier League campaign with an excellent display to maul the Tigers and earn an extremely impressive victory.
Goals from Adam Lallana, James Milner and Sadio Mane gave the Reds the commanding lead their exquisite play deserved, as Klopp's side put Mike Phelan's Tigers to sword in a relentless first-half in which Ahmed Elmohamady was sent off for Hull.
David Meyler pulled one back before Philippe Coutinho restored the three-goal cushion with a trademark stunner, and Milner rounded off a brilliant afternoon by slotting his second spot-kick of the afternoon to seal the win.
It was a spectacular display from Klopp's side, who gave another brutal demonstration of what they can produce on their day, and here is how the media reacted to the emphatic win.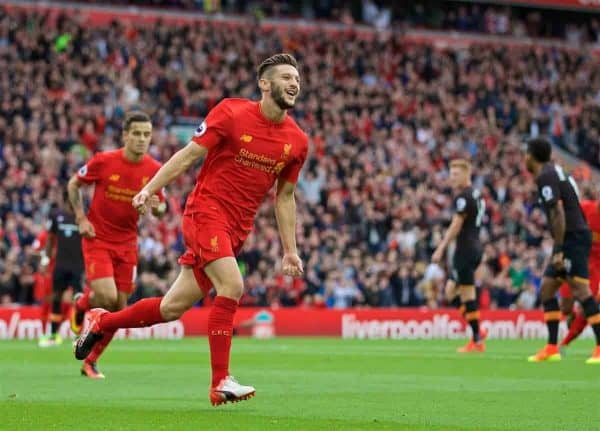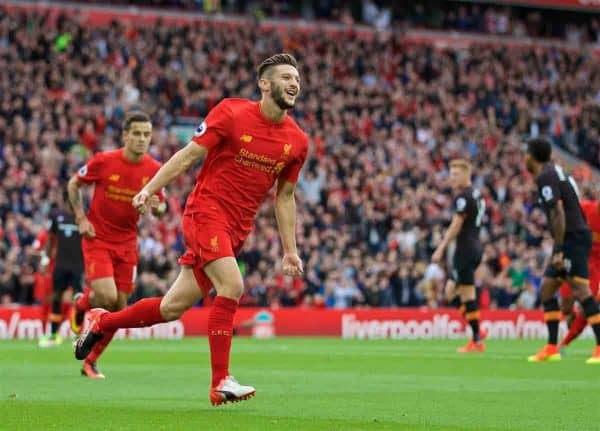 The watching media praised Liverpool's improved ruthlessness in dismantling the sort of opposition the Reds have continually come unstuck against in recent times.
The Reds showed "no mercy" in the words of the Telegraph's Ben Findon:
There were no mistakes here. Utterly dominant, their glimpses of brilliance and an iron-willed determination to show no mercy had Klopp applauding from the sidelines.
ESPN's David Usher labelled the performance the "perfect exhibition" in how to beat inferior sides:
Often Liverpool make hard work of it against struggling opponents but this was a perfect exhibition in how to beat a vastly inferior side that just tried to defend and frustrate.
The Daily Mail's Dominic King noted Liverpool's transformation from the last time Hull visited Anfield:
This had been viewed as a test, the kind of fixture which has traditionally tripped Liverpool up. Hull drew 0-0 the last time they visited Anfield in the autumn of 2014 but this time they were swamped as a Red tide rushed all over them.
James Pearce of the Echo felt Klopp's new-look side proved they're different to previous Reds teams who have faltered against lesser teams at Anfield:
Can they also find a way to overcome more limited opponents who are simply intent on keeping them out? That's been a long-running issue at Anfield but here was compelling evidence that the current crop are a different proposition.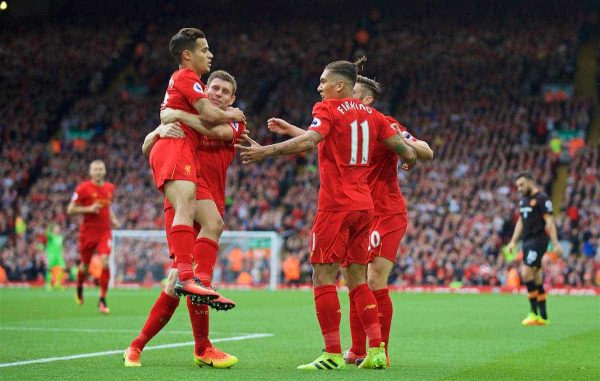 As expected after such a relentless counter-pressing performance, the Reds' incredible intensity and off-ball work drew plaudits from those reporting at Anfield.
The BBC's Phil Dawkes wrote:
The Reds' front five will rightly take most of the plaudits for their movement, skill and finishing, but that should not detract from the contribution of the other outfield players, whose work-rate provided the platform for victory.

Liverpool were more energetic and more aggressive throughout, harrying the Hull players and denying them any time to think, let alone pick a pass.
The Mirror's David Maddock noted Firmino's role in that:
Not only is his elusive movement and sublime passing so important, but he also becomes the first line of defence so effectively.

He presses with lightening intent, and it's no wonder Klopp likes him to lead the line.
Pearce praised the spirit of a team built on "hard graft"
There's talent in abundance but this exciting revival is based on hard graft.

[…]

There is no main man. It's all about the team ethic and anyone who doesn't knuckle down and buy into that is cast aside.
Reporters praised various other aspects of Liverpool's performance following another complete and goal-scoring display.
For Joe.co.uk, Tony Barrett commended the confidence and belief in the Reds' play:
Control was established at kick-off when the ball was played around as if they had all the time in the world because the goals would inevitably come and come they did.
Findon complimented Klopp's work in improving Liverpool's productivity:
It is now 24 goals in eight matches for Klopp's men as style blends with substance to devastating effect.
Usher is pleased with how goals are coming all throughout the team:
Everybody played well and the goals are being spread about the team, which is a much better situation to be in than relying on one prolific goalscorer.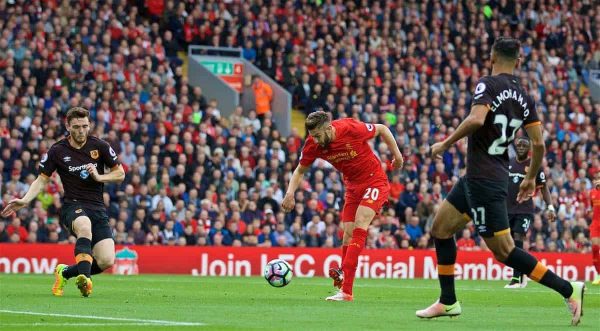 Maddock praised the sharp passing of Liverpool's midfield:
This team has an almost razor-like quality to their passing in the midfield, pinging it around to dizzying effect, and it left Hull in a complete spin.

The Reds will bypass a lot better sides than this with their pass and move ability.
Simon Hughes for the Independent noted Sadio Mane's impact, and how the Senegalese makes Liverpool's so difficult to defend:
But then there was the threat of Sadio Mané as well. His arrival from Southampton has transformed the way Liverpool play. If defences go high, trying to squeeze the space where Lallana and Coutinho are so dangerous especially, the room left behind releases the Senegalese. Go deep instead, and Lallana and co – on this form – are irresistible.
Liverpool's collective team spirit and the work ethic that their fantastic performances are built on was also commended by various reporters.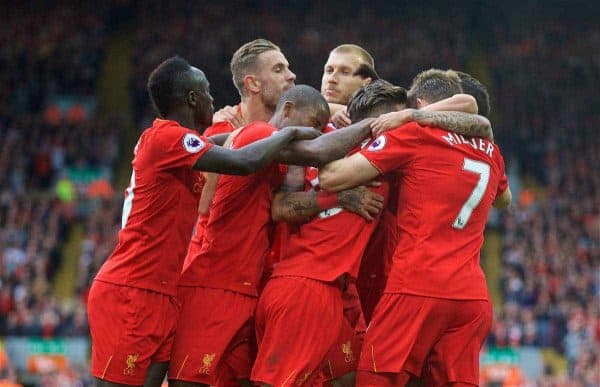 Richard Jolly for The National was among those to centre on this:
There is an emphasis on the collective at Anfield, an example of what players with a mutual emphasis on pace, energy, quality and teamwork can achieve when allied with each other.
Usher praised the level desire throughout the side:
Jurgen Klopp's side showed composure and invention when they had the ball, and a relentless, almost maniacal at times, desire to win it back when they didn't.
Maddock commented on how Liverpool are a team, rather than individuals:
Liverpool may not have the individual brilliance of a Suarez in their side, but they DO have the collective will of that team of two years ago which so very nearly won the title.

Jurgen Klopp has created a real spirit in this side, and you suspect it will take them a long way this season.
And assessing individual performances, reporters gave their thoughts on star men at Anfield.
Usher picked out Milner as his key man:
Converted two penalties and was a fantastic outlet on the left throughout. Regularly beat his man to get to the line and deliver crosses, and never stopped making lung busting forward runs even when the game was over as a contest. Impressed defensively too, making an important intervention early on when the game was scoreless.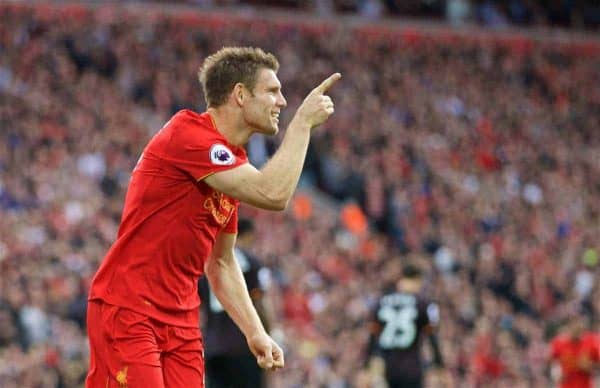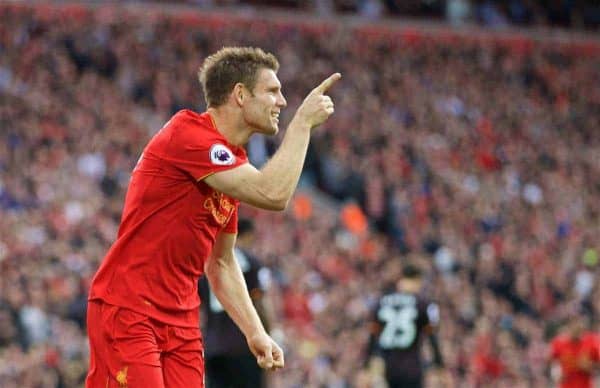 Jolly commented on Lallana's improved productivity:
After his first game, a 0-0 draw at Tottenham, the German said that Lallana could be 20-30 per cent better. He is now, a decisive, driving force who was deservedly afforded a standing ovation. He has added the goals his game long lacked.
Usher also awarded Klopp 10/10 for his role in the victory:
All in all, this was a wonderful performance from a group of players Klopp selected, which he is moulding into one of the most exciting teams to watch in all of Europe.
And finally, BBC's Phil McNulty is among those who feels Klopp is restoring belief among all at Anfield:
The charismatic German is carrying his players and Liverpool's fans with him as they start to believe they can really make an impact this season.