Liverpool manager Jurgen Klopp has welcomed Roberto Firmino back for selection for Tuesday night's League Cup clash with Derby County.
The Reds travel to Pride Park for their third-round tie, looking to build on an excellent start to the 2016/17.
Coming off the back of a hard-fought 2-1 victory away to Chelsea on Friday night, Liverpool will be looking to continue their fine run of form and push for the League Cup final.
This will be aided by the return of Firmino, who sat out at Stamford Bridge with a minor injury, with Klopp telling reporters on Monday that "he's in."
"Roberto is in training, we checked him yesterday, and today again," he explained at Melwood.
"He could have played [against Chelsea], but I heard the word risk too often, so I said 'no'.
"We said give him three days then everything will be perfect—today is the fourth day, so he's in."
Firmino could come in to take the place of any of Sadio Mane, Philippe Coutinho or Daniel Sturridge in Derbyshire, though Klopp is unlikely to make too many changes to his starting lineup.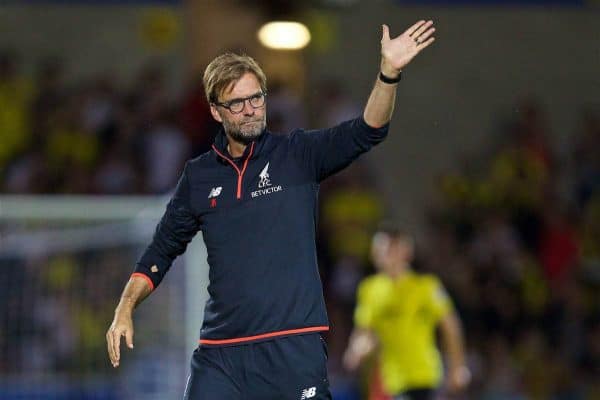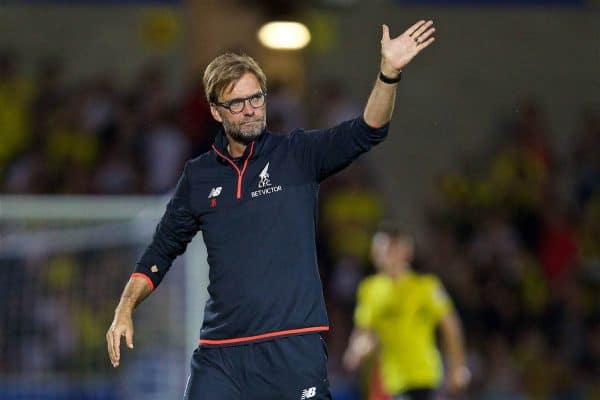 As he continued to detail, the German is looking to field a "strong lineup," only omitting players who aren't at "100 percent" following victory on Friday.
"In my opinion we only have strong lineups, so you can be sure we'll find a strong lineup again," he added.
"If a player after the Spurs game had a little bit of an issue, of course we didn't risk him [for Burton Albion in the second round].
"But it's not about resting 100-percent-fit players.
"It's a normal rhythm (to play midweek and weekend), it's a rhythm we want to have next season again, with games every three or four days.
"We know how to handle it, we know about recovery. It's about taking risks, but not with players who aren't 100 percent.
"We have to wait a little bit, the session this afternoon will be important."
This suggests that Klopp will make few changes to the side that won against Chelsea, though he is likely to check on the fitness of Firmino, Sturridge, Emre Can and Danny Ings.